Lesson From Elsewhere: Using Public Land To Make Redevelopment Work
By Bill Fulton on 19 November 2012 - 7:41pm
With the demise of redevelopment in California, one idea put forth -- by me, among others -- is using publicly owned land as equity in a real estate deal as a way of subsidizing it. If you can't "write down" private land (selling it to a developer for less than your bought it), maybe you should look at real estate assets your city – or some other public agency – already owns.
Recently, while attending the annual conference of the National Capital chapter of the American Planning Association, I ran across an interesting example from the D.C. metropolitan area that – at least in some ways – illustrates the point: the combined deal to redevelopment two public housing projects in Alexandria, Virginia.
Having successfully redeveloped public housing projects to mixed-income projects under the federally funded HOPE VI program, the Alexandria Redevelopment and Housing Authority decided to try to do the same thing once the federal program wound down. In particular, ARHA wanted redevelop the Glebe Park housing project near Ronald Reagan National Airport into a mixed-income project. There was only one problem: Glebe Park had a $5 million mortgage on it, being held by the U.S. Department of Housing and Urban Development.
So ARHA issued a request for proposals to developers that basically said, Hey, let us know if you think it's possible to use some other ARHA landholding to help make this deal work.
"How do you do it with no money and no land value?" says Bryan Allen (A.J.) Jackson of EYA, a prominent mixed-income developer in the D.C. area that responded to the RFP. The answer was to find another piece of property, also ripe for redevelopment, that does have value.
That property was the James Bland Homes, another public housing project farther south in Alexandria. The James Bland property is located in an historically African-American neighborhood, which means it's on the wrong side of Highway 1 -- west of the road and therefore separated from the beautiful, historic Old Town area and the Potomac River. (It's named for our nation's most famous African-American minstrel.)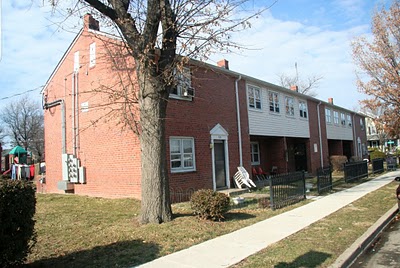 James Bland Homes
Nowadays, however, the James Bland property is in the right place, because it's in between the Braddock Road Metro stop and Old Town. No matter the history of the neighborhood, ARHA is now sitting on a valuable piece of property.
The details of the deal are complicated, but they basically boil down to this: The Glebe Park mixed-income project penciled out with a $5 million loss – the $5 million owed to HUD. The James Bland mixed-income project -- now called Old Town Commons -- penciled out with a $5 million profit – largely due to a much higher density (almost 50 units per acre as opposed to 23 for the old public housing project) and a strong condo and townhome market in the neighborhood. So ARHA worked with EYA to redevelop both sites and use the profits from one to subsidize the other. Public housing units from the two locations were replaced on a one-to-one basis at either James Bland, Glebe Park, or in scattered locations around Alexandria.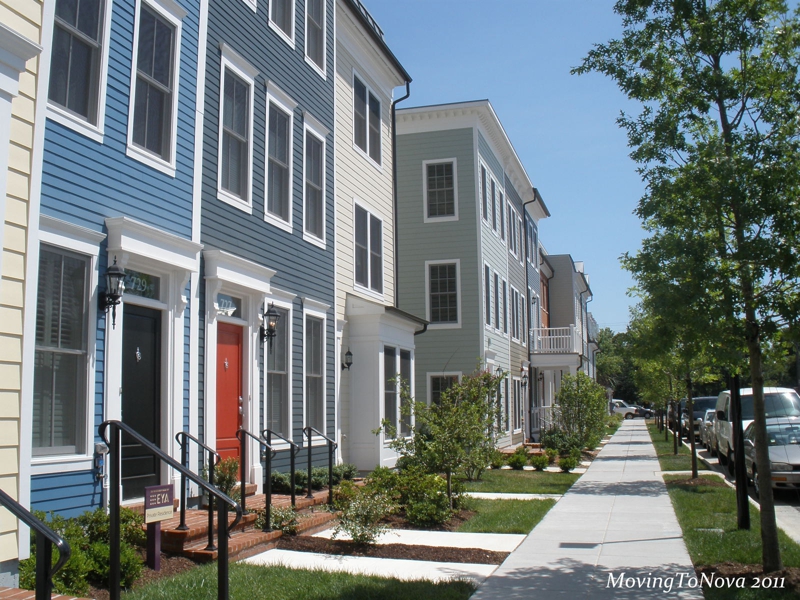 Old Town Commons
As tends to be the case with affordable housing projects, it wasn't easy. ARHA, EYA, and the City of Alexandria all had to provide patient capital. It took several years to get the deal done. And in order to maximize the value of the market-rate units, EYA had to provide some lofts that added to the height (they were set back from the other four floors) and, in some cases, had to segregate the market-rate and subsidized units into separate buildings. (This was also necessary to execute the low-income housing tax credit part of the deal, because EYA actually sold the subsidized units on a fee-simple basis to the tax credit investors.)
You can criticize the Glebe Park/James Bland deal from a lot of perspectives. For Glebe Park, the James Bland surplus was just another layer of financing in a typical affordable housing deal -- making it even more complicated. Maybe ARHA could have made more money by just selling the James Bland property. And, although the new public housing is undoubtedly nicer than the old, the additional density means more height and much less onsite open space.
Still, ARHA accomplished its goal: To use the asset value of its own real estate to make public redevelopment goals work.
Not every city or public agency in California is fortunate enough to have a piece of land like James Bland -- historically low-value but suddenly in the right location. Indeed, California cities have gone to great lengths in the last year to assert that their former redevelopment agencies have hardly any properties that are worth anything. (That's partly because some of them transferred all valuable assets back to the city or some other entity in 2011.) But the James Bland/Glebe Park story does illustrate the fact that it's worthwhile for cities and other public agencies in California to dig through their real estate portfolios to see what they've really got.