San Pablo Avenue may not be the Champs-Elysees, but it does have a few things going for it.
Running nearly 20 miles from Hercules to Oakland, San Pablo is essentially the main street of the East Bay — reverently described by writer Abraham Woodliff as the "one street that seems to guide you through the East Bay's many shifting realities." It's a wide boulevard, with a median in some streches, and it parallels the Richmond BART line. It has some built-out stretches and some historic architecture, especially near its southern terminus. Otherwise, it is also an infill developer's dream, with abundant parking lots, strip-malls, and undistinguished one-story buildings begging to be redeveloped.
It's the type of place where, with the right sort of infill development, the East Bay can meet regional housing and transportation goals and discourage driving — but progress has been slow.
"It's like, 'Come on, East Bay!' We're so progressive, but we're so auto-oriented," said Ann Cheng, interim co-executive director of TransForm and former mayor of El Cerrito.
In true Bay Area form, though, many of the cities through which San Pablo Ave. runs do not exactly welcome density or new housing and have been content to let San Pablo be little more than a thoroughfare. The City of El Cerrito has taken a different approach — with dramatic results.
In 2014, El Cerrito adopted the San Pablo Avenue Specific Plan (SPASP), governing its three-mile segment. The plan is ambitious, seeking to dramatically increase densities along the avenue and accommodate significant residential growth. The plan area covers roughly 200 developable or re-developable acres along a two-and-a-half mile stretch of San Pablo Ave., which it divides into Uptown, Midtown, and Downtown sub-areas.
While such plans can often take decades to come to fruition, developers have flocked to the avenue. The first phase of the SPASP is already spoken for, with roughly 1,800 housing units built or in various stages of development across 23 projects. Every project but one consists largely of residential units, with most projects falling between 50 and 170 units for a total of 1,238 market-rate units and 862 affordable units. Nearly 40,000 square feet of commercial space is included as well.
"Our redevelopment and city council goal was for a long time, since our general plan update, to transform the corridor into a more vibrant place," said El Cerrito Community Development Director Melanie Mintz. "We've tried to help people see what these projects are going to look like, and they really are a significant upgrade from what's existing."
This rapid growth has exhausted the number of units covered by the plan's initial programmatic environmental impact report, which was drafted to be deliberately much smaller than the anticipated build-out of SPASP so that the city could amend the plan and adjust it as needed.
The city is currently updating the PEIR to accommodate a second phase.
"We didn't want to assume that every space gets built-up. We wanted to take what we thought was an ambitious number…I think it's happening a little sooner than we expected," said Mintz. The phasing enables the city to "update traffic studies and look at it from a fresh perspective now that it's real."
The PEIR itself has been one of the keys to the plan's success thus far. Under the PEIR, developers are required to complete a checklist to demonstrate that their respective plans and their impacts conform with the PEIR. Beyond that, no environmental review is required, and all of the entitled projects in the plan area have been approved under the PEIR checklist.
As well, by planning for a relatively large area, development has been spread out and the city does not feel like it's under siege by developers.
"One of the challenges is that because it's not collected in one area, it doesn't totally transform the area all at once," said Mintz. "What's nice about that is that it's spread out, so the impacts and opportunities are spread along the entire corridor."
The early success of SPASP, say supporters, has depended as much on its technical details as on El Cerrito's civic spirit. To a large extent, the mere existence of a density-friendly, transit-oriented plan anywhere in the Bay Area could probably be enough to attract developers. But El Cerrito's planners went to considerable lengths to ensure that the plan would serve the city and developers alike.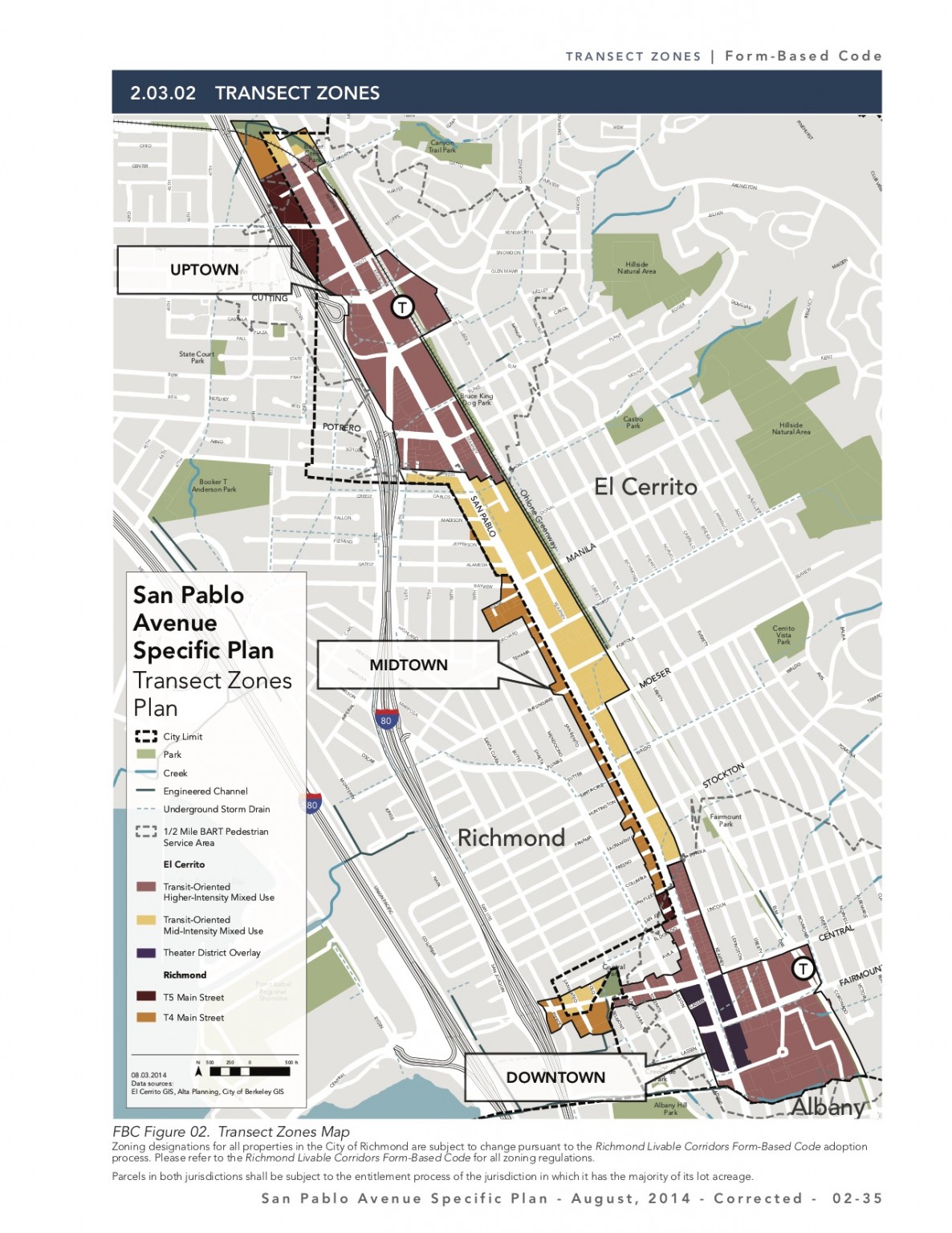 SPASP transect map
SPASP's form-based code offers developers significant flexibility within requirements related to building height, parking, open space, and other physical and aesthetic considerations. It allows for both commercial and residential uses, though it encourages mixed use with commercial at street level. Ground floors are required to be flush with street level, and parking lots must be hidden from view, either behind buildings or underground.
"We really tried to require a high level of design and urban amenities to make sure the stuff that comes contributes positively to our community," said Mintz. "That helped build trust so we could keep getting support and momentum."
The code identifies transects for "high-intensity" and "medium-intensity" uses. It allows building heights of up to 65 feet, or 85 feet if affordable housing bonuses are used. The plan also sets minimum heights of three stories throughout much of the plan area. Parking requirements range from a half-space near the plan's two BART stations to 1.5 spaces per unit in the Midtown area in between the BART stations.
Those provisions were very attractive for developers – permitting even more density than some developers might have sought in the first place.
"It has more generous height limits rather than what had previously been along that stretch of San Pablo," said Ethan Warsh, project manager with Bridge Housing., which with Holliday Development, is building a 223-unit project on the Mayfair Block at 11600 San Pablo Ave. He also cited the "generous approach towards parking, recognizing that it's not necessary to provide a 1:1 parking ratio."
"If anything, I think they were a little more encouraging of a bit more density than we would have thought," said Paul van Konynenburg, partner at Britton Van Konynenburg Partners, which is developing Griffin on San Pablo Avenue at 11048 San Pablo Ave. The project has one parking space per unit and contains more parking for bicycles than cars.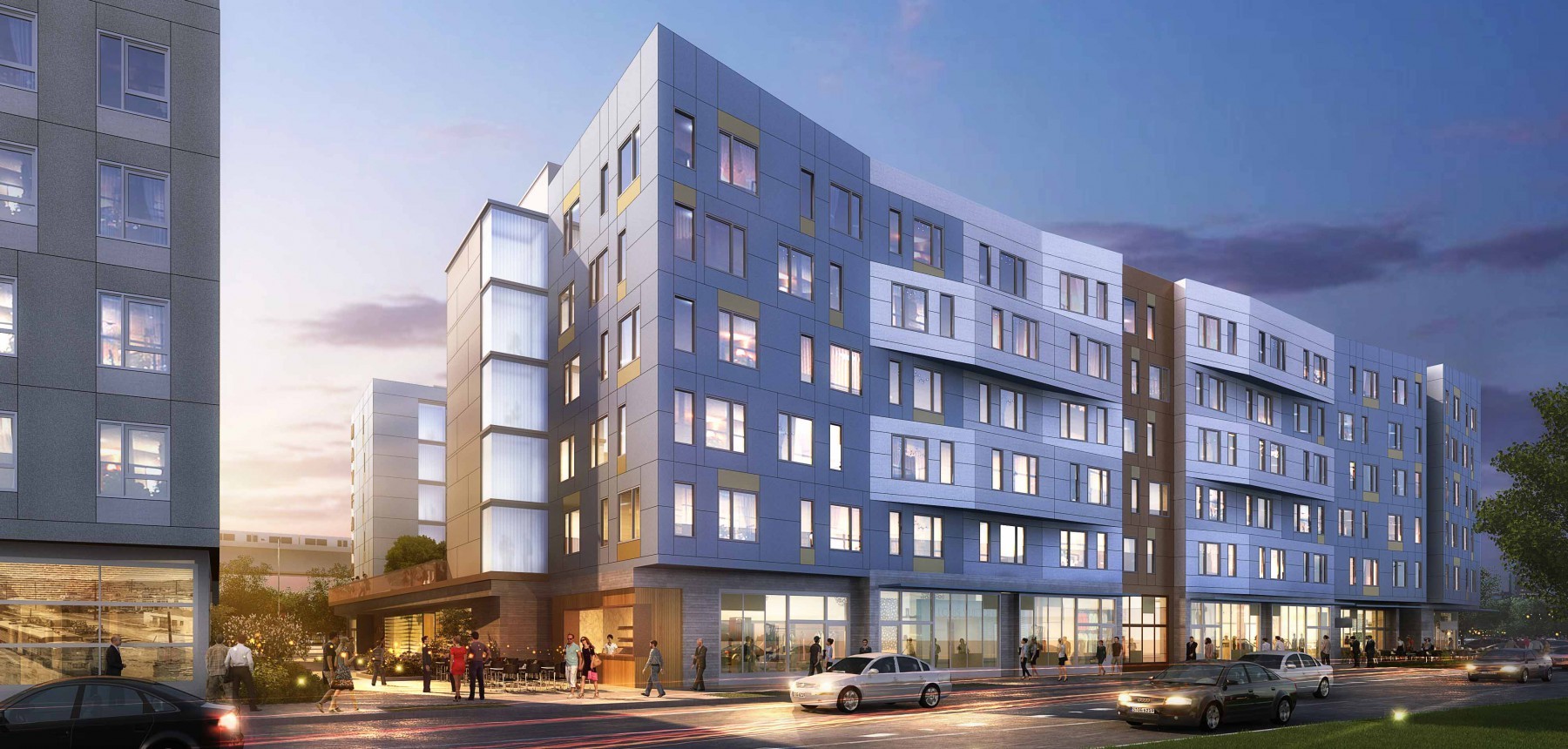 The Mayfair mixed-use development is going up on San Pablo Ave.
The plan is not a free-for-all, however. It prescribes community benefits that developments must provide according to "tiers." The tiers refer to the degree to which a development conforms with explicit plan requirements or requests variances. The more dramatic the variances, the more community benefits are required.
"I think it's highly applicable (to other cities) to look at how they've done the tiering, trying to match community benefits with a more structured negotiation process that allows for flexibility," said Cheng. "It seems complicated, but it seems like it's working really well."
The plan attempts to minimize discretionary review, which, for many projects, is limited to design review. Arguably the plan's most developer-friendly component is the design review process, which the city crafted to be as clear as possible so as to limit debate over which design elements would and would not be permitted. Developers are also required to provide a certain amount of open space.
"The by-right process whereby the project just goes through design review has been really appealing," said Mintz. "We haven't fought about height or parking, for example."
"What I've seen of the Planning Commission and Design Review Board deliberations, they're pretty clear on the fine-tune tweaks that they want to see," said Cheng.
And whatever those tweaks may be, complaints about the plan have been minimal.
"There were just some minor issues related to how you address streets that we had to admit were very technical--whether you're a five-foot setback or a seven-foot setback," said van Konynenburg. "But the development process was, as far as the Bay Area goes, relatively simple."
The code is complemented by a complete streets program designed to enhance the pedestrian realm on what currently can be an uninviting corridor. Perhaps most idiosyncratically, the plan includes strict guidelines for perceiving the viewshed to the east, including minimum distances between buildings and articulations to decrease buildings' mass. These provisions are meant to preserve views — albeit distant ones — of sights such as the Golden Gate Bridge and the San Francisco skyline.
In many ways, though, the plan owes its success as much to attitude as it does to regulations.
El Cerrito encompasses an abundance of single-family homes, so it's the type of bedroom community that might naturally oppose new development. As it turns out, the city's residential nature worked in favor of SPASP as stakeholders were more than willing for the avenue to be upgraded — knowing that greater density on the avenue would likely have little impact on the residential neighborhoods uphill to the east.
"What we liked about the plan was that it really did anticipate what the community wanted," said van Konynenburg. "They did the hard part about finding out about what the community of El Cerrito wanted before we had to bump our heads on those issues."
With that sort of support, developers have been all the more eager to implement the plan knowing that they would not encounter the sort of opposition and nitpicking that prevails in some other Bay Area cities. In other words, the plan gives developers technical certainty while the community has given them political certainty.
"I think the scarcity of housing is so great and the proximity to amenities is so significant in that area that, yes, I think that they're going to take advantage of the Specific Plan," said Woody Karp, a developer with Eden Housing. He oversaw development of the Hana Gardens senior apartment project at 10848 El Cerrito Avenue, adjacent to El Cerrito City Hall.
The question remains whether SPASP can be a model for increasing density throughout the East Bay or whether it is an anomaly.
"I don't think that there are a lot of cities that share that enthusiasm for density," said Karp.
Physically, San Pablo Ave. is analogous to any number of other low-density, high-traffic corridors throughout the region — that includes the many segments of San Pablo itself that pass through other cities.
"There's Rapid Bus, there's the BART line. There couldn't be a more logical place for higher density than along that San Pablo corridor, extending all the way through El Cerrito, through Albany and Berkeley as well," said Karp.
El Cerrito's process suggests that focusing on a specific corridor without impacting other areas may be the key to generating stakeholder support.
"I don't think they'd be very receptive to density outside of that corridor," said Karp. "It really is a bedroom community filled with a lot of nice old bungalows going up the hill. But along the corridor, they recognize how valuable and important density can be and how easily it can be integrated to the benefit of the city."
That attitude, said Cheng, reflects deep-seated values among El Cerrito residents.
"We have a very humble community and smart folks who don't feel like they have to pontificate but just want to do the right thing and get it done," said Cheng.
Contacts and Resources
San Pablo Avenue Specific Plan
Ann Cheng, Interim Co-Executive Director, TransForm, ann@transformca.org
Woody Karp, Senior Project Developer, Eden Housing, WKarp@edenhousing.org
Melanie Mintz, Community Development Director, City of El Cerrito, mmintz@ci.el-cerrito.ca.us
Paul van Konynenburg, Partner, Britton Van Konynenburg Partners, brittonkonynenburg.com/contact-us
Ethan Warsh, Project Manager, Bridge Housing, bridgehousing.com