Huntington Beach bills itself as "Surf City USA." The name invokes chill dudes at one with the ocean. Or it can invoke combative localism protecting a prized break from invading kooks.
When it comes to housing, Huntington Beach's attitude is decidedly the latter. It recently settled one housing-related dispute with the state but is fighting another suit and has filed one of its own.
When Gov. Gavin Newsom came into office and pledged to force cities to accept their fair share of housing, Huntington Beach was the first city he targeted. The city had long argued with the Department of Housing and Community Development about a shortfall of 413 low-income units required by its 2013 Regional Housing Needs Allocation numbers. Newsom took the dispute a step further by filing suit against the city to force it into compliance.
A year later, the city adopted a revised specific plan that adds zoning for the required 413 affordable units and has tentatively brought the city back into compliance with HCD and Newsom's good graces. The city has also sued the state to exempt it (and other charter cities) from two housing bills that strengthen the ability of HCD and the Attorney General to enforce the law against Huntington Beach.
It was a long process — originating nine years ago.
In 2011, the city adopted the Beach Edinger Corridors Specific Plan (BECSP) to spur development on two of the city's biggest commercial corridors. The area was, and is, largely a collection of low-rise commercial properties such as strip malls. The plan included streamlined project approval, no floor:area ratio or density caps, and reduced parking standards. the plan was designed to accommodate 4,500 new residential units, and, in its first year of adoption, several projects of over 100 units were approved. The plan won an Award of Merit from the California chapter of the American Planning Association.
Even so, the plan concerned some residents.
"With the Beach Edinger Corridor Specific Plan, it was a lot in a very short amount of time," said Huntington Beach City Council Member Kim Carr. "I don't think people were prepared for this shift in what the city as doing."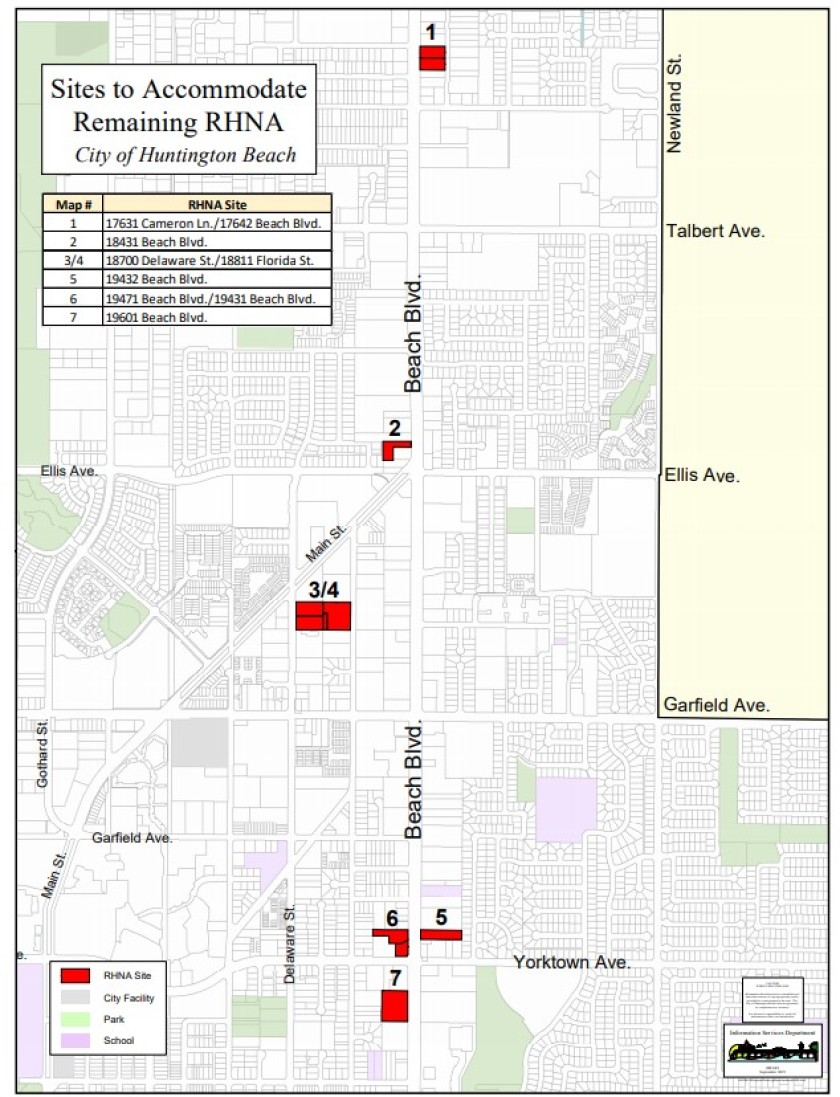 BECSP covers seven parcels.
Four years later, the city council adopted a new housing element that essentially gutted the BECSP, on the grounds that it promoted change that was too radical and too dense—even for a commercial zone. The amended housing element reduced the cap on new units from 4,500 to 2,100 and imposed a range of other development restrictions.
"They've concentrated almost all housing growth into a couple of big corridors because they don't want to put any housing in single-family neighborhoods," said Kenneth Stahl, an attorney affiliated with Orange County YIMBY; he is currently representing a developer in a challenge to the city's denial of a housing project. "But now everyone is angry about housing in these high-density corridors."
The trouble for the city was that, in the intervening years, it had been assigned 533 low-and very-low-income units under its 2013 RHNA allocation (out of a total of 1,353 units). The city's development pipeline more than accommodated its market-rate allocation. But, according to HCD, "housing allocation necessary to meet the needs of the City's lower-income households and workforce was entirely accounted for on sites within the [original version of] BECSP." HCD cited the city for altering the BECSP and attempted to work with the city to help it regain compliance.
Meanwhile, the Kennedy Commission, an Orange County-based housing advocacy group, sued the city over its alteration to the BECSP under the Housing Accountability Act. In March 2016, the city considered an amended plan that could have brought it back into compliance, but the council voted against the amendment.
For the following three years, the city bickered with HCD over the altered plans and its RHNA compliance, but the matter was never settled. Likewise, the Kennedy Commission lawsuit was, and still is, pending. The city prevailed in the original suit in 2017, but the commission filed another, similar suit in 2018.
When Newsom came into office threatening to cite and sue noncompliant cities, Huntington Beach presented a ripe target. It had already undergone HCD's scrutiny, and the state had amassed plenty of evidence to cite in a compliant.
"I don't think the governor wants to sue us," said Carr. "I don't think he has an axe to grind in particular with HB. And we certainly are not interested in [picking a fight]."
The suit, filed by Attorney General Xavier Becerra, claimed, "Housing allocation necessary to meet the needs of the City's lower-income housings and workforce was entirely accounted for on sites within the BECSP….the adoption of these amendments fundamentally altered the inventory of available sites, constituting a de facto change to the 2013 Housing Element's available sites calculation."
"[S]ome cities are refusing to do their part to address this crisis and willfully stand in violation of California law," said Newsom in a statement released when the suit was filed. "Those cities will be held to account."
It was the first, and so far only, suit filed under Assembly Bill 72, a 2017 law that gives the state greater legal powers to enforce RHNA numbers.
The suit compelled the city to re-examine and revise BECSP in order to squeeze the missing 413 affordable units back into the plan. Planning for the units elsewhere in the city was, essentially, a non-starter.
Technically, the council did not amend the BECSP. Instead, it created an "affordable housing overlay" that applies to seven sites within the specific plan area. Those sites, totaling 11 acres, have been upzoned to accommodate 607 units. The state objected to the inclusion of one site, owned by Caltrans and not necessarily available for development, but the six remaining sites still satisfy the state's requirements.
"Our staff, working with HCD, was able to thread that needle where we could be in compliance," said Carr.
The plan assures by-right approval if at least 20 percent of a project's affordable units are low-income. It also reduces parking requirements and, unlike a previous iteration, does not require projects to include commercial space. These changes are relatively minor and essentially bring the plan right back where it was seven years ago.
"These parcels were already zoned for residential to begin with," said Carr. "By just making little tweaks we were able to get into compliance with HCD…. it's hard to believe that it took this long to make this happen."
"There's really nothing new here….that's the available property and the locations that were initially envisioned as being suitable for such development," said Huntington Beach Planning Commissioner Michael Grant.
Citing ongoing litigation, representatives of the city's planning and community development departments declined requests to be interviewed. HCD also declined to comment, citing pending litigation with the city.
The City Council adopted it on a 4-3 vote. It was enough to satisfy HCD, which issued a certification letter Jan. 20.
The slim margin suggests that, despite the state's pressure—and the severity of the housing crisis—the city remains hesitant about planning for more housing.
"I would say overall, HB is not anti-housing or negative on development," said Carr, who voted to adopt the new BECSP. "What I have seen is that people are against bad development….. we've had some good projects and some really bad ones. it's the bad ones that get everyone pretty emotional."
Some city council members may have voted for the plan not necessarily to ease the housing crisis but rather to qualify for state planning funds.
Noncompliance makes cities ineligible for funds such as Senate Bill 2 planning grants. (See prior CP&DR coverage.) Some council members argued that noncompliance meant the city was forfeiting funds while costing the city as it fought the state. The city reportedly forfeited over $600,000 in such funds last year and could, with compliance, be eligible for over $400,000 in grants this year to address housing and homelessness.
"That's too much money to leave on the table to address one of our most top issues," said Carr.
More dubiously, the settlement over the RHNA numbers may enable the city to focus on its other lawsuits, including one that it initiated against the state.
"If the city chooses to continue to fight, it's better to do it from a place of being in compliance rather than taking on all comers," said Grant.
The dispute over BECSP and the 2013 RHNA numbers has lasted so long that it has almost bled into the next RHNA cycle — in which the city is going to have to zone for a lot more than 413 affordable units. Preliminary numbers assigned by the Southern California Association of Governments call for Huntington Beach to add a total of 13,337 units, including 5,830 low-income units. If planners try to confine those numbers to commercial corridors, such as those covered by the BECSP, they may quickly run out of space. Upon release of the RHNA numbers, City Attorney Michael Gates wrote a letter to HCD officials calling the SCAG vote "illegal and blatantly unfair."
Yet another lawsuit that had already been underway — this time, filed by the city against the state — could make those numbers moot. And they could be moot not just for Huntington Beach but for for many other cities statewide.
In September, Gates, supported by a 4-3 city council vote, filed suit to exempt the city from Senate Bill 1333 and Assembly Bill 101. SB 1333, carried by Sen. Bob Wieckowski of Fremont,
applies housing requirements for charter cities, and AB 101 is the budget trailer bill from 2019 that allows the state to impose significant penalties on cities that don't have compliant housing elements. Gates has said that his is trying to protect the city from "state overreach" and preserve its local control over housing.
Unlike most city attorneys, Gates is elected. Some speculate that his lawsuits are theatrical ways to get attention more so than they are sound policies. The same could be said for city council members who voted to support the suits and appeal to the city's anti-development stakeholders.
"There are elected officials who believe in their ability to get things done is based on the number of 'likes' they receive," said Grant. "A little political courage is probably required."
If the court sides entirely with the city, the ruling could have vast ramifications for charter cities, giving them far greater powers of local control than they currently have. (Huntington Beach has also sued the state over so-called "sanctuary city policies," citing similar arguments for why charter cities should be exempt. The city lost that suit but is appealing.)
"It's good night for all state land use legislation. This is the end of everything," said Stahl. "How can you apply CEQA or the Subdivision Map Act or any aspect of law that touches on land use? How can you apply that to a charter city?"
"More cites will have incentive to become charter cities to avoid preemption," added Stahl. "It would be the end of any effort to regulate land use on the state level."
Contacts and Resources
Beach and Edinger Corridor Specific Plan
Calif. Dept. of Housing and Community Development vs. City of Huntington Beach (pdf)
Kim Carr, City Council Member, City of Huntington Beach, Kim.Carr@surfcity-hb.org
Michal Grant, Planning Commissioner, City of Huntington Beach, michael.grant@surfcity-hb.org
Kenneth Stahl, One LLP, kstahl@onellp.com