Most cities in the Inland Empire grew up in the post-World War II era, based on tract homes, strip malls, and, more recently, one of the largest agglomerations of warehouses in the world. Redlands' history dates back further. A hub for the early California citrus industry, it once had streetcars and a railroad stop surrounded by a bustling central core.
And, like many American cities, Redlands nearly eviscerated its downtown, by building an indoor mall in the 1970s and instituting growth controls. And like so many of that era, the mall, which covered six blocks, eventually failed, closing in 2010.
Now a developer plans to tear down the mall and replace it with an outdoor, mixed-use, four-story, five-building New Urbanism-influenced project called State Street Village. It is one of the first, and arguably the most important, projects intended to usher in a new urban paradigm in Redlands. On the one hand, the city is capitalizing on its downtown core, and, on the other, capitalizing on a new rail service arriving soon in the city. The provisions of a 1997 slow-growth ballot measure, Measure U, are on their way out too.
Co-designed by Torti Gallas architects and Mithune architects -- both of which have substantial connections to the Congress for New Urbanism -- State Street Village will cover about 12 acres of the old mall site. The project will include ground floor retail and office space, and 700 residential units on the higher floors. Its centerpiece will be a 16,000 square-foot plaza, which ends on State Street. A five-story parking structure will be enclosed in one of the buildings. Construction is scheduled to begin in late 2023.
At least two other developments are planned adjacent to it, a mixed use project and a 150-unit apartment complex.
State Street Village relies on details that make it more pedestrian-friendly, including shorter block lengths, buildings built to the front of property lines, and zero curbs.
"In essence," said Torti Gallas principal John Torti, the design attempts "reposition the automobile to a minor role in the theatre of the neighborhood and increase the pedestrian to a major role in the life of the neighborhood." This is done, he said, "through the careful crafting of the public realm, of the plazas and the sidewalks and the streetscapes and then what you put adjacent on those streetscapes."
State Street Village will involve a central shopping street lined with retail and restaurants, surrounded by quieter streets on the periphery which join existing residential neighborhoods. It will eventually include lots of trees, which already provide a canopy in existing pedestrian-trafficked parts of downtown. To complement the project, the city is re-extending its main shopping street with the hopes of creating an energetic new district. It will include a plaza and cafes, and invite pedestrians outside once again.
"They can close the streets for events, and pedestrians don't have to worry about stepping off a curb," said Redlands Planning Director Brian Foote. "There's just a ton of these little design details that are very subtle but there are included in the project."
The new State Street Village and its accompanying projects could help stitch together a downtown district that already has a stronger sense of place than many of its neighboring cities do.
"Redlands is not just a little suburban community," said Neal Payton of Torti Gallas.
Even so, Kaitlin Morris, development manager with Village Partners, which is developing State Street Village, noted that Redlands has had no-growth and slow-growth measures on its books for decades.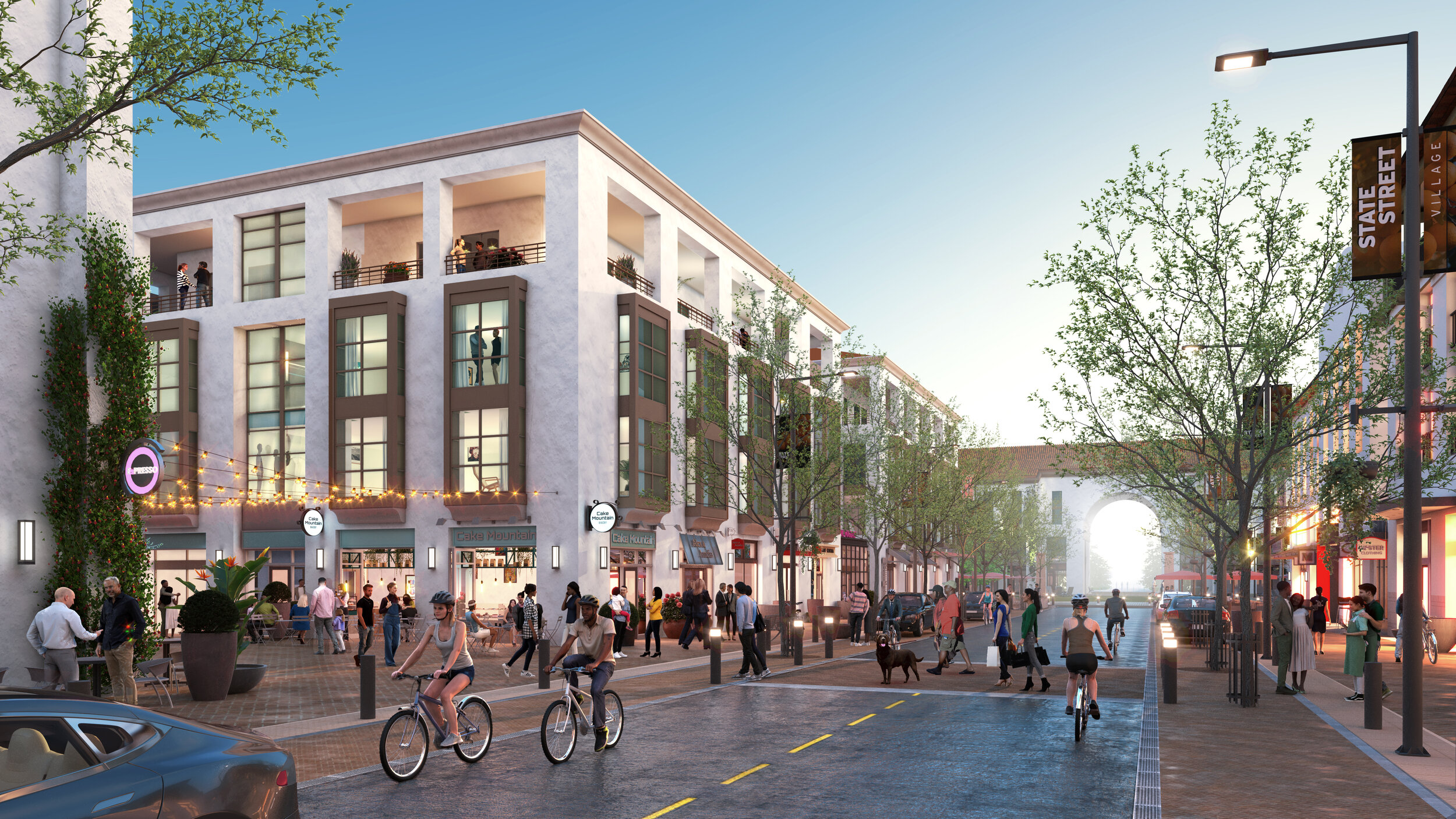 State Street Villages includes a paseo that connects with Redlands' downtown grid.
"State Street Village received the first-ever historic exemption from those growth measures," she said, due to an exemption "for projects directly related to transit." She said the same measures "have prevented any serious level of density throughout the city for the last fifty years or so."
Foote said the developer intentionally designed the project "as if they were following or implementing a form-based code." "As if…" being the key. The zoning under which State Street Village was developed is conventional C-3 commercial zoning.
"The concept of mixed use, transit -oriented development is not really new anymore. It's still challenging to try to implement," Foote said.
But an actual form-based code is on the way. A new set of specific plans expected to be adopted later this year are intended to make similar projects far easier to develop in the future—and to take advantage of some major infrastructure projects coming to the city.
The Arrow rail service is scheduled to begin operations in Redlands later this year. The nine-mile line will run medium-frequency diesel multiple units on existing heavy-rail tracks, with three stations in Redlands and two in San Bernardino. The line will connect with Metrolink commuter rail service in downtown San Bernardino.
The Transit Villages Specific Plan will encourage density around each of the three station areas, which serve, respectively, the University of Redlands, downtown Redlands, and the headquarters of software company Esri. The plan relies on form-based code, governing areas within a roughly half-mile radius of each transit stop, including the majority of downtown Redlands. Each village will have a "Village Core" of intensive zoning and a ring of less intensive "Village General" zoning, with linear "Village Corridors" running throughout each zone.
"State Street Village is the first step that will usher in the era of transit villages," said Morris. She noted that designs for the partnership's project have followed the draft guidelines in the proposed specific plan.
"It would be substantially consistent with what's intended by the Transit Villages Specific Plan," said Foote.
The plan was designed by New Urbanist architecture and planning firm Moule & Polyzoides of Pasadena. It essentially supplants a similar downtown specific plan that Torti Gallas had drafted a decade ago but was abandoned.
The Redlands City Council unanimously approved State Street Village at its May 10 meeting. About half the stakeholders who spoke about the project were against it, said Brian Foote, the city's planning manager. Redlands has a history of planning battles, but so far no one has filed a lawsuit against it, he said.
And Redlands may be a trendsetter in the region. Village Partners also has mixed use projects underway in nearby Montclair and Claremont.
Torti said, "that kind of traditional town that existed pre-1975, we're trying to bring it back, and embellish it."
Contacts & Resources
Brian Foote, City Planner/Planning Manager, City of Redlands bfoote@cityofredlands.org
John Torti and Neal Payton, Torti Gallas, npayton@tortigallas.com
Kaitlin Morris, Development Manager, Village Partners, kaitlin@villagepartners.com
Related CP&DR Coverage
Redlands Embroiled in Battle Over Competing Malls
Image by Zimmerman Visuals courtesy of Village Partners.