Despite consecutive seasons of miserable-to-average snowfalls in recent years, California ski resorts are moving ahead with ambitious expansion and development plans. In fact, less snow may simply mean that they're being more aggressive about offering year-round attractions.
The latest development comes from Squaw Valley.
The proposed Village at Squaw Valley would transform the mountain's currently threadbare base area into a multi-use destination, with a hotel, retail and restaurant complex, 850 residential units, and a "Mountain Adventure Center" with indoor and outdoor recreational activities. Dreamt up and developed in relative haste for the 1960 Winter Olympics, Squaw Valley has never had a town or a base area to match those of rivals like Mammoth Mountain, Heavenly Valley, or Vail.
After five years and over 400 community meetings, the Squaw Valley Specific Plan was approved, 4-2, by the Placer County Planning Commission in August. It will soon go before the Placer County Board of Supervisors. It is believed to be the largest project to be proposed in the county in recent memory.
Located just outside the Lake Tahoe Basin, northwest of the lake, the resort sits in an ecologically sensitive — and politically contentious — area (see prior CP&DR coverage). Environmental groups and other activists pushed to reduce the project's impacts and increase community benefits.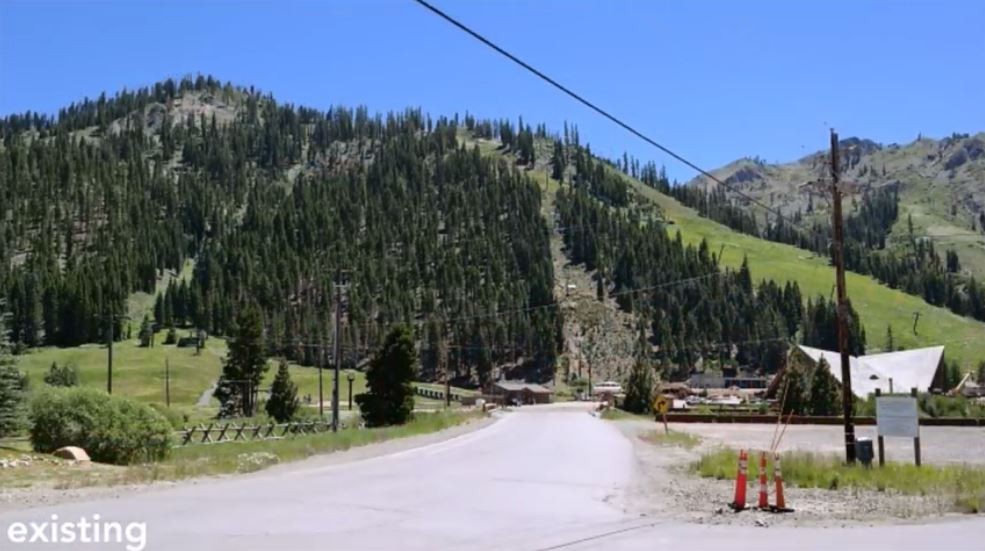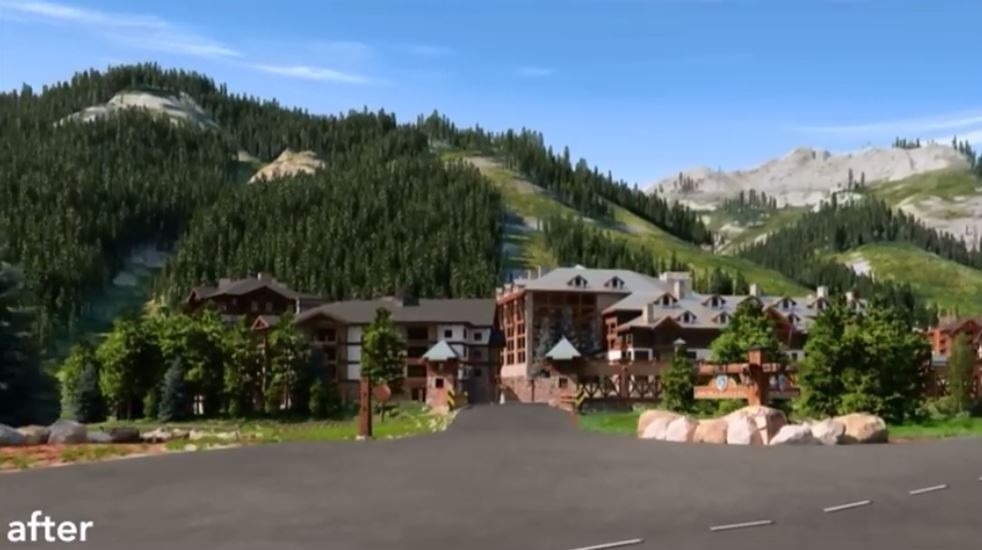 Before-and-after images of the Village at Squaw Valley.
"Squaw Valley Ski Holdings is prepared to significantly invest in the offering at Squaw Valley to position the resort as a true four-season destination, provide more year-round jobs, on-site affordable workforce housing, tens of millions of dollars in other benefits to our local community, and assist in stabilizing the North Lake Tahoe economy," said Andy Wirth, president and CEO of Squaw Valley Ski Holdings, LLC, in a statement following the vote.
The plan for the village went through four major iterations, each one smaller than the last. The current version is half the size of the original proposal and, according to the resort, and is now only 38 percent of what is allowable per the Squaw Valley General Plan and Land Use Ordinance, which was adopted in 1983.
Of the site's 93 acres, only 12 will contain buildings. Ninety percent of the development will take place on current parking lots and other non-pristine land. Full build-out is planned to take 25 years.
Beyond the land-use plan, the resort has pledged to institute a range of mitigation measures to ease and offset environmental impacts. The resort will dedicate several million dollars to projects including stream restoration, upgrades to public parks, and support for public transit, plus a one-time $20 million payment to upgrade transit infrastructure. The plan estimates local tax revenues of $22 million annually that the county can allocate for environmental causes and social services.
"You already have a lot of established land uses that are primarily recreation- and-tourism based," said Fisch. "If there is one specific issue area, that would be…the impacts of visitation because they inform the other impacts."
The plan also estimates that by enabling visitors to lodge at the base of the mountain, rather than stay elsewhere and drive to the mountain, up to 2,000 trips per day may be eliminated from local roads on peak days.
Even these assurances do not comfort opponents of the current project.
"The (environmental impact report) is simply fatally flawed," Richard Drury, an opponent of the project, told the Reno Gazette-Journal. He reportedly claimed that the plan's figures on traffic and water availability cherry-picked different years with relatively few visitors and relatively high precipitation. "That is the kind of preposterous analysis that really requires a second look."
Sierra Watch, a local environmental group, led an aggressive campaign to "keep Squaw true." Its website contends that the plan includes ten-story buildings and amounts to a "massive and misplaced megaresort." The plan pledges an average building height of 67 feet, which it says is "comparable" to the height of existing buildings on the site.
Representatives of Sierra Watch did not respond to multiple requests for an interview.
"It is a project that is within the holding capacity of the existing Squaw Valley general plan in that the project proponents are actually seeking to entitle development that would otherwise be permissible," said Alex Fisch, supervising planner with Placer County Planning Services. "If there is a broad point of consensus among everyone, it's that the resort base does need redevelopment and does need to be made modern…the issue is, is this the right project?"
"Their issues range from the character of the plan area to issues pertaining to increases in traffic and corollary effects with greenhouse gases as well as impact to habitat," said Fisch. He added that the environmental impact report lists ten un-mitigatable impacts.
Contacts & Resources
The Village at Squaw Valley Overview
Placer County Planning Department Documents
Alex Fisch, Supervising Planner, Placer County Planning Services AFisch@placer.ca.gov
Images courtesy of Squaw Valley Ski Holdings LLC.