What's more educational: a good book or an old-growth forest? It's a toss-up, right?
In West Los Angeles, it's pretty much a moot point.
Ten years ago, my neighborhood bookstore closed. A classic of the genre, Dutton's Books was idiosyncratic, erudite, and well stocked. And of course it could not compete with Barnes & Noble, which, in turn, could not compete with Amazon. Dutton's was the first major casualty of the retail apocalypse that touched me personally. Its loss saddened me and left my neighborhood impoverished, not just intellectually but communally.
If Dutton's was my intellectual redwood, felled before its time, Adventure 16 — Los Angeles's favorite backpacking, camping, and rock climbing outfitter — was my literal redwood. It falls at the end of this month.
Any regular customer of A16's flagship West Los Angeles store will attest to the primordial memories it invoked. The door used to be regulated by an old-time weight-and-pulley system. Once open, the smell of piñon hit you, bringing the outdoors into the city. They served hot cider and lined the walls with maps and trekking memorabilia, collected over the decades by staff who know a thing or two about earth and rock. A16 supplied Boy Scouts and dirtbags and weekend warriors for 59 years. I was in the latter category, at best, but I still loved it for what it evoked: the full embrace of California's wilderness.
A16's locations dwindled from six to two in recent years. I had hoped that, if the last two had hung on this long, it might just survive indefinitely. You can order a book online and know exactly what you're getting. But I always figured that a sleeping bag, a backpack, or hiking books would be a different matter. Would anyone dream of buying rock climbing shoes without trying them on first? I guess they would.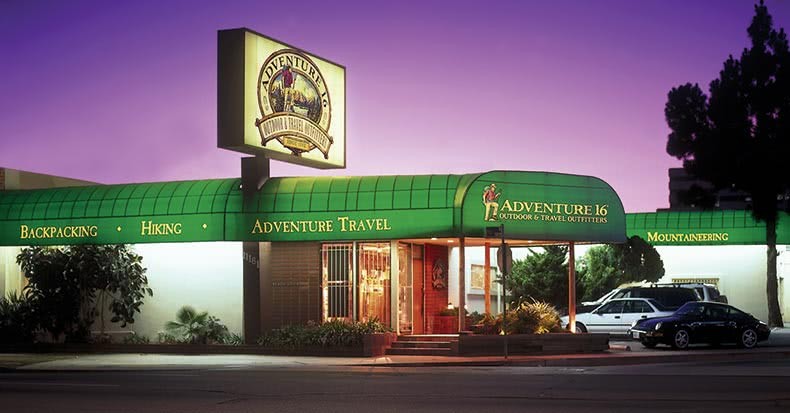 Taps will soon play for Adventure 16's remaining stores, in West L.A. (pictured) and San Diego.
We all know the reasons for the decline of retail, just like we all know the reasons behind climate change. The rise of online online shopping and big box retail, somewhat bafflingly, with rising commercial rents in many cities. A16's building is low, ugly, and irregular. And yet, clearly it has a landlord who is not willing to budge — believing, probably erroneously, that retail rents ought to keep pace with residential rents. And so, it will join Los Angeles's growing garbage patch of retail vacancies, and the piñon aroma will slowly fade.
We can ask, of course, why any of this matters. People can still read books, and they can still go hiking, right? Why should I mourn an empty storefront the same way I would mourn the passing of a friend?
I mourn because places matter, and stores are places too.
At its most obvious, retail brings people together. Walter Benjamin taught us that even window-shopping qualifies as participation in urban life. They held weekly events, like free movies, book signings, and classes. I've run into friends at A16 and Dutton's both. A few decades ago, I bought hiking boots right alongside Flea, no doubt stocking up for a high-desert vision quest with his bandmates. I've never bumped into anyone, famous or otherwise, on email.
From a purely bureaucratic perspective, everyone who believes in good urbanism should embrace good retail. Mixed-use buildings and active streets are rightfully central goals for progressive planners. But plans matter little if there's nothing to fill the voids that planners mandate. There are only so many boxing gyms, juice bars, and nail salons to go around.
Those places are, essentially, venues – spaces where action takes place. Great retail stores embody their products and the ethos behind the products, magnifying and ennobling them.
A bookstore embodies the wisdom of books. An outdoors store embodies the sublimity of the outdoors. Customers feel something effable and priceless when they physically enter places that are appealing, enriching, and inexplicably personal-- not unlike the way worshippers feel when they enter a church. Knowing that a store exists, or passing by it serendipitously, invokes emotions in ways that a website, hovering aimlessly in the void of cyberspace, never can.
This is the reason why we still go to school rather than study online. It is the reason why we still go to offices rather than telecommute. It is the reason people still go on dates and cohabitate rather than…. well, I'll leave that one alone.
This is the very reason why, even after 11,000 years, cities still exist.
As A16 breaks camp, I can't help imagining the urban landscape once the transition to AI-powered, drone-facilitated online commerce is complete and all the storefronts go dark. It's not a pretty sight.
I want to believe that this trend can abate. I hope that consumers, not all, but some, will reconsider their choices. Maybe they can start paying a little more, not just to purchase products but also to support places. Perhaps some landlords will even reconsider their valuations, and perhaps more cities will institute protections for local businesses. Dutton's is long gone, and a lonely bugle will play taps for A16 in a few days. But, still, their deaths don't have to be in vain.
No matter what happens, at least we'll always have books. Nature… we can only hope.