Placer County is finalizing its first land conservation plan, designed to keep 60,000 acres from being developed in the rapidly-growing region northeast of Sacramento. An initial conservation map for the western part of Placer County was adopted by the Board of Supervisors during late January, and a final map could be approved later this year.
The Placer County Conservation Plan marks a big turn for a pro-growth county where voters rejected a quarter-cent sales tax for land acquisition in 2000. While not stopping additional development, the new plan directs it away from some rural areas.
And there is plenty of growth to direct. The county is planning major urban development in the western county with three large projects: Placer Vineyards, a university and associated community, and the Placer Ranch project. Placer Vineyards alone is planned to include 14,132 housing units on 5,230 acres west of Roseville.
The plan accommodates these big projects, as well as large-scale growth plans in the City of Lincoln.
"It will allow Lincoln a huge amount of new growth," said County Supervisor Robert Weygandt, who represents Lincoln. "It will probably provide the ability to double the population from the current 35,000."
Placer County is bisected by Interstate 80, and much of the growth is along the I-80 corridor. The county's population has increased dramatically in recent years to about 320,000. In the first half of this decade, population grew by 17.6%, and for a few years, Placer was the fastest growing county in the state by percentage. By 2015, Placer County is projected to grow by an additional 90,000 residents — more than 25%.
Most of the growth is in unincorporated areas, Lincoln and Roseville, the county's largest city. Roseville has not signed onto the land conservation plan, something county officials are hoping will happen.
A Roseville city official said the city is participating in regional committees related to the county's conservation plan, including a technical advisory committee and one on biology.
"After it's a little bit more defined, if it makes sense for Roseville to join, we might consider a different level of participation," said Mark Morse, environmental coordinator with Roseville's Community Development Department.
The conservation plan is an outgrowth of longstanding efforts to save open space in the county, according to Terry Davis, Mother Lode Chapter Coordinator for the Sierra Club. "It seems like an anomaly, in a way, that a long-term planning effort would have progressed this far in a conservative county like ours, one whose political nature is inherently suspicious of big new government programs," Davis wrote in an op-ed article for the Auburn Journal.
But the plan offers certainty for builders and the promise of quick issuance of permits, rather than lengthy court battles over large-scale development that have been the norm in recent years.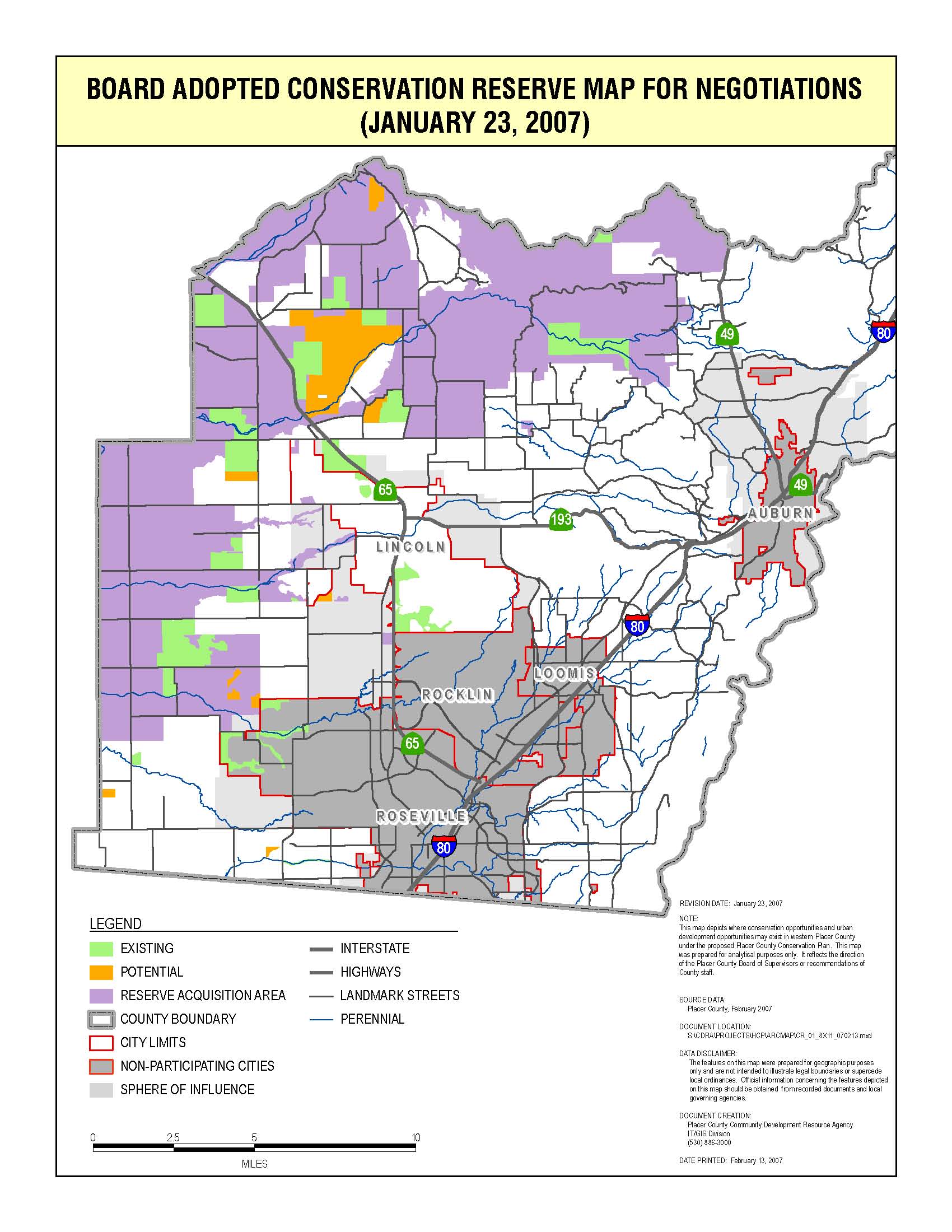 The 50-year conservation plan only covers land in the western part of the county, along its borders with Sutter, Yuba and Nevada counties. These low-lying regions are home to rice fields, orchards and rolling oak-studded hillsides. They are also home to more than 30 species of concern or listed species under the federal or state laws, Davis said. Conservation plans for the remaining two- thirds of the county will be drawn up later.
Much of the land in the conservation area will remain in agricultural use, said Fred Yeager, the retired county planning director who today is president of the Placer Land Trust. Cattle grazing around vernal pools, for example, may benefit those habitat areas, he explained.
Boundaries for the proposed conservation plan area now encompass 80,000 acres, but the actual conservation area land is expected to be winnowed down to 60,000 acres after negotiations are completed with agencies such as the U.S. Fish and Wildlife Service.
The conservation plan will function as a habitat conservation plan (HCP) under federal law and a natural communities conservation plan (NCCP) under state law, providing developers certainty over what regulatory issues they will have to contend with as they move to develop land outside protected areas.
Under the Placer County plan, developers are expected to be able to mitigate any destruction of habitat by purchasing conservation easements within the protected conservation plan area. Although the plan focuses primarily on conservation easements, some of the land will be in public ownership as well, Yeager said. Federal and state funds are also expected to help pay for funding the conservation area, he said.
According to a county staff report, programs like the county's "are increasingly seen as a solution to problems associated with project-by-project review of land development projects. The interest on local agencies' part is to solve the numerous and complicated problems associated with balancing growth with the mandate of the state and federal agencies to protect sensitive species and their habitats."
But some wonder whether a recent decision to limit permits issued under San Diego County's multiple species conservation plan will mean that Placer County's plan is open to legal challenges (see CP&DR Environment Watch, February 2007).
In the San Diego case, the focus was on permits related to development of property containing vernal pools — shallow, seasonally flooded ponds and puddles that constitute one of the rarest and most threatened habitat types in California. In Placer, too, much of the developable land is in an area that has many vernal pools.
Brigit Barnes, a land use attorney in Placer County, is concerned that Placer County will run into the same problems that San Diego County did on its multi-species plan. "I think the plan is in violation of the San Diego order," said Barnes, who worries that environmentalists will seize on the discrepancy.
The Center for Biological Diversity brought the San Diego lawsuit. Peter Galvin, the group's conservation director, said the environmental group is not involved in the Placer County HCP. But he said the San Diego ruling should help the group in its work on other HCPs in the state.
Supervisor Weygandt is unperturbed. "San Diego had a problem because it excluded the vernal pool habitats," he said. "We're seeking coverage for all protected habitat types."
"Our effort," added the Sierra Club's Davis, "has been to make this a very good HCP that could withstand any legal challenge."
The Placer County Conservation Plan's legality is one question; its popularity is another. Barnes said that many Placer County landowners oppose the plan. Ranchers and farmers think of their land as "an estate plan for their grandchildren," she said.
"It's controversial," Yeager conceded. "Folks believe it will result in more onerous requirements. I don't."
Yeager said that every major project in Lincoln, Roseville and in unincorporated areas has been challenged in court during recent years over mitigation issues, primarily environmental ones. With the new plan, developers will be able to meet their mitigation needs for federal, state and county requirements in one fell swoop, he said. "Developers [will] know what their obligations are going to be."
Weygandt expects the additional costs of mitigation to be borne by new homeowners, but he sees many benefits of the new plan thanks to a "conservation strategy being as specific as possible."
"I'm very optimistic," Weygandt said. "It's very likely we'll have a product that'll serve our citizens over 50 years."

Contacts:
Robert Weygandt, Placer County supervisor, (530) 889-4010.
Fred Yeager, Placer Land Trust, (530) 887-9992.
Terry Davis, Mother Lode Chapter of the Sierra Club, (916) 557-1100, ext. 108.
Brigit Barnes, Barnes & Associates, (916) 660-9555.
Peter Galvin, Center for Biological Diversity, (707) 986-7805.
Mark Morse, City of Roseville Community Development Department, (916) 774-5499.
Placer County Conservation Plan website: www.placer.ca.gov/CommunityDevelopment/Planning/PCCP.aspx