When we listed the best small-city downtowns in the Central Valley, we didn't include Exeter, a Tulare County community eight miles east of Visalia. Exeter was in our discussion, but it didn't make the cut for reasons that I don't recall.

After spending part of one day last week in Exeter, I'm convinced we made a mistake. In fact, Exeter has one of the best downtowns for a city of its size (about 10,700 people) not only in the Central Valley, but in the entire state.

Exeter has long been one of the preferred places to live in the citrus and cattle growing territory at the base of the southern Sierra Nevada Mountains. Crime is low, schools are good and neighborhoods have character. During the last 10 years, the city has become known for its murals, which now number 24. Art snobs might be quick to dismiss the mural project, but these are professional works executed by real artists. Most murals are located in the center of town, and they certainly grab your attention.

But what most got my attention was the number of people on the sidewalks of what is obviously a thriving downtown. Hundreds of people — including many teenagers from the high school on the edge of downtown — were walking to restaurants and coffee shops, running errands, meeting friends, taking care of business and quite clearly enjoying their town. There are California cities of 100,000 people that don't have the downtown foot traffic that Exeter has. Some touristy small towns boast busy downtowns (Carmel, Sonoma, St. Helena), but Exeter throbs with a local energy.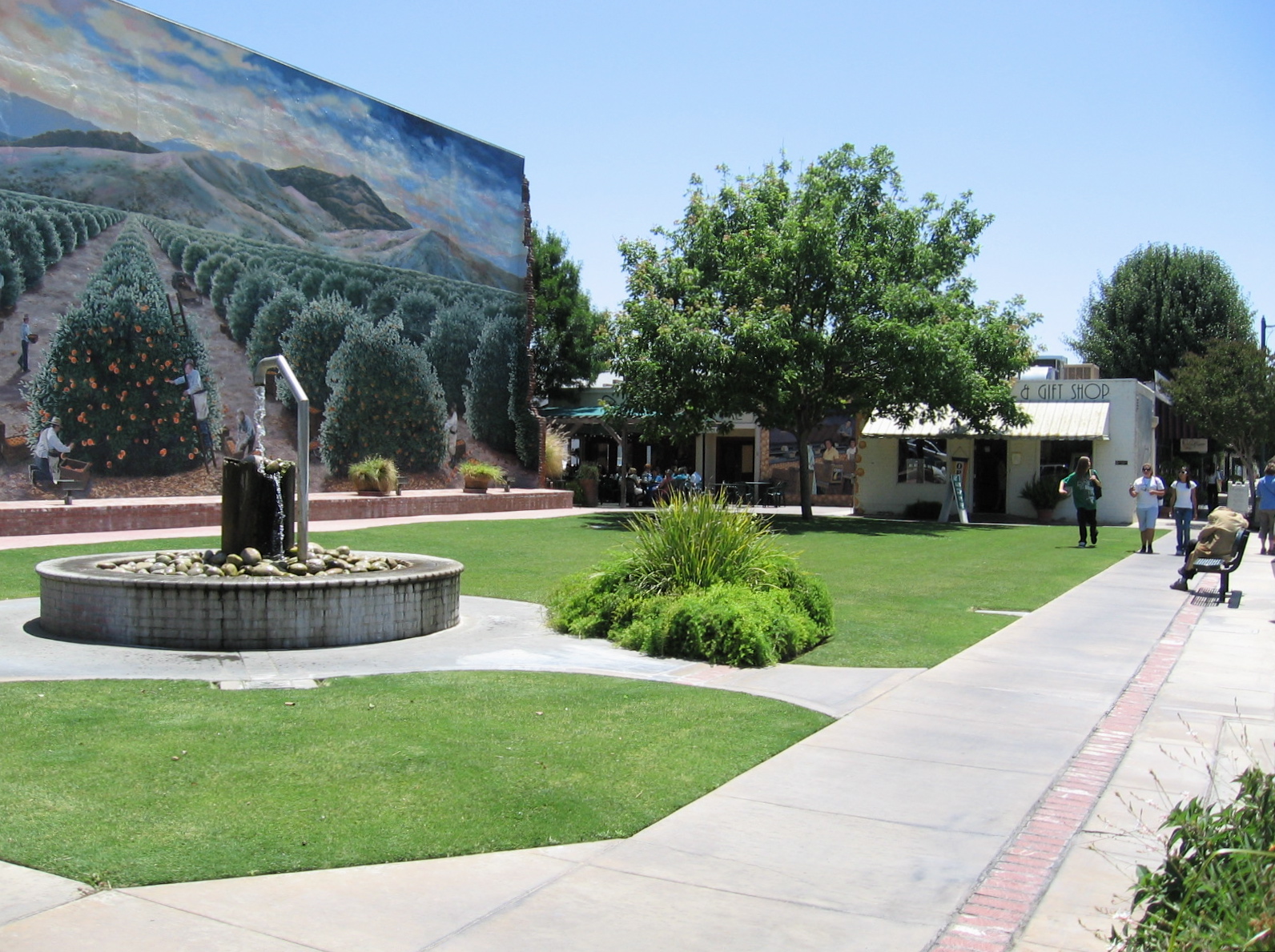 One of downtown Exeter's many gathering places. 
The downtown core covers about three blocks of Pine Avenue, plus a block or two (depending upon your definition of downtown) in either direction. You'll find two hardware stores, a bookstore, professional offices, restaurants, a couple watering holes, a few clothing stores, city hall, the post office, the upstart Sierra Forge & Fire, and a number of small parks and gathering places.

What's missing? Obviously dilapidated buildings. Trash. Empty storefronts (OK, I counted a couple vacancies).

In fact, the whole place is spotless — the downtown business district, the adjacent residential areas and Exeter City Park, and even the high school, which was carefully overhauled and expanded a few years ago. People care about this town.

"Exeter has always had a lot of community pride," said Greg Collins, of Collins & Schoettler and Exeter's contract city planner for more than 20 years. Collins said he hears regularly from locals who want to open a store or other business — people who are willing to invest in their town.

When we rate downtowns, we give a lot of weight to "sense of place." In downtown Exeter, the water tower on the edge of downtown, historic building facades (some of which were restored with redevelopment money) and the murals depicting the local social and economic history let you know where you are. Except for the True Value and Ace hardware stores, I don't remember seeing a chain business.

"Most of the time you do talk to the owner when you are in a business," said Sandy Blankenship, executive director of the local Chamber of Commerce.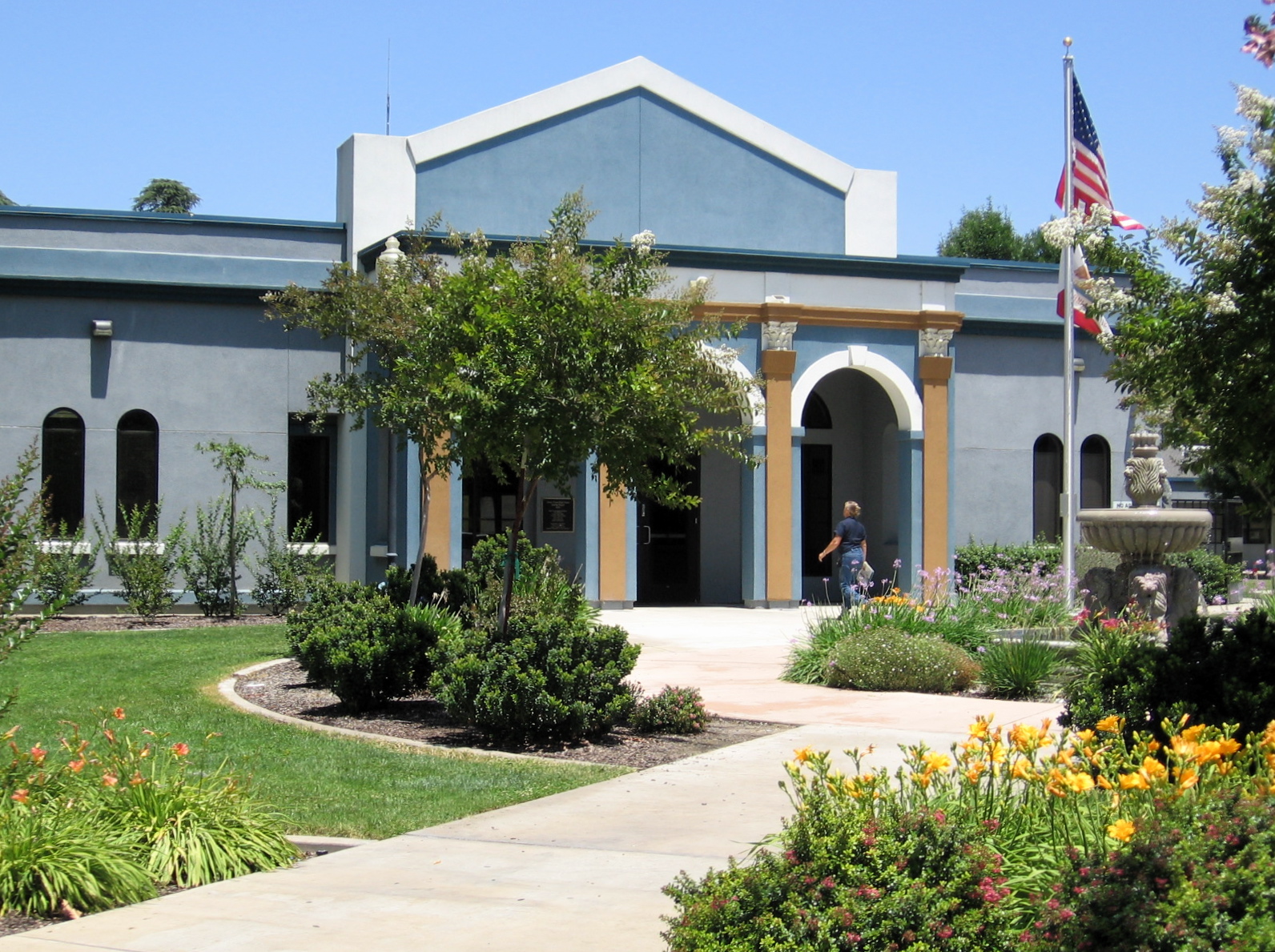 Exeter High School's nicely manicured grounds. 
How has Exeter done it? By expecting the best and not accepting development simply for development's sake, said Collins.

"I really come back to the vision of the City Councils present and past that set the bar for development high," Collins said. He added: "The City Council has allowed me and the city manager and some of the other staff to do what we do best. I've made mistakes, but we've had successes. You don't always get that in cities. They've allowed me to be aggressive in planning the city."

I hate to gush. We journalists are supposed to be circumspect. Let me simply suggest that people who are in search of "small town atmosphere" may want spend a day or two in downtown Exeter to experience the real thing.

"The downtown is really the heart of Exeter and the place where you meet friends and family members for a meal or whatever," Collins said. "That's something that so many other towns have lost."

– Paul Shigley