My ire often rises when the national media or some big-time organization ignores California. Don't they know how important we on the whacky West Coast are?
 
When the American Planning Association released a list of the 10 best streets in the country and not a single California street was on it, my outrage cranked up. At first. Then I got to thinking: What is the best street in California? Should it be among the APA's top 10?
 
The first street that came to mind was The Embarcadero in San Francisco. Where an awful freeway once blighted the waterfront, spectacular views of the bay are now available. The restored Ferry Building looks grand, and the area around it teams with activity. But for reasons that escape me, The Embarcadero has a number of dead spaces on its inland side. And if you keep going north, you'll wind up at Pier 39 and Fisherman's Wharf, two of the worst tourist traps anywhere.
 
Market Street should be San Francisco's grand boulevard, but it's not. The city has been trying to figure out what to do with the thoroughfare for about 60 years. It recently started prohibiting automobiles on a few blocks of Market as a way to spruce up its image. As the Chronicle described it: "The traffic changes are part of Mayor Gavin Newsom's administration's larger vision to turn dirty, crowded Market Street into a world-class thoroughfare akin to Barcelona's Las Ramblas or New York City's Broadway."

Uh huh. Check back in 2069.
 
Speaking of Broadway, the boulevard of that name in downtown Los Angeles certainly could be one of the country's best streets. It's definitely the setting for one of the great international street scenes of the world, with food, art, music and fashion from around the world overloading the senses. Many of the street's glorious pre-war movie houses still stand. But conditions and uses in the historic structures remain spotty, and Broadway overall has too many vacant or underused buildings. What most holds Broadway back from greatness, though, is its physical infrastructure – sidewalks, landscaping, street furniture, public spaces. All should be better.
 
In the self-proclaimed Finest City – San Diego for those who don't remember the time before the City Hall scandals and real estate collapse – it's hard to identify a street that stands out. It certainly isn't Harbor, which is designed for cars, cars, cars. Market and Broadway have potential, but they could use more care and investment. Fourth and Fifth avenues through the Gaslamp Quarter are a lot of fun, but only for a few blocks. My favorite street in San Diego is probably 6th Avenue just north of I-5. Glorious Balboa Park runs along the east side of the street, and the edges of the Park West and Middletown neighborhoods occupy the west side. But the west side of 6th really needs more of interest to hold the street together.
 
In the state's mid-sized cities, Palo Alto's University Avenue comes to mind, as do College and Telegraph avenues in Berkeley. As befitting their cities, University is clean and orderly, while College and  Telegraph are messy and unpredictable. All three offer lively street scenes, but all three can be choked with traffic for what seems like days at a time.
 
Some Gold Rush towns sport well-preserved streets, such as Broad in Nevada City and Main in Placerville. But some of these corridors almost feel frozen in time, and some are so full of galleries, antique stores and overpriced bistros (read: touristy schlock), it's hard to take them seriously as "places."
 
A number of beach towns are home to fun streets. West Balboa and Newport boulevards in Newport Beach, and North Manhattan Avenue in Manhattan Beach certainly represent SoCal beach culture. Santa Cruz had to rebuild Pacific Avenue after the 1989 Loma Prieta earthquake, and the results are both more inviting and less authentic. But if your version of a great street has widely mixed uses and fine architecture, the beach town streets generally fall short.
 
California does have two corridors that planners everywhere often try to mimic: Colorado Boulevard in Pasadena and State Street in Santa Barbara. These streets are the central thoroughfares in the state's two best downtowns, and they are both full of life and history. The APA list, however, seems to focus on underdogs, so acclaimed streets in wealthy towns are unlikely candidates.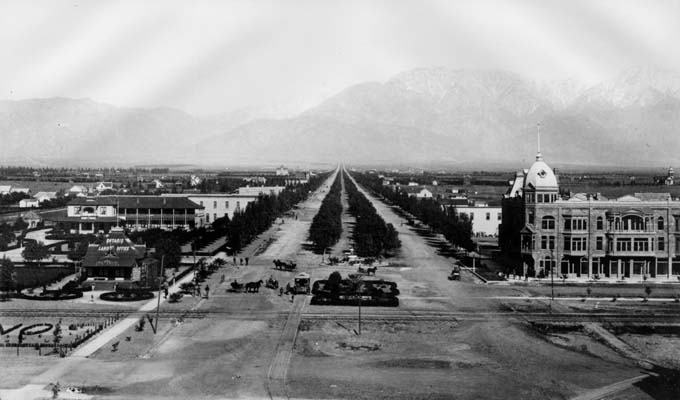 All that said, my favorite street in California just may be North Euclid Avenue in Ontario. Listed on the National Register of Historic Places, Euclid has been Ontario's main drag since the city's founding in the 1880s. A wide street with a heavily landscaped median offering great views of the rugged San Gabriel Mountains, North Euclid is the very definition of a grand boulevard.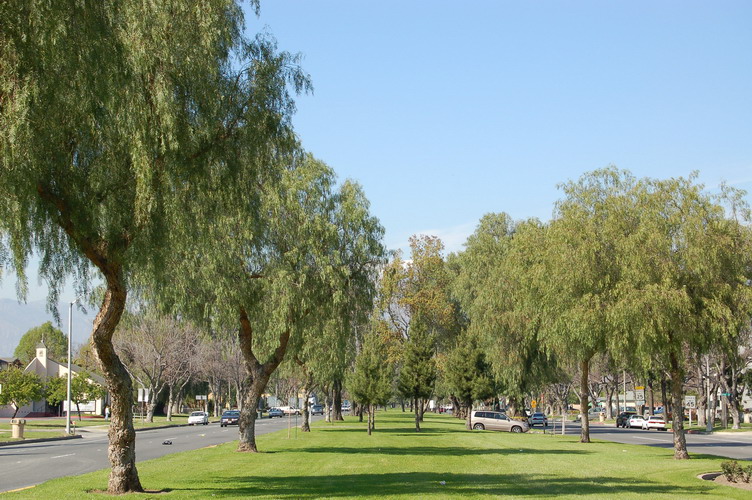 The northern stretch is lined with historic craftsman homes and civic buildings, including Chaffey High School's remarkable campus. The southern end (the boulevard becomes South Euclid near the railroad tracks and quickly loses much of its charm) is a central piece of Ontario's rebounding downtown.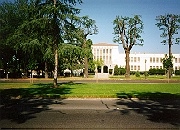 One of the great things about North Euclid is that in a 20-minute walk, you can witness 19th century splendor, 20th century success and failure, and 21st century promise. What more could you want from a single street?

– Paul Shigley