Residents of the Riverside County city of Temecula, which has been among the state's fastest growing cities for 20 years, have run into some growth they do not want.

City leaders and local residents are opposing a proposed quarry located one mile south of the city limits near the San Diego County line. The quarry, to be operated by Granite Construction of Watsonville, would mine aggregate for use in making concrete and building transportation projects. The area to be mined is 135 acres of a 414-acre site, with mining operations running a half mile long and 1,020 feet deep.

Temecula has "a longstanding policy of creating open space boundaries," around the city, said Patrick Richardson, the city's planning and redevelopment director. To the north and west of the city are numerous wineries and agriculture.  
    
Temecula tried an unusual tactic to stop the quarry: The city proposed an environmental annexation of about 5,000 acres that included the quarry site along with an adjacent 4,500-acres of open space, managed by San Diego State University (SDSU), called the Santa Margarita Ecological Reserve. Nearly all annexations are intended to enable development. Temecula's proposal is intended to preserve the status quo.

However, the Riverside County Local Agency Formation Commission (LAFCO) rejected the proposed annexation in June. Temecula modified the proposed annexation by removing the mine site, but LAFCO said no for a second time in September.
    
In a staff report on the proposed annexation, LAFCO staff conceded that surface mines are not usually welcomed.
"Surface mining is not a popular use, not unlike landfills, jails, prisons, etc." the report said. "However, like those uses, it is a necessary use that must exist somewhere. Siting such uses always proves to be a difficult decision."

The real issue, according to LAFCO Executive Officer George Spiliotis, is land use authority. The whole point of Temecula's annexation is to halt the gravel quarry, Spiliotis pointed out. But as with any locally unwanted land use, the ultimate decision needs to balance local desires against regional needs. Temecula's approach would prevent a complete evaluation of the proposed quarry, he noted.

"The agency ultimately charged with siting such uses must balance the regional need for those uses not only with project impacts, but also with the desires of local constituencies," Spiliotis wrote in a report to the LAFCO board. "In this case, the land use agency must also weigh, after determining the impacts of the project, the relative value of various open space uses. Staff believes the appropriate agency to balance these objectives is the county. The Board of Supervisors does have a regional interest and perspective that is called for in this circumstance."

Interestingly, the only support for annexation on LAFCO has come from the two county supervisors on the board – Bob Buster and John Tavaglione.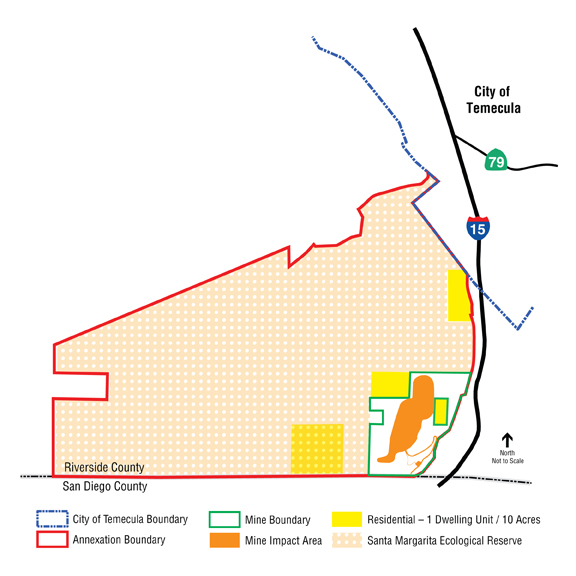 With annexation apparently dead for now, the quarry plan is headed to Riverside County's Planning Commission, and ultimately its Board of Supervisors. The county has not yet set a date for a hearing, as it first must review and revise a draft environmental impact report following comments submitted this month. Temecula's comments alone on the draft EIR were 157 pages long, according to Richardson. "I imagine it'll take a few months to revise," he said.

As commuters have moved inland in search of affordable housing, Temecula's population has nearly quadrupled to 102,000 residents since 1990. Many of the residents in Temecula's huge subdivisions commute to jobs in Orange County and San Diego. While the city has been very welcoming of urban development, Granite Construction's proposal has become a lightening rod, and protests have drawn more than 2,000 quarry opponents. The main concerns voiced by local residents are "air quality, traffic congestion, noise, light pollution, and habitat destruction," said Temecula Mayor Maryann Edwards.

 "We have concerns with just about every aspect of it," added Richardson. "It is essentially a wilderness area."

The quarry would abut the Santa Margarita Ecological Reserve, which is home to nearly 100 rare and endangered species, and five miles of the Santa Margarita River, the only remaining free-flowing river in Southern California.
 
"An operation of this magnitude is not appropriate next to an ecological reserve or an outdoor classroom," Matt Rahn, director for research and outreach for field station programs for SDSU at the reserve, said of the proposed mine.

Edwards said she agrees that aggregate is needed for construction. "However, research shows that there are dozens of areas with similar resources that are remote to populated areas," she said.

New quarries are often hard to locate near urban areas, even as the operators promise modern technology to keep down dust and limit other impacts. "People don't know what to expect," said Karie Reuther, director of community affairs for Granite Construction.

The proposed mine would be hidden in steep hills covered with chaparral and coastal sage scrub vegetation, and not visible from the city. Still, residents want to save mountain views and preserve open space.
    
One local group fighting the project is Save Our Southwest Hills. SOS Hills member Fred Bartz points out that Riverside County has 52 active quarries, while San Diego County has 14. He said Riverside County ends up exporting its aggregate to San Diego County and Orange County.

Bartz said, "Some people are saying 'Why should Riverside County become one large gravel pit?'"

Residents have suggested increasing extraction at other mines in the county, developing mines in other locations, or even importing aggregate from Mexico and Canada.

Granite's Reuther argues that having a local mine will help reduce regional truck traffic because aggregate will not have to be shipped in from outlying areas. The mine would, however, send an estimated 700 trucks a day onto Interstate 15.
    
The project is expected to create 100 local jobs and lead to increased state and local tax revenues.
    
Granite has mines throughout California and has fought hard to open new mines in the past. After 23 years of wrangling, it recently received approvals for a smaller mine in San Diego County, called Rosemary's Mountain Quarry, which is expected to open in 2011.

Bartz said a major concern of SOS Hills is about air quality. "Not all quarries are as simple as excavating gravel from a riverbed," he explained. "This quarry will require blasting, as much as 10 blasts per week."

The draft EIR does say that the quarry project will have significant and unavoidable  impacts on air quality and traffic/transportation. But Reuther contended that those problems are caused by existing air and traffic problems in the area, and she said that the company will pay mitigation fees as required.
    
Reuther said the increase in particulate matter on the property's border will be less than 1%  and will decrease further away from the property. The company will have dust mitigation on site, including an indoor crusher, enclosed conveyor belts, paved roads and spray bars on all trucks. All blasts on the site will be controlled to keep energy in the ground, she said, and will not create huge explosions that residents are familiar with from military activities at nearby Camp Pendleton Marine Corp Base.

Contacts:
Temecula Mayor Maryann Edwards, (951) 694-6416.
Patrick Richardson, City of Temecula Community Development Department, (951) 694-6444.
George Spiliotis, Riverside County Local Agency Formation Commission, (951) 369-0631.
Matt Rahn, San Diego State University, (619) 594-5386.
Fred Bartz, Save Our Southwest Hills, (951) 302-3401.
Karie Reuther, Granite Construction, (951) 304-9647.