The future of land use in the City of Ontario is up in the air. Literally.
For 40 years, Los Angeles World Airports (LAWA) -- a subsidiary of the City of Los Angeles -- has owned and operated the LA/Ontario International Airport (ONT) under a joint powers agreement between the cities of Ontario and Los Angeles. Now, Ontario says LAWA has welched on its promise to increase air traffic at Ontario. So the city has launched an aggressive, frankly worded campaign to wrest control of the airport's operations and management from LAWA in order to get the most out of what is considered one of the primary economic engines of the Inland Empire.
As recently as four or five years ago, Los Angeles International Airport was approaching its mandated cap of 70 million annual passengers. To relieve pressure on Los Angeles International Airport (LAX), LAWA pledged that ONT's traffic would rise from roughly 7 million annual passengers in 2005 to its cap of 30 million annual passengers by 2030. As a result, the generally growth-friendly city adopted an ambitious general plan update that would promote development to complement what would be one of the 25 busiest airports in the country.
"Every real estate developer across the board would benefit from a boom in the Ontario Airport," said Christine Iger, a political consultant who sits on the Urban Land Institute's Inland Empire Committee.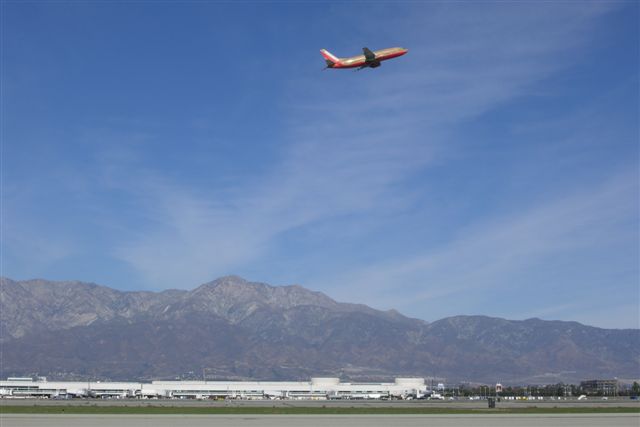 LAWA's pledge to promote ONT was the centerpiece of the effort to "regionalize" air travel in Southern California and, among other things, steer passengers away from long drives to LAX. Concentration of air travel at LAX is a big regional problem; no other large metropolitan area concentrates so much of its air travel in one large airport – and LAX is far away from most population centers. Previous efforts to coordinate air travel among the LAWA airports and other regional airports, such as Orange County John Wayne and Burbank Airport, had yielded negligible results.
But none of those results are so disheartening as those at ONT.
In the past five years, traffic there has gone down to 4 million annual passengers – a decline of almost half. Meanwhile, traffic at LAX has trended steadily upward. Ontario officials are blaming LAWA for the dropoff. They claim that LAWA, which is controlled by the Los Angeles mayor and City Council, has allowed landing fees and administrative costs to balloon in a deliberate effort to direct traffic to LAX in order to benefit the City of Los Angeles.
"The issue of LAWA's control and the way they have handled the airport the last few years is largely regarded in this area as a form of economic warfare of the city of Los Angeles with regards to the economy of the Inland Empire," said economist John Husing, whose work focuses on the Inland Empire.
City officials say that whatever benefit Los Angeles gained has been devastating for Ontario's economy and, if it persists, threatens to undermine the city's newly updated general plan, which is part of a larger civic effort called The Ontario Plan.
The general plan update, adopted earlier this year, assumes that heavy traffic at ONT will generate demand for development in the city. Ontario Planning Director Jerry Blum said that the rule of thumb in the aviation industry is that a city's airports create the demand for approximately one square foot of office space for every annual passenger. He said that the city's current supply of Class A space is sufficient for current traffic but that the city's plan calls for the several million more square feet that would complement a more crowded airport.
"At 5, 6, 7 million…the localized region probably has approximately that much Class A office," said Blum. City officials contend, however, that traffic will remain at low levels so long as LAWA remains in control. This means that land in and around the airport will be grossly under-utilized, they say.
"Right now, basically it's being managed by an out-of-area landlord who really has no sense of what's going on or the true economic value of the property," said Alan Wapner, the Ontario City Councilmember who is leading the campaign to gain local control. "The city of Ontario sees it as part of the big picture."
Wapner said that some of the airport's 1,700 acres "are just dirt" and could be developed. Beyond the airport's footprint, Wapner said that the city has planned for housing, retail, and amenities to go along with more development. The city even has what it considers an ideal site to accommodate airport-related development. Blum said that a 250-acre, single-owner parcel south of the 10 Freeway is ideally suited to be a new, aviation-fueled downtown.
"Ontario Metro Center area is probably going to be the next urban center in Southern California," said Blum. "And it's (premised) on it being driven by the airport."
Likewise, ONT is seen as a hub of multimodal transportation in the region. The Gold Line light rail Foothill Extension is planned eventually go to ONT, and there has been talk of including the airport in the state's planned high-speed rail network.
But regional boosters fear that none of this may come to bear as long as long as LAWA remains in control.
"To stay at 4 million or 5 million air passengers for 20 or 25 years would be disastrous," said Blum. The city's Recovery Plan estimates that depressed traffic at ONT cost the city's economy $400 million and 8,000 jobs between 2007 and 2009.
In September the City of Ontario published a white paper entitled "A Recovery Plan," which outlines what many consider to be an underhanded plot by LAWA to artificially depress traffic at ONT in favor of that at LAX. Every passenger ticket at ONT includes a 15% surcharge, and city officials contend that LAWA's management is bloated and that its wages are based on inappropriately high wage rates that prevail in Los Angeles. With local management, the city contends that it could reduce overhead, make tickets to ONT cheaper, and attract a flood of new traffic, especially from low-cost carriers such as Southwest and Allegiant.
Maria Tesoro-Fermin, spokesperson for LAWA, said that LAWA is willing to consider any proposal that the city puts forward for local management. Wapner said that the city has yet to make a formal plan or establish a timeline for submitting such a proposal.
Husing said that boosters across the Inland Empire have expressed their support for a more robust ONT. And, concurrent with the release of the city's Recovery Plan, the Southern California Association of Governments circulated a letter unequivocally supporting local control, by which "ONT can recover from the economic downturn of the past several years while positioning itself for long-term growth."
The letter notes that local control would put ONT on equal footing with other low-cost secondary airports, such as Long Beach. The city claims that ONT's $14 per-passenger landing fees are unnecessarily inflated by administrative bloat, whereas they are $11 at LAX and $2 at Burbank Airport. Meanwhile, at $29 per passenger, ONT's operating expenses are double those of other regional airports.
Perhaps most importantly for the city, local control would affect not only air traffic but also development both on and adjacent to ONT property.
Moreover, unlike in many cities that consider airports to be one of the ultimate unwanted land uses, the Ontario General Plan has already been designed to accommodate new growth. Moreover, the community has agreed to up to 30 million annual passengers (up from a previous general plan's cap of 22 million), so, unlike vitriolic battles over traffic at LAX, ONT's build-out is already cleared. At 30 million, it would rank as the 20th-busiest airport in the country, compared to current traffic.
Although the current situation suggests that the Ontario Plan may have been developed with overly optimistic air traffic projections, or on too much trust in LAWA. Blum rejects that contention.
"It was totally reasonable," said Blum. "At the time, our numbers were going up. LA had been sued and they had agreements in place that they were nearing their 70 million maximum. They were having to push out our way."
Ultimately, however, any grand plans for a new metropolis depend on LAWA. Though LAWA officials have said they will entertain proposals from Ontario, the prospect of giving up control remains highly uncertain.
"I doubt it," said Husing. "LA's got every incentive to keep us as a colony. If you're hearing the disgust in my voice, it's there."
CONTACTS and RESOURCES
Ontario Airport Recovery Plan [pdf]
Jerry Blum, Director, City of Ontario Planning Department, 909.395.2000
Chris Hughes, Ontario City Manager, 909.395.2000
John Husing, Politics and Economics, Inc.
Christine Iger, President, Iger & Associates; ULI Inland Empire Committee Member 949.723.4066
Maria Tesoro-Fermin, ONT Community Relations, 909.554.5360
Alan Wapner, Ontario City Councilmember, 909.395.2000