With a surface level at 227 feet below sea level and shoreline temperatures often rising past 120 degrees, the Salton Sea could be mistaken for the headwaters of the River Styx. Sometimes, concentrations of salt in the brackish lake, formed by a not-quite-natural overflow of the nearby Colorado River a century ago, asphyxiate resident tilapia fish by the thousands. Currently California's largest lake--larger, even, than Tahoe--the Salton Sea itself may soon dry up, leaving a dust-filled crater.
Remnants of Atomic Age vacation towns line the sea's shores, as if residents had evacuated and never returned. And yet, despite this challenging environment, a development team--backed, perhaps incongruously, by an insurance company from Minnesota--thinks the time has come to introduce some sustainability to this forlorn landscape.
A 'New City'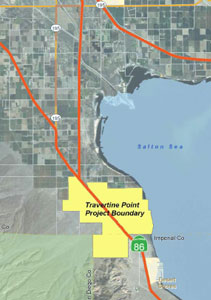 Travertine Point would cover roughly 5,000 acres along the northwest corner of the Salton Sea, roughly 10 miles from Mecca and 35 miles from Palm Springs. It is designed as a self-contained city, with mixed uses, employment centers, and over 13,000 units of housing for over 35,000 residents. It would also have a marina and other shoreline amenities�assuming, of course, that the Salton Sea does not dry up before the project is completed.
"People are going to want to live around the sea," said Riverside County Supervisor and Salton Sea Authority Boardmember Marion Ashley, who expects the rapid growth of Riverside County�41 percent last decade�to continue. "This would be a very well planned, self-sustainable development that would be a well planned place to live."
Though its build-out will follow a nearly geological time scale, its environmental impact report was released in December . On June 15, it will receive its second hearing before the Riverside County Planning Commission. If the commission approves a version of the project, it could go before Riverside County supervisors by the end of the summer.
Developer Black Emerald, LLC, in partnership with the Torrez-Martinez Tribe and funded by Federated Insurance, is seeking approval based, in part, on their contention that the project will be a model sustainable community. Roughly 1,400 acres of the project would occupy land that is, currently, part of the Torrez-Martinez reservation.
Despite Travertine Point's remoteness, Black Emerald believes that the southern Coachella Valley and, in particular, the immediate Salton Sea area, is poised for an economic and demographic boom in the coming decades. The developers claim that 150,000 more residents will populate the valley, no matter what.
Therefore, living in a compact, self-contained city that ascribes to smart growth principles will be considerably more green than living in the traditional subdivisions that comprise communities such as Indio, Palm Desert, and the rest of the Coachella Valley.
Straddling Highway 86S, Travertine Point is planned to include a variety of uses, including a resort, a marina, and a variety of residential neighborhoods, with a complement of regional and local retail, schools, recreational and open space. A mixed use town center will sit roughly at the geographic center of the development. Situated next to a planned highway interchange, the town center will include local amenities, as well as, a business park and even light industrial activities, presumably related to renewable energy.
The plan calls for 13,000 residential units at a variety of densities. Roughly 10,000 of those units will be planned at eight or fewer units to the acre, with some as few as two units per acre. In the town center, 1,125 of "highest-density" units will occupy 45 acres.
"Travertine Point enables the other lands in the eastern Coachella Valley to be able to continue on as agriculture, rather than just continue as subdivision on subdivision," said Paul Quill, a land development specialist with Innovative Land Concepts and spokesperson for the Travertine Point project. "Rather than allowing the ongoing encroachment of population, we're trying to do something in a big way that concentrates it into a community."
SB 375 Poster Child?
In fact, Quill said that Travertine Point is designed, explicitly, to conform with Senate Bill 375, the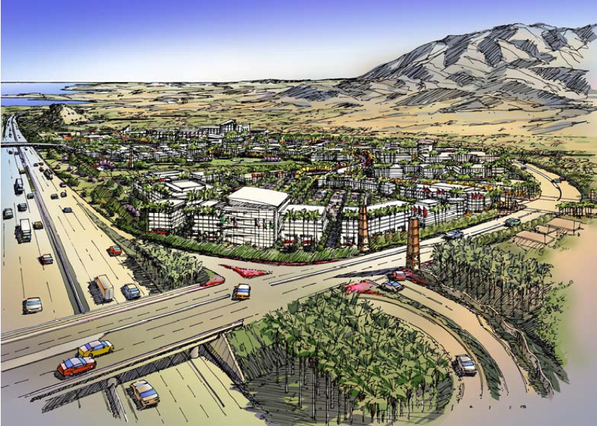 2008law that promotes emissions reductions through compact development. Travertine Point's plan contends that if new, non-infill development is to occur, some models are better than others.
"I feel it not only conforms with SB 375, but I believe it should be fully embraced as the intent of SB 375," said Quill. "To the extent that there will be development in raw land areas in Southern California, Travertine Point is the model for that."
Though the project covers three jurisdictions�Riverside County, the Torrez-Martinez reservation, and a small piece of Imperial County�Quill said that the planning and environmental documents are being drawn up holistically.
"To avoid the piecemealing argument, we have treated it as one project and mitigated our impacts as one project," said Quill.
So far, those efforts have impressed some officials in Riverside County, which will consider the project first.
"The backers of Travertine Point have really gone the extra mile to try and make it as environmentally sound and friendly as possible," said Riverside County Supervisor John Benoit, whose district would include Travertine Point. "I think they've gone that far and a little further."
The project's sustainability plan contends that residents of Travertine Point, which would be built largely on fallowed agricultural land, would generate 38% less per-capita emissions than would residents in a business-as-usual scenario. This performance would be achieved through a combination of sustainable building techniques and compact development intended to reduce residents' vehicle miles travelled.
While most of the jobs in the area are currently low-paying agricultural jobs, developers say that Travertine Point is posed to capitalize on � and facilitate � a predicted explosion in green industries in the area. Though the desert is anything but lush, its relentless sunshine is poised to attract, by some estimates, up to $8 billion in solar energy projects in the coming decades.
Those projects, plus geothermal energy projects towards the southern end of the Salton Sea, are expected to bring construction and permanent jobs. Quill said that workers who live in Travertine Point will face far shorter commutes than they would if they lived in currently built-up parts of the valley.
"Everybody that works in the industry is driving an hour to get to it because they live in Palm Springs, La Quinta, and Indio," said Quill. "This project is located where the jobs will be."
Exorcising Ghosts of a Dead Sea
Travertine Point's business model differs considerably from those of the developments that first arose around the Salton Sea. In the 1950s and '60s, vacation homes sprung up around the sea, which played host to all manner of water sports and recreation. Boosters promoted it as an oasis for water skiers and weekenders who populated homes in cities such as North Shore and Salton City. Those cities' mother lode ran out, however, as the sea's salinity spiked in the 1970s and the lake became inhospitable to recreation.
Today, ghostly traces of streets make Salton City perhaps the state's largest stillborn development. It, and similar developments, have made the sea a symbol of Southern California noir.
Black Emerald insists that Travertine Point faces a far different future.
"What happened then in the 1950s was strictly a water-vacation based development," said Quill. "We're not that. We're trying to provide housing, industry, commercial�.that would be a sustainable new town. Salton City and North Shore were never designed to be sustainable."
Environmentalists, however, would prefer that Travertine Point never even have the chance to become a ghost town�or anything else.
'Dumb Growth on a Massive Scale'
They reject the developer's claims about greenhouse gas mitigation and contend that it lies too far from any established jobs or housing centers to be considered anything but leapfrog development.
A May 24 letter from the Sierra Club, the Center for Biological Diversity, and Defenders of Wildlife to the Riverside County Planning Commission urges the commission to deny the Travertine Point EIR on several grounds. In addition to claiming that the EIR includes improper deferral of analysis and mitigation efforts, the letter contends that "there is no way over 37,000 people can truly live in a sustainable fashion in a desert environment" and that it does not support SB 375.
"It's dumb growth on a massive scale," said Jonathan Evans, staff attorney with the Center for Biological Diversity, which has been active in Riverside County habitat issues.
Evans also said that planning a development around a brand-new industry�and anticipating certain commuting patterns�does not amount to a recipe for sustainability.
"Who knows if they'll materialize," said Evans. "We're seeing a large rush of solar development in the desert in terms of permitting. Whether the financing and actual construction of that occurs is speculative at best."
Moreover, they say that a development that massive is bound to take its toll on nearby ecological resources, including the sea and nearby Anza-Borrego State Park.
"I think that it's placing a disastrous project next to a water body that already is troubled," said Evans. "Certainly there won't be any benefits to the Salton Sea from the runoff or the pollution caused by this project."
The biggest environmental disaster, however, may have nothing to do with development as such.
According to scientists and public officials alike, there is a very real possibility that the Salton Sea may dry up entirely within the next generation. The 2004 Quantification Settlement Agreement (QSA), governing California's allocation of 4.4 million annual acre-feet of Colorado River water, calls for water to be diverted from Imperial Valley farms. The runoff from those farms feeds the Salton Sea.
Though the QSA is currently being litigated, if and when it goes into effect, the Salton Sea will lose the majority of its inflow.
"After 2017 the sea essential goes into a tailspin," said Michael Cohen, senior research associate at the Pacific Institute.
The evaporation of the sea and exposure of seabed is expected to result in dust storms that would give a Depression-era Okie pause.
"We're going to have a dust problem that's going to make the Owens Lake look like child's play," said Ashley, referring to the lake that dried up when its waters were diverted to the Los Angeles aqueduct. "Property values will plummet even further around the area. It will be an economic and ecological disaster."
Salton Sea 2.0
Averting this fate has been on the minds of policymakers and environmentalists since the 1950s. Currently, the Salton Sea Authority governs restoration projects around the sea and has been involved with the planning of restoration efforts, but neither it nor any other entity is currently pursuing a restoration plan.
Most recently, in 2004, the state legislature directed the California Natural Resources Agency to devise an ecosystem restoration plan. In 2008 the Legislative Analysts Office issued a report on a number of plan alternatives, recommending the adoption of a plan that would reduce the sea's surface area by 60 percent through a network of dams and dikes�at an estimated cost of $9 billion (see CP&DR Vol. 22, No. 9 Sept. 2007).
Since then, little action has been taken and no significant funding has been allocated to the project.
"If the Legislature felt like the state could financially support the preferred alternative and move forward with funding," said Kent Nelson, who covers the Salton Sea for the state Department of Water Resrouces. "In the absence of some kind of miraculous recovery, we're not sure where that money is going to come from."
Quill insists that Travertine Point remains viable even if the sea does dry up. He said that Black Emerald is prepared to scrap the marina, which would sit on Torrez-Martinez land, and that the recreational component would be "a home run," according to Quill, for an otherwise viable development.
"We don't rely on Salton Sea restoration for the future success of the community," said Quill. "We know that these renewable energy industries are coming. That growth is going to occur whether or not the sea is restored."
On the other hand, Black Emerald does not want the sea to die without a fight.
Local officials, who say that the sea simply isn't a priority for Sacramento lawmakers, are promoting a plan that, they say, would cost as little as $3 billion. That plan would include an initial phase of $500 million, spent largely on a dike across the northern portion of the sea. Those amounts could be modest enough to spur the establishment of an infrastructure financing district funded by a public-private partnership.
As such, despite environmentalists' criticisms of Travertine Point, it may, in fact, hold a key to the sea's future.
"Projects like Travertine Point and projects similar to it around the sea, as well as the renewable energy industries�.will be able to contribute significant funding to the infrastructure financing district," said Quill.
"Travertine Point could be a real meaningful component of saving the sea," said Ashley, the county supervisor. Longtime observers of the sea are not optimistic.
"Every year or two the Salton Sea Authority says we should have an infrastructure financing district," said Cohen. "We say it definitely makes sense to have local financing contribute to a portion of this. And nothing ever happens."
Contacts:
Travertine Point Project Site, Riverside County Planning Department
Marion Ashley, Supervisor, Riverside County District 5, 951.955.1050
John Benoit, Supervisor, Riverside County 4th District, 760.863.8211
Michael Cohen, Senior Research Associate, Water Program, Pacific Institute, 720.564.0651
Jonathan Evans, Staff Attorney, Center for Biological Diversity, 415.436.9682
Kent Nelson, Department of Water Resources, 916.653.5791
Paul Quill, Land Development Specialist, Innovative Land Concepts, Inc., 760.771.8050