Sociologist Frederik Polak once said that "the future may well be decided by the images of the future with the greatest power to capture our imaginations and draw us to them, becoming self-fulfilling prophecies." The organizers the Rethink/LA, an eponymous group consisting of some of the city's creative intelligentsia, seem to agree. The exhibit, on display through Sept. 4 at the Architecture+Design Museum,present bold visions of a future Los Angeles that should challenge the thinking and capture the imaginations of most Angelenos. This multi-media exhibit includes photographs, interactive displays, short films, sound installations, and a 3-dimensional model.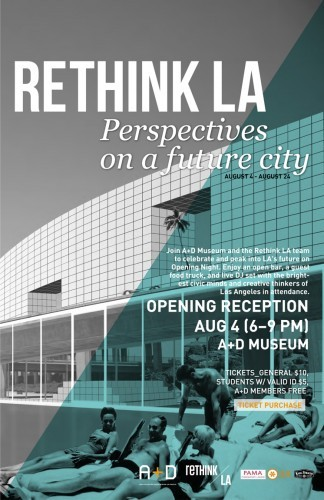 While I enjoyed all aspects of the exhibit, I was most intrigued by the series of 18 images that show what the city could be like 50 years from now. As a public transit user and a park planner, my favorite piece was the collage by MOCK Studio, which reimagined lanes of the downtown 110 Freeway as spaces for solar powered personal rapid transit, bicyclists, pedestrians, passive and active recreation, and community gardens. It depicts a future in which Angelenos are not completely dependent on the automobile and thousands of acres of land, including freeways, are for open space linkages, community gardens, and infill development. This image further prompted me to consider how other auto-related uses, such as gas stations, auto repair shops, and car dealer lots, may be reused in the future.
I was also fascinated by XTEN Architecture's vision of the Sepulveda Pass – between the Westside and San Fernando Valley -- which consists of a high speed rail/vehicular tunnel and a mix of cultural, park and recreational, office and related uses above. This exciting, colorful image offers a striking contrast to the river of automobiles that characterizes the 405 today. Another memorable image shows the seaside Hyperion Water Treatment Plant transformed into a hybrid desalination plant, water reservoir and recreation center which uses engineered waves as a training ground for amateur and novice surfers. This proposal is based on the assumption that the Los Angeles Department of Water and Power will be able to meet the city's growing water demands by expanding the treatment facility to include desalination of seawater directly from the Santa Monica Bay.
Since I, like probably most other planners, grew up playing or "building" with Legos, I found myself spending considerable time admiring the "Wilshire on Wilshire" exhibit, the result of an interactive planning project facilitated by James Rojas. This 3-dimensional model is not a miniature version of Wilshire Boulevard as it currently exists; instead, it shows what the corridor could be like in 50 years. Having participated in a similar exercise previously, I understand firsthand how this approach empowers participants by allowing them to shape and share visions in a supportive environment without the fear of providing a "wrong" answer.
Rethink/LA is a wonderful exhibit for all. Unfortunately, its audience is likely limited to only those with interests in architecture, design, and urban planning because it is housed at a storefront, specialty museum. To achieve the organizers' goal of generating a significant dialogue with Angelenos regarding the city's future, the exhibit may be more appropriately displayed at a prominent location like the Los Angeles County Museum of Art (LACMA) across the street.
Rethink/LA is on display through September 4 at the Architecture + Design Museum, 6032 Wilshire Boulevard, Los Angeles, CA 90036. http://www.aplusd.org/exhibitions-current
Clement Lau is a freelance writer and a planner with the Los Angeles County Department of Parks and Recreation.