UCLA professor Anastasia Loukaitou-Sideris was perhaps ahead of her time when she said in 1995 that "the ever-changing urban form and social ecology of neighborhoods calls for a flexible rather than rigid park design and for spatial layouts that can be easily changed in response to future needs…One can even think of mobile parks-spaces whose equipment and furniture can be transported to other parts of the city if the need arises."
As a park planner, I know firsthand how expensive and time-consuming it is to acquire land and build new parks. It typically takes years before new parks can be provided due to bureaucratic, financial, political, and other constraints. Portable parks and mobile gyms may sound strange at first, but they may be entirely appropriate given the urgent need for additional recreational opportunities in underserved areas and the high costs of developing new permanent recreational facilities.
Portable Parks
Portable parks can bring the experience of nature into unexpected locations in urban neighborhoods. Recently, I witnessed how Portable Parks IV, a public art exhibit by artist Bonnie Ora Sherk, transformed a mall site and raised awareness of ecological sustainability and urban agriculture. This ten-day display at Santa Monica Place included mini-gardens of drought-tolerant plants and edible organic landscape consisting of fruit trees, flowers, herbs, and vegetables. It was also accompanied by a series of art installations, artistic/interpretive signage, performances, and public programs that addressed sustainability and consumption.
While building parks in needy neighborhoods can take years and cost millions of dollars, portable parks—set up in parking lots, lawns, playgrounds, and other open spaces—can provide temporary and inexpensive relief for park-starve inner city residents.
Mobile Gyms
Gaining traction in cities like Los Angeles, Atlanta, and Cleveland, mobile gyms are typically privately operated facilities that provide opportunities for residents to work out. Because they may be parked at any location where vehicles are allowed they can serve marginalized communities with not access to private health clubs or to proper public facilities. While most mobile gyms target adults and offer modern exercise equipment, there are a number of companies that operate vehicles specifically for children. For example, the Gymagic Bus (Pennsylvania) is a mini-gym on wheels equipped with: bars, beam, incline mats, barrel mats, a zip line, monkey bars, mini-tramp, and rock climbing wall for kids.
New York City has even experimented with mobile pools made from repurposed garbage dumpsters. Park Avenue was shut down to cars on three consecutive Saturdays last summer so that people could spread out to bike, walk, play, watch live theater, and swim. Each 8-by-22 foot "dumpster pool" is surrounded by a wrap-around deck and has its own built-in water filtration system. These portable pools can be used in any city, and are relatively inexpensive and easy to transport to different neighborhoods. Also, it is significantly cheaper to use dumpster pools than to build and maintain permanent pools and the parks where they are typically found. Mobile pools could be used in underserved communities in California, especially during the hot summer months when the demand for these facilities could be high.
Challenges and Solutions
• Regulations: It is unclear how and whether planning and/or health departments would regulate mobile gyms. If cities choose to regulate mobile gyms, they should do so by establishing a clear approval/permitting process for such temporary uses. One model is the letter-grading system that Los Angeles County uses for mobile food vendors to indicate whether a truck made the grade according to public health inspectors.
• Operation and Funding: Mobile gyms are typically privately operated, although a few cities have "parks on wheels" vehicles. An important policy question is whether local governments should operate their own mobile gyms or offer funding and/or incentives to private operators to serve underserved communities. Without some government subsidy or support, private operators may not venture into park-poor areas even if the need is great. Funding may be available through public health-related grants as both federal and state governments have committed funds to promote healthy communities.
• Coordination: Creating and accommodating portable parks will require different stakeholders to work together. They may include public artists, urban farmers, florists, operators of shopping malls, the local parks department, and organizers of farmers markets. The success of the Portable Parks IV exhibit proves that effective collaboration is possible regardless of how diverse the group of stakeholders is.
Conclusion
As Dr. Loukaitou-Sideris suggested, planners and decision-makers must explore innovative strategies to meet the growing and evolving recreational needs of California's underserved communities. Portable parks and mobile gyms are new and exciting ways to bring in outside recreational resources to needy neighborhoods. Of course, there would be some challenges, but they should not stop us from trying out alternative ideas with the potential to yield great benefits.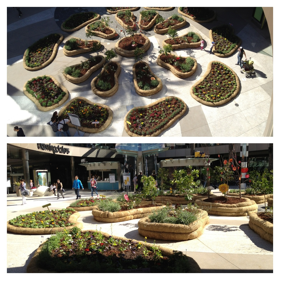 A portable park art project at the Santa Monica Place mall.
Clement Lau is a planner with the Los Angeles County Department of Parks and Recreation.