Everyone's favorite factoid about the Golden Gate Bridge concerns its paint job. Crews are endlessly refreshing its orange coat, working from one end to the other throughout the year and then starting all over again. Such are the ravages of salt and fog. It's a mundane story about the need for constant maintenance of an iconic piece of infrastructure.
Another crucial — if less beloved — piece of California's transportation infrastructure operates much the same way, albeit in a longer time frame.
I have flown into and out of Los Angeles International Airport on average once per month for the better part of three decades. Just as the Golden Gate Bridge is always being painted, LAX is always under construction or renovation –in sometimes valiant, sometimes halfhearted, usually halting attempts to spruce up L.A.'s "nine terminals linked by a traffic jam."
It's one traffic jam that may finally end.
Last week, Los Angeles World Airports released the environmental impact report for what is the latest, and perhaps final, piece of major upgrades to LAX. The Landside Access Modernization Program (LAMP) includes a consolidated rental car center, two intermodal facilities, and other aesthetic and mobility upgrades. In other words, LAX's overhaul is about everything but aviation.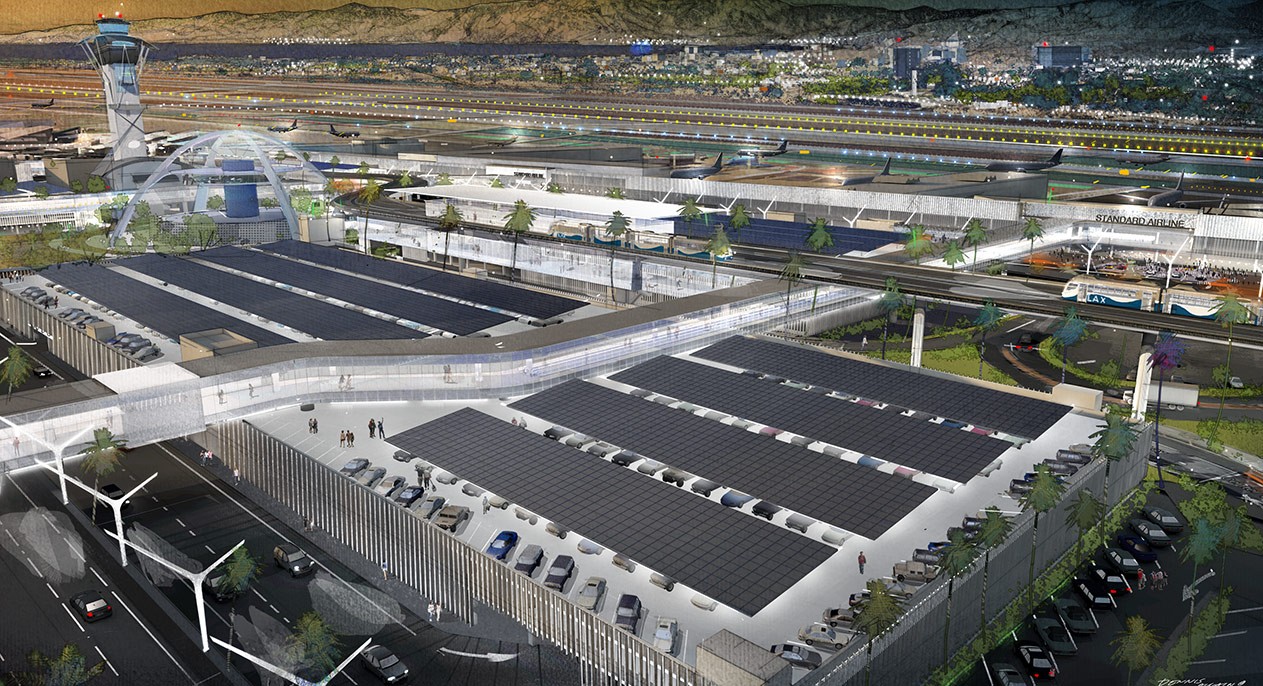 Previous attempts to comprehensively upgrade and expand the airport have failed every which way for decades. But this one seems serious. It includes a new rail station and people-mover, to tap into and leverage Metro's Crenshaw and Green lines, and it has a possible 2024 Olympics in mind.
As we ponder the wonders of a consolidated rental car lot, a people mover, and replacement of or massive renovations to those nine (newly renovated) terminals, it's important to understand that the state of LAX centers on not just aviation, mobility, or even economic development. It is also very much an element of land use, planning, and urban growth.
Most obviously, LAX would not be a global hub were its urban region not itself a global powerhouse. Unlike at the Dubais and Atlantas of the world, many people don't change planes. More people actually get on and off airplanes at LAX than at almost any other major world airport. Angelenos are blessed to be connected to the world in ways that folks in Chico, Fresno, San Diego — or any other American city short of Chicago, for that matter — can hardly imagine. (I'm drafting this blog on a nonstop flight from Shanghai's Pudong Airport, whose terminals are massive enough to make LAX's terminals look like Cessnas next to A380s.) The Los Angeles Economic Development Corp. estimates that this kind of connectivity is good for over economic impacts of over $120 billion per year.
While LAX is a global institution, it is also a hyperlocal one. The new plan has arisen largely because of a settlement between LAWA and its neighbors in Westchester this summer. They and the airport had been bickering and negotiating over heaven and earth for as long as anyone can remember. The last major settlement was in 2006. A community of people living in largely middle-class, single-family homes, Westchester residents are quintessential NIMBY's, opposing an admittedly concerning land use.
The settlement's most important provision is its cap of 79 million annual passengers — a mere 4 million above its current usage. This keeps LAX the seventh-busiest airport in the world for the moment. But it all but ensures that it will soon be eclipsed by the likes of Shanghai, Istanbul, and Hong Kong. And the cap mirrors larger debates about growth in Los Angeles, in which opponents of growth cannot believe that the city can accommodate more residents, no matter what strategies the city lays out and no matter how much new transit is built.
"These old 'NO LAX Expansion' signs are now officially vintage," wrote Los Angeles City Councilmember Mike Bonin on his Facebook page. "From now on, everyone is saying yes to modernization and improving our airport and passenger experience, and saying 'hell no' to expansion."
Of course, LAX only has such testy neighbors because, at this point, it's an old airport. The empty land surrounding Mines Field filled in decades ago. Meanwhile, Pudong is a good 25 miles from central Shanghai. It too will get consumed one day.
Ironically, a shiny new LAX will probably be more appealing to travelers. They'll get a far better first impression of our city, and it's likely that more than 79 million people will want to fly through LAX. When demand butts up against the cap, it will all but ensure higher fares. Maybe this tension will finally lead to the holy grail of Southern California transportation: regionalization. Westchester residents have always wanted more passengers to use the region's smaller airports, particularly Ontario, which, unlike Burbank and Long Beach, can and wants to expand. At long last, the City of Ontario took control of long-suffering ONT, meaning that expansion may be in the offing.
What of the design for the "new" LAX? Like those of every other modern airport, they are inevitably flawed but also probably fine. Conceptual renderings show sleek, generic people-mover stations and similarly inoffensive designs for the other facilities. I happen to think that many of the new mega-airports, like Pudong, Beijing, Guangzhou, Dubai, and Bangkok are over-engineered and inappropriately massive. LAX will always be intimate by comparison. At least it feels like it was designed by humans and not, say, a self-aggrandizing totalitarian government.
Now that LAX's future is certain and Ontario controls its own density, there's only thing left to do: reopen Palmdale Airport and finish that little high-speed rail link we've always talked about.
Image courtesy of LAWA.