In most urban areas, the promise of 25,000 new jobs would cause celebrations. But the laws of economics take strange turns in Silicon Valley.
This summer, the Santa Clara City Council approved CityPlace, a $6.5 billion mega-development on the site of a city-owned golf course (which was previously a landfill). It is designed in part to be the downtown that the valley, populated by office parks and bedroom communities, does not have. The project, developed by Related Cos., will encompass a total of 9.7 million square feet, more than half of which will be office space, and 1.1 million square feet of retail.
Amid this enormity will be 1,360 residential units.
But that's far too few, according to Santa Clara's biggest neighbor.
While Santa Clara city leaders are hailing the project, their counterparts in San Jose are wondering something else: Where is everyone going to live? And how are they going to get there?
Shortly after CityPlace's approval, and an accompanying general plan amendment, San Jose filed a lawsuit against Santa Clara in Santa Clara County Superior Court; Related Cos. is named as a real party of interest. It is believed to be the first time San Jose has sued a neighboring city over development issues.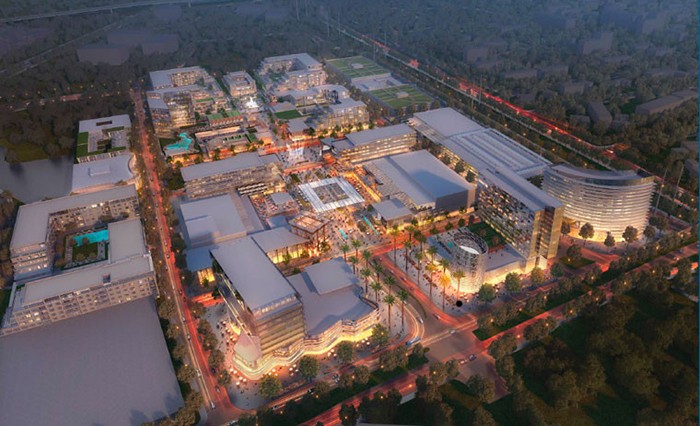 The suit alleges that the project violates the California Environmental Quality Act on the grounds that the city did not properly consider the traffic, water, and economic impacts of the massive project. In particular, San Jose alleges that Santa Clara has failed to plan for the housing needs of the project's estimated 25,000 workers. They will, San Jose's argument goes, be forced to seek housing in San Jose and thereby push housing prices even higher.
CityPlace exacerbates what San Jose officials describe as an already challenging situation. According to city officials, 32 percent of Santa Clara workers live in San Jose, with only 8 percent of Santa Clarans working in San Jose.
"As a city, San Jose is providing housing not just for workers employed in Santa Clara, but for workers in other cities across the Peninsula and South Bay," said San Jose spokesperson Elisabeth Handler.
It's a region-wide problem – and it's an old fight in Silicon Valley, where San Jose – a city of almost 1 million people – has long complained of bearing the housing burden for smaller, richer Silicon Valley cities where the jobs are located.
"In the Bay Area there is an extraordinary imbalance between job creation and housing production which puts pressure on housing prices," said Sarah Karlinsky, a policy analyst for the regional urbanist advocacy group SPUR. She noted that the region added over 450,000 jobs from 2010 to 2014, but scarcely more than 10 percent as many housing units.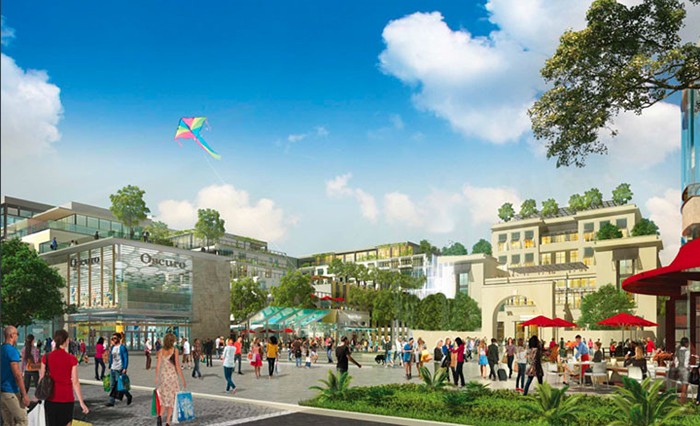 Santa Clara officials point out that the city's general plan calls for 10,000 new housing units. Santa Clara's population is 120,000 while San Jose's is 998,000.
"Create profound environmental impacts which, unnecessarily, have a regional effect….[and] shifts the environmental burden and expense to support that economic development onto neighboring cities and counties by limiting housing within the development," wrote San Jose's attorneys in the complaint. "Respondent's EIR has understated and/or whitewashed the impacts the project creates, leaving its own citizens and neighboring communities to bear the burdens, risks, and costs of these impacts."
The complaint further accuses Santa Clara of disregarding the principles of its own general plan, which call for reducing in vehicle miles traveled, reduction in greenhouse gas emissions, and preservation of neighborhoods.
Santa Clara has hired prominent CEQA attorney Tina Thomas to defend it. City officials have fired back at San Jose alleging that it has pursued developments close to its border with Santa Clara without consulting the city and that it has aggressively recruited businesses and new jobs.
Santa Clara Mayor Lisa Gilmor did not respond to requests for comment.
In essence, both cities' housing shortages, and the resulting jobs-housing imbalance, has made economic development an unusually controversial issue.
San Jose hopes to reach a settlement without bringing the suit to court.
"As a city, we believe in working with the other cities in our region to jointly address the economic and quality of life issues that impact all of us, without involving the courts," said Handler.
Contacts & Resources
Santa Clara CityPlace Project Page
San Jose Complaint (pdf)
Elisabeth Handler, Public Information Manager, Office of Economic Development, City of San Jose, elisabeth.handler@sanjoseca.gov
Sarah Karlinsky, Senior Policy Advisor, San Francisco Planning & Urban Research, skarlinsky@spur.org