No one in the '80s grew up dreaming of becoming an infill builder, because there was no such thing. So, long before I became a fellow traveller of YIMBY's, New Urbanists, creative classers, smart growthers, and sundry other folks who want to uplift rather than tear down cities and their residents, I wanted to work for Kaufman & Broad.
Back then, for someone with an inherently development-oriented imagination, Eli Broad, half of Kaufman & Broad's identity, might as well have been Andres Duany. Broad died Friday at the age of 87 and is being mourned throughout the city.
I lived about two miles from the Kaufman & Broad (later renamed KB Home) headquarters, located in a midrise tower in Westwood. The name was on top of the building and on a plinth at street level that I drove past on a regular basis. The idea of real estate development seemed cool, and K&B was my most palpable connection to development. At the time suburbia seemed cool enough. It was better than the in-between-ness of West LA.
What was not in-between were the communities that Broad built.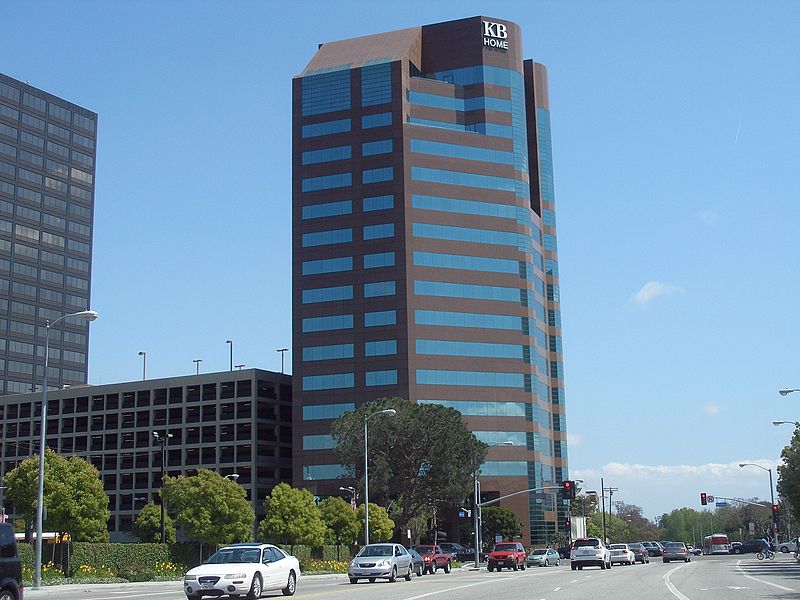 KB Home headquarters in Westwood.
Broad built tract homes. He built them on the urban fringe. Once he was done bulldozing one fringe, he went on to the next, pushing the rings of sprawl outward from whichever urban center they orbited. He focused primarily on the Los Angeles and Phoenix regions, with projects in the San Antonio, Tucson, and Las Vegas areas, among others. Various incarnations of KB Home have built, in total, over 600,000 homes since Broad and partner Donald Kaufman founded the company in 1957.
Broad was, in short, one of the world's preeminent merchants of sprawl.
But at the same time that he was chopping down cactuses, paving over farmland, and pouring concrete by the hundreds and thousands of acres, Broad was drawing up very different plans for his adoptive city.
Broad arrived in Los Angeles from Michigan in the 1960s, when the city's core was being erased. Urban renewal leveled Bunker Hill, a great if ragged Victorian-era urban neighborhood, and replaced it with the Music Center complex and, later, corporate office towers. The major fundraising force behind the Music Center in the 1960s was Buffy Chandler, wife of the publisher of the Los Angeles Times.
It's not hard to imagine that, arriving in Los Angeles at that moment, Broad got inspired to put up an institution or two with his own name on it. As he grew wealthy, and especially as he got into modern art, he donated ever more generous sums to many of the city's cultural institutions, including the Los Angeles County Museum of Art, the Museum of Contemporary Art, Disney Hall, the Broad Stage in Santa Monica, and many others. Few major civic institutions in L.A. lack a plaque, room, or building with Broad's name on it.
In 2015, he completed his most singular and, arguably, most egocentric achievement: The Broad Museum, which houses pieces from his personal collection. Completed in 2015, the museum is on Bunker Hill, across the street from Disney Hall, and two blocks away from the Music Center.
These contributions inspired all manner of encomiums: he was a "kingmaker;" he "poured his wealth into reshaping L.A.;" his "imprint is impossible to miss" – to cite just three headlines of the nine articles and essays the L.A. Times ran on him over the weekend.
That's well and good. Cities have always relied on patrons. And yet, for all that Broad gave to the city, seeing his name on a wall unnerves me only somewhat less than would seeing Philip Morris, Sackler, or Getty.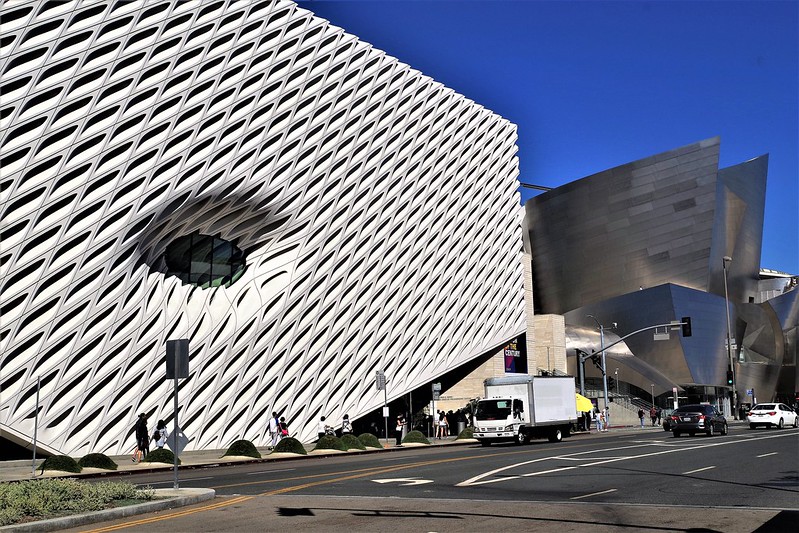 The Broad Museum (l.), with a friend, in downtown Los Angeles.
Even as Broad destroyed significant portions of the American landscape -- creating places that are, by many accounts, pretty bereft of culture or "urban amenities" -- he clearly valued art, music, entertainment, education, and civic life. Moreover, he saw the big city – and particularly downtown – as their rightful home. Broad the patron was an urbanist. Broad the businessperson was not.
But even Broad's urban vision is more of a complement to sprawl. It treats downtown as a seat of power and a freeway-accessible central location, drawing in the occasional museumgoer from Hemet or Fontana or some other suburb that he built. But there's little indication that Broad believed in a true urban fabric. Broad had the money to build his namesake museum literally anywhere he wanted and in any style imaginable. He chose Bunker Hill, and he chose a design that, like those of its neighbors, looks cool in photographs but is downright hostile to pedestrians.
Fortunately, even if Broad's vision for Los Angeles was not exactly progressive, it will do far less long-term harm than his developments will. Broad helped make it OK to go downtown. The institutions he supported have surely helped greater downtown mature into the multifaceted urban community that it is today. The grandfatherly personage of Broad is giving way to urbanists who are involved in efforts, both grassroots and top-down, to build more infill housing, reduce parking, promote equity, reduce segregation, and become more sustainable. Most auspiciously, Broad's passing comes at the very moment when many cities (and perhaps the whole state) are pledging to abolish single-family zoning.
Ultimately, I don't think Broad deserves moral blame for his business model or for his egotism. He started out as a young guy from Michigan who got into the American Dream business, such as it was. He was good at it, and he could have spent his money on worse things.
Needless to say, I am not about to send my resume to KB Home these days. And, as we mourn the Eli Broad and appreciate what he did for Los Angeles, let us also put to rest his version of development.
KB Home headquarters image courtesy of Coolcaesar via Wikipedia.
Broad Museum image courtesy of Joey Zanotti via Flickr.