One of the most ambitious transit-oriented redevelopment projects in the state is taking shape in an unlikely location. Union City, a mostly working-class suburb just north of Fremont in Alameda County, is converting about 175 acres into a dense urban environment surrounding what city planners hope will become a regional transit hub.
Hundreds of housing units are under construction or approved in Union City's Station District, and a developer is negotiating with the city to acquire land for as many as four residential towers of 10 to 24 stories apiece � a project that is also planned to include retail and office space and a pedestrian paseo. Construction on improvements to an existing BART station is beginning this month, and the City Council recently approved a design concept for a public plaza around which much is planned, including a fine arts building and possibly a library.
"It will be the new downtown because of the retail, because of the public building, because of the East Plaza. It will be just a great place to hang out," said Mark Evanoff, Union City redevelopment manager.
James Corliss, a senior planner for the Metropolitan Transportation Commission, said Union City is located in a critical position along the East Bay transit corridor.
"They've got quite a quilt. They've got the multi-modal transit station and an aggressive development plan," Corliss said. "As we look to the future of the Bay Area, we need a lot of these older suburbs to reinvent themselves, as Union City is doing."
A 48-year-old city of about 72,000 people, Union City lacks a discernable center of town. Old Alvarado, which dates from the era before incorporation, provides something of an historic district, but it's not really a downtown. Instead, the Station District redevelopment project seeks to convert two longtime eyesores adjacent to a BART station into downtown: a 30-acre former Pacific Gas & Electric pipe storage yard, and the 60-acre site of a long-closed steel mill.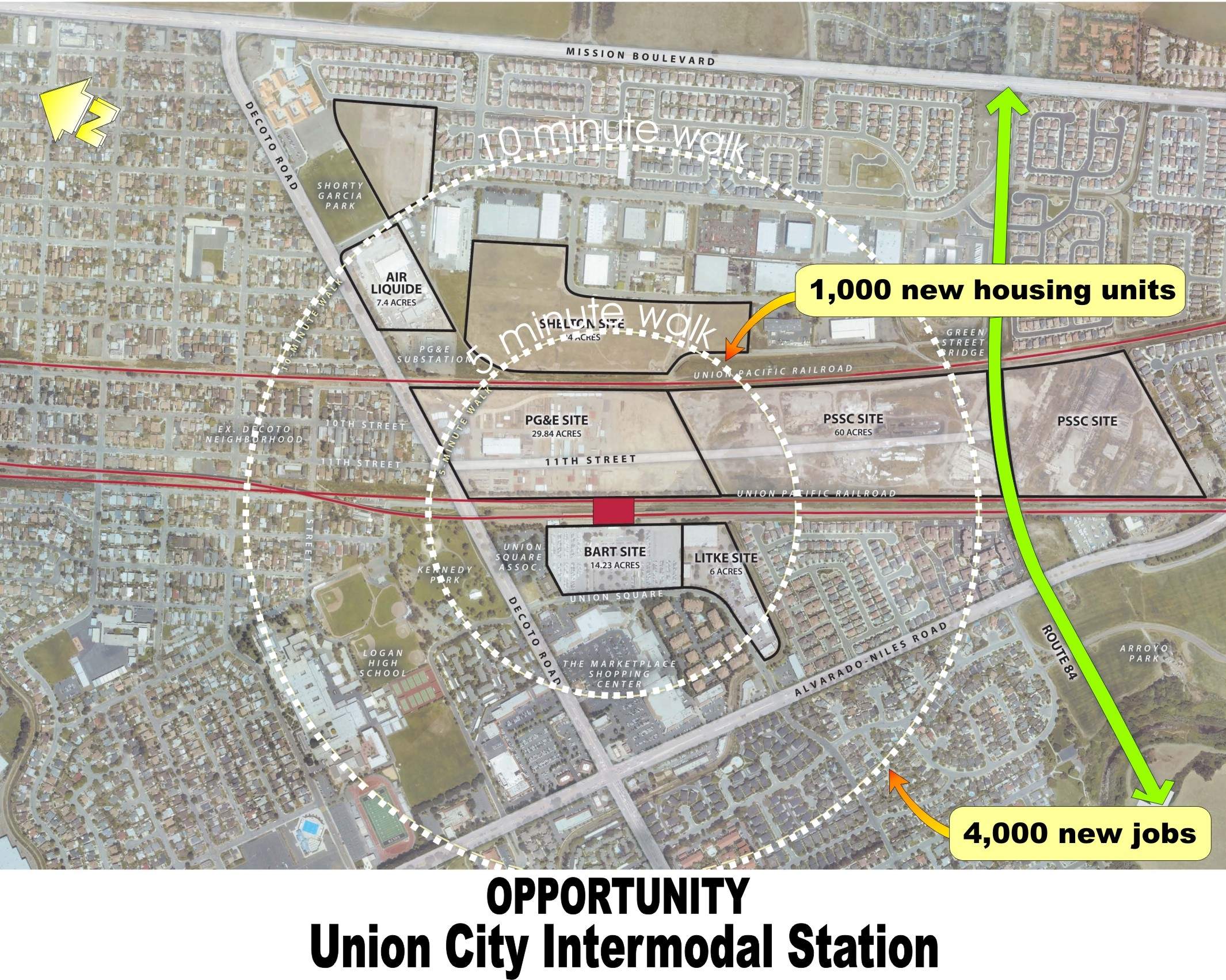 Union City's redevelopment agency acquired the PG&E site four years ago for $18 million. The agency acquired the Pacific States Steel Corporation site in a complicated bankruptcy proceeding that lasted more than two decades (see CP&DR Legal Digest, May 2003). Not surprisingly, both sites were contaminated. PG&E handled cleanup of its site, and redevelopment agency land sales paid for remediation of the old steel plant property.
While things are moving along now, redevelopment proceeded slowly for years. So, in 2000, the city began an update of the redevelopment plan and its general plan. "It compelled us to really create a vision for our Station District," recalled Planning Manager Joan Malloy. The vision, adopted about five years ago, includes high-density housing, offices and mixed-use development around a multi-modal transit station.
At the time, Silicon Valley's tech sector seemed indestructible, so, not surprisingly, the vision was for lots of offices. But the Bay Area's office market has been sluggish for a number of years. Now, Station District planners are emphasizing housing.
Developers have already built about 120 single-family houses on the old Pacific States Steel property, and KB Home is developing 216 townhouses on the site. Those projects were aided by the redevelopment agency's provision of road access.
The next project to break ground (possibly this month) will be Avalon Bay's 436-unit apartment complex on six acres that used to be a car repair shop, next to the BART station. This is a market-driven project without any redevelopment agency participation, Evanoff said.
The project that is generating the most excitement, though, is the proposal from Barry Swenson Builders to construct four residential towers in three phases on the old PG&E site. The first phase would include a 10- to 14-story tower of 100 to 140 units. The second phase would have a slightly taller tower of 120 to 160 units. The third phase would include one tower of 12 to 16 stories and one tower of 12 to 24 stories with as many as 400 units between the two structures. The towers are planned to be for-sale condominiums. Each phase also would include smaller numbers of townhouses and below-market units, and there would be a total of about 60,000 square feet of office, retail and commercial space developed, much of it along a pedestrian paseo. Although negotiations are not complete, the agency anticipates selling the property to Swenson for $30,000 per market-rate residential unit.
City officials began negotiating with Swenson last year after other potential deals bogged down when developers told city officials that their goal of up to 80 housing units per acre was not realistic.
"Barry Swenson exceeded our expectation, based on what other developers told us was marketable," said Malloy, noting the Swenson project averages more than 110 units an acre.
Jessie Thielen, a development project manager for Swenson, said typical four-story condominiums would not be the best use of a site so close to a transit center. Swenson has developed and is developing similar residential towers in San Jose. "Anywhere in the Bay Area where there is a transit hub is the right location," Thielen said.
Of course, building condo towers in a city of 1 million people is one thing. Building them in a suburb with few urban amenities is another. But Thielen said the Swenson project will quickly create a "critical mass. You see a lot of transition in the neighborhood when a project like this starts going up," she added.
The Swenson project is in the midst of the planning approval and environmental review processes, which both sides hope to complete by the second half of 2008. Although there has been some public concern expressed about traffic, there generally is acceptance of the high-density project.
"I've never gone into community meetings where the level of opposition is so little to a project that is so different for a community," Thielen said. She credited city officials for laying the groundwork.
While the private-sector component of Station District development is progressing, much of the public portion is more tentative. What the city wants is a station that brings together BART, the Altamont Commuter Express (ACE) train that runs from Stockton to San Jose, Amtrak's Capital Corridor train from Sacramento to San Jose, and the planned Dumbarton rail line that will connect the East Bay with the Peninsula. Alameda County Transit buses (which serve three counties and San Francisco) and local Union City buses would also converge at the station. Only San Jose's Diridon Station and San Francisco's Transbay Terminal would match the Union City station's multiplicity of transit services.
Work started this month on BART station improvements, which are planned with an eye toward creating one large concourse for all rail passengers. Negotiations are ongoing with Union Pacific for a deal that would let the Capital Corridor and ACE trains use the UP right-of-way, according to Evanoff. The Dumbarton service is tentatively scheduled to start in 2012, although estimated project costs have doubled. In fact, money for most of the transit portion of the Station District project is not assured.
"We're a small community that is trying to facilitate a big regional project," Malloy said. "We're looking at all options for how to keep this moving forward. It gets really complicated when you get into the regional aspects."
Plans for other public facilities are also tentative, but progressing. The City Council in February approved a concept plan by ROMA Design Group of San Francisco for the East Plaza, adjacent to the transit station. The plaza would have space for a farmers market and outdoor events, a fountain, public art, and small retail spaces. ROMA has also prepared conceptual drawings for a 30,000-square-foot fine arts building that would provide meeting and performing spaces, studios and exhibit halls. A library is planned either as part of the East Plaza or next to the existing civic center, which is farther from the transit station but within the Station District.

Contacts:
Mark Evanoff, Union City Redevelopment Agency, (510) 675-5345.
Joan Malloy, Union City Planning Division, (510) 675-5319.
Jessie Thielen, Barry Swenson Builders, (408) 938-6312.
James Corliss, Metropolitan Transportation Commission, (510) 817-5709.