When Joint Venture Silicon Valley Network CEO Russell Hancock talks about transforming El Camino Real into the Northern California version of the Avenues des Champs Elysees, one begins to wonder what color the sky is in his world.
For more than 40 miles between San Francisco and San Jose, El Camino is a traffic-choked arterial road lined with strip commercial centers, used car lots, fast-foot drive-throughs and suburban bric-a-brac that has grown up over decades. People come from all over the world to stroll, dine and shop on the famous Parisian boulevard. People who live in San Mateo and Santa Clara counties avoid El Camino whenever possible.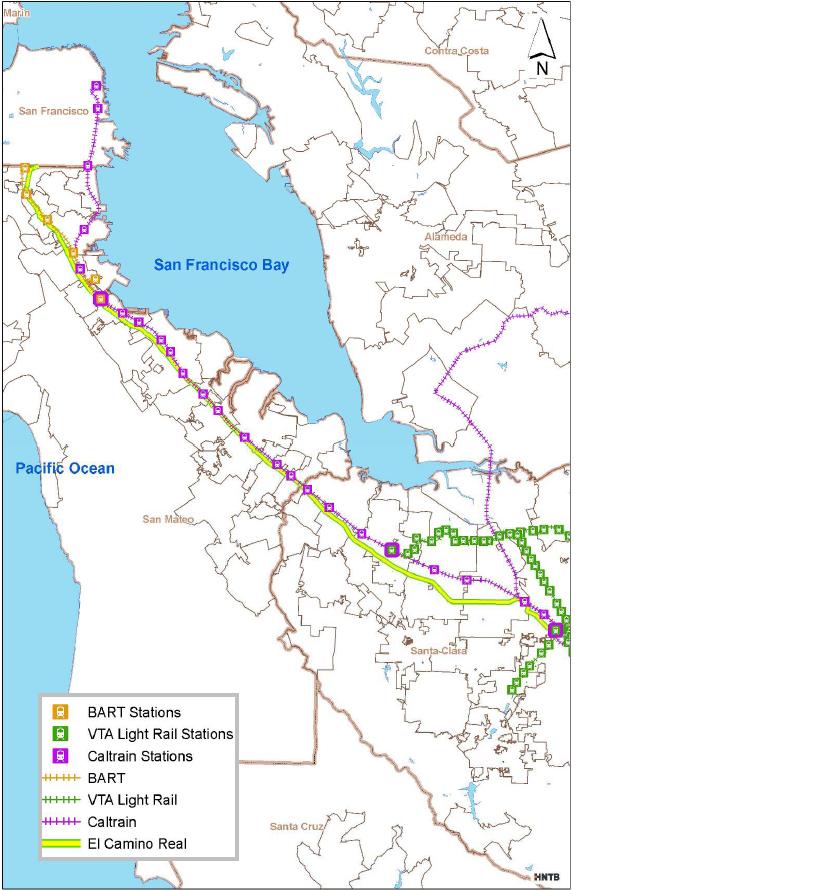 Hancock, though, readily admits El Camino is "this hodge-podge that's just awful." What he really sees is potential — potential to create a corridor that brings together transit, housing, commerce and culture. There is no reason, he said, that El Camino couldn't become a boulevard of grand architecture, extensive landscaping and pedestrian-oriented destinations.
"We can improve it in every dimension," Hancock said of El Camino. "More through-put, better retail, you can walk on the thing, housing, transit. Right now, El Camino is not an asset to the region. It doesn't reflect our dynamic nature."
Hancock is co-chairman with Michael Scanlon, who heads the San Mateo County Transit District (SamTrans), of the Grand Boulevard Task Force. The task force is a two-year-old, ad-hoc group that is intent on overhauling 43 miles of the El Camino corridor from Daly City into San Jose. The Grand Boulevard Initiative is likely the largest purely voluntary regional planning effort in the state. Both San Mateo and Santa Clara counties, all 19 cities along the corridor, Caltrans, local transit agencies, civic groups, business organizations and labor unions are participants on the 47-member task force. To date, 10 cities, SamTrans and the San Mateo City/County Governments Association (C/CAG) have adopted the Task Force's "guiding principles."
"I think this is a model for California," said Corrine Goodrich, special projects manager for SamTrans and a lead staff member for the initiative. "At some level, it's a way for entities to share a vision and move forward collaboratively."
Few roads in California have more history than El Camino Real, a name that translates to "The King's Road." It originated during the mid-18th Century as a 500-mile path linking missions, pueblos and military posts from San Diego to Sonoma. But none of that rich history is evident today on El Camino, which is known as known as Mission Street in Daly City, The Alameda in San Jose, and El Camino Real in between. The entire stretch is also Highway 82 and, thus, heavily controlled by Caltrans.
Beginning in 2002, several planning efforts focused on El Camino. The Project for Public Spaces helped prepare a "Peninsula Corridor Plan" emphasizing improved transportation as a means to better living conditions. That plan resulted in five cities preparing conceptual plans for improvements around existing transit stations. During a 2004 symposium, local, state and federal officials agreed the corridor fell short of its potential as a place to live, work and shop. That same year, Joint Venture began work on a "Silicon Valley Main Street" project that identified numerous ways to improve the corridor in both counties.
What people found while studying the situation was that nobody was satisfied with El Camino. They also found that a number of cities of their own accord had already adopted or were preparing plans to redevelop land along their individual sections of El Camino.
"People don't like it, and they use it constantly," said Grand Boulevard Initiative consultant Michael Garvey, recognizing the dichotomy. "Psychologically, it's a barrier running through our communities."
The barrier is also physical. For most of the San Mateo County stretch, the Caltrain railroad tracks run adjacent to El Camino, and in the northern end a relatively new BART line is nearby. The El Camino right-of-way is as wide as 139 feet in Millbrae, noted Goodrich. Long stretches El Camino are wide enough for six lanes of traffic, curb parking and an island in the middle. Portions of El Camino in Santa Clara County seem wider than the Bayshore Freeway, and nearly as high speed — not surprising considering that Caltrans for decades managed El Camino simply to move cars efficiently.
Although Highway 82 does handle a lot of automobile traffic, the corridor underperforms in every other way. Transit is a good example. Ten Caltrain stations are located within one-quarter mile of El Camino, and five more are within a half-mile. El Camino is a backbone of SamTrans and Santa Clara Valley Transportation Authority (VTA) bus service. "However," Goodrich wrote in an overview, "the use of commute alternatives to the car (17%) is only slightly higher by residents living within one-quarter mile of the corridor than for the counties as a whole (15%), reflecting the low density and lack of mixed-use development and pedestrian accessibility."
Essentially, past land planning and public improvement decisions are prohibiting the more recent investment in transit from paying off.
In its two years, the Grand Boulevard Task Force has launched a website, released an existing conditions report, adopted a vision statement and guiding principles, started an awards program for local projects, and received a Caltrans planning grant. Next up is a detailed study of economic development and housing opportunities along the corridor, Goodrich said.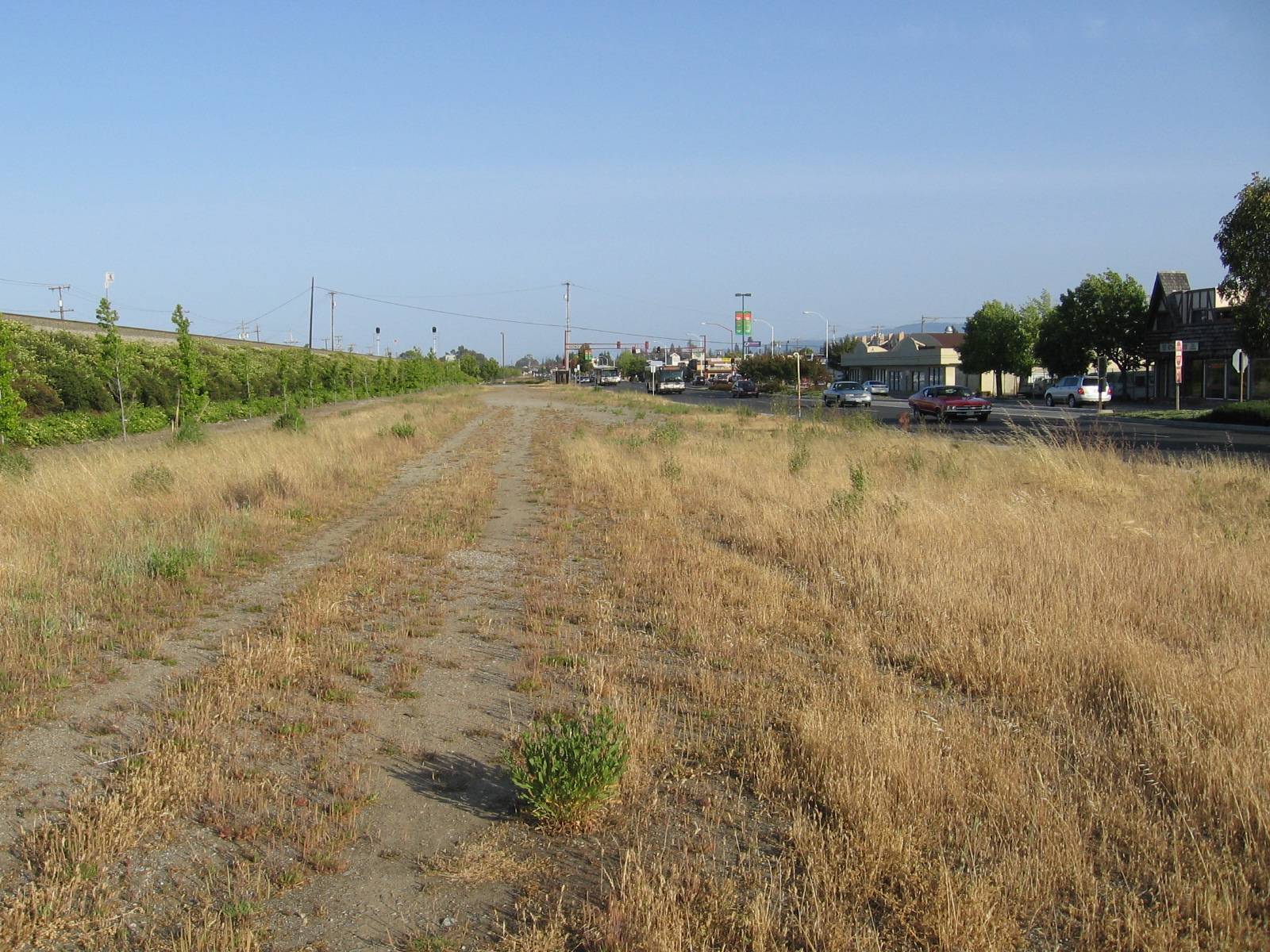 In the meantime, Grand Boulevard Initiative participants are making incremental progress. For example:
• SamTrans has passed along $2.3 million in federal funds to help with $6 million worth of pedestrian, transit-access and aesthetic improvement projects in San Carlos, San Mateo, Millbrae, San Bruno and Daly City.
• VTA has awarded $1.2 million to Palo Alto, which has plans for extensive improvements to the massive intersection of El Camino Real and Stanford Avenue.
• A mixed-use project with 360 apartments and retail space (including a Trader Joe's) opened between El Camino Real and a BART station in South San Francisco last year.
• Millbrae has added more than 300 housing units and new retail space and has upgraded streetscapes in its downtown area, which is located along El Camino and within walking distance of BART.
• Several other transit-oriented development projects are in the planning stages, including re-use of the Bay Meadows horse track in San Mateo, and a 280-unit, mixed-use project at a multi-modal transit station on SamTrans property in San Carlos.
• VTA has started bus rapid transit service, which has proven quite popular.
• Both Redwood City and Sunnyvale have adopted precise plans that encourage mixed-use development and much greater density in certain areas along El Camino.
San Bruno is one of 10 cities to adopt the Grand Boulevard Initiative's guiding principles. San Bruno has incorporated the principles into a nearly complete general plan update and intends to use them while preparing a detailed transit corridor plan, said Mark Sullivan, the city's housing and redevelopment manager.
"Right now, El Camino in the city is all zoned commercial. The current land use designation doesn't allow residential," explained Sullivan, who said the new general plan will change things. "We've created a transit-oriented development land use designation which permits commercial below, with residential above."
San Carlos has not yet adopted the guiding principles because it wants to let a general plan update complete its course, said Deborah Nelson, the city's planning manager. But there appears to be no conflict between the two, as the general plan committee is considering changing the emphasis on El Camino Real from highway-oriented commercial to mixed-use, she said.
Nelson is interested in using public projects such as sidewalks, bike paths, landscaping and street furniture to ensure the SamTrans mixed-use project incorporates into the surrounding community, which includes downtown to the west, and significant industrial uses to the east. 
The actions of the cities are what matter most, said Daniel Cruery, president and CEO of the San Mateo County Economic Development Association, one of the initiative's primary backers. "Business organizations and the public agencies — VTA and SamTrans — are not the decision-makers along the corridor," he said. "The individual cities are."
The role of the task force is to keep the cities, which have many priorities, focused on the corridor, Cruery said.
"We hear from people that there's not as much going on as they would like to see. But it's a process," Cruery said. "It takes time. It takes education."
Joint Venture's Hancock agrees. "The biggest challenge is getting the results — getting good stuff on the ground," he said. "All we can do is persuade. We can't tell cities what to do."
Contacts:
Russell Hancock, Joint Venture Silicon Valley Network, (408) 271-7213.
Daniel Cruery, San Mateo County Economic Development Association, (650) 413-5600.
Corrine Goodrich, San Mateo County Transit District, (650) 508-6200.
Deborah Nelson, City of San Carlos, (650) 802-4263.
Mark Sullivan, City of San Bruno, (650) 616-7074.
Grand Boulevard Initiative website: http://grandboulevard.net

'Grand Boulevard' Guiding Principals
The Grand Boulevard Initiative Task Force has adopted these 10 "guiding principles." The task force is urging member entities to adopt the principles as well.
1. Target housing and job growth in strategic areas along the corridor.
2. Encourage compact mixed-use development and high-quality urban design and construction.
3. Create a pedestrian-oriented environment and improve streetscapes, ensuring full access to and between public areas and private developments.
4. Develop a balanced multi-modal corridor to maintain and improve mobility of people and vehicles along the corridor.
5. Manage parking assets.
6. Provide vibrant public spaces and gathering places.
7. Preserve and accentuate unique and desirable community character and the existing quality of life in adjacent neighborhoods.
8. Improve safety and public health.
9. Strengthen pedestrian and bicycle connections with the corridor.
10. Pursue environmentally sustainable and economically viable development patterns.