Gov. Schwarzenegger's unilateral decision to eliminate payments to counties that offer Williamson Act tax breaks to owners of agricultural land has raised doubts about the future of the state's largest farmland-preservation program.
Many representatives of the affected counties have said they would like to remain in the program. But the end of state subventions that help offset lost property tax revenue is causing many counties to re-evaluate their participation. 
The governor's blue-penciling of the subventions "has put counties in an awful bind, especially the rural counties that count on this money for discretionary revenue," said Karen Keene, a lobbyist for the California State Association of Counties (CSAC). 
One of the hardest-hit counties is Glenn, whose county seat of Willows is about 90 miles north of Sacramento. Glenn County Board of Supervisors Chairman Mark Murray said the board would not make any immediate decisions with respect to the Williamson Act, but he said the loss of $950,000 from the state this fiscal year is "a substantial hit" equivalent to nearly half the county's budget deficit. 
"It's going to cost us bodies," Murray said of the cut. "That's the lion's share of our expenses, whether it be sheriff's deputies or assessors or whoever." 
There is some discussion in the state Capitol of restoring the subventions this fiscal year, possibly through a new dedicated funding source. Several lawmakers, including Assemblymen Jim Nielsen (R-Gerber) and Sam Blakeslee (R-San Luis Obispo), have promised to raise the issue during the Legislature's final month of business, which concludes September 11. 
"There will be a number of components of the budget that will be back on the table," predicted Kathy Mannion, a lobbyist with the Regional Council of Rural Counties. "If the Williamson Act was the only issue, that might be problematic. But we think we can get into the discussion." 
Another discussion underway in the background concerns potential legislation that would let counties get out of Williamson Act contracts quickly. Under existing law, if a county cancels a contract with a landowner, the property taxes remain unchanged for four years and then ramp up over the course of the next five years. Only in the tenth year does the property owner pay the full property tax rate. Thus, under existing law, counties receive no immediate fiscal benefit from not renewing a Williamson Act contract. 
Four Decades of Farmland Protection
The Williamson Act – formally, the California Land Conservation Act – was approved in 1965 to protect agricultural land from urban development, as well as assist farmers. Authored by Sen. John Williamson, the law allows discounted property tax rates for owners of agricultural land who sign a contract with their county agreeing not to develop the land for 10 years. The discounts range from 20% to 75% of normal tax rates, according to the Department of Conservation. The rolling 10-year contracts automatically renew every year on January 2.
If a landowner declines to renew his contract, his property tax rates gradually increase over nine years. Outright contract cancellations are rare, allowed only in certain circumstances, and require a property owner exercising this option to pay a fee amounting to 12.5% of the land's market value. A county may also decline to renew a contract, but few do.
Of California's 58 counties, only four – Yuba, Del Norte, San Francisco and Inyo – do not participate in the Williamson Act program. A handful of cities also participate. Approximately 16.6 million of California's 29 million acres of farm and ranch land is currently protected by the act, according to the Department of Conservation.
In 1998, lawmakers added the Farmland Security Zone (FSZ), also known as the "super Williamson Act." It provides for 20-year contracts in exchange for even greater property tax breaks. About 1 million acres are enrolled in FSZ contracts. Twenty-five counties participate in the program.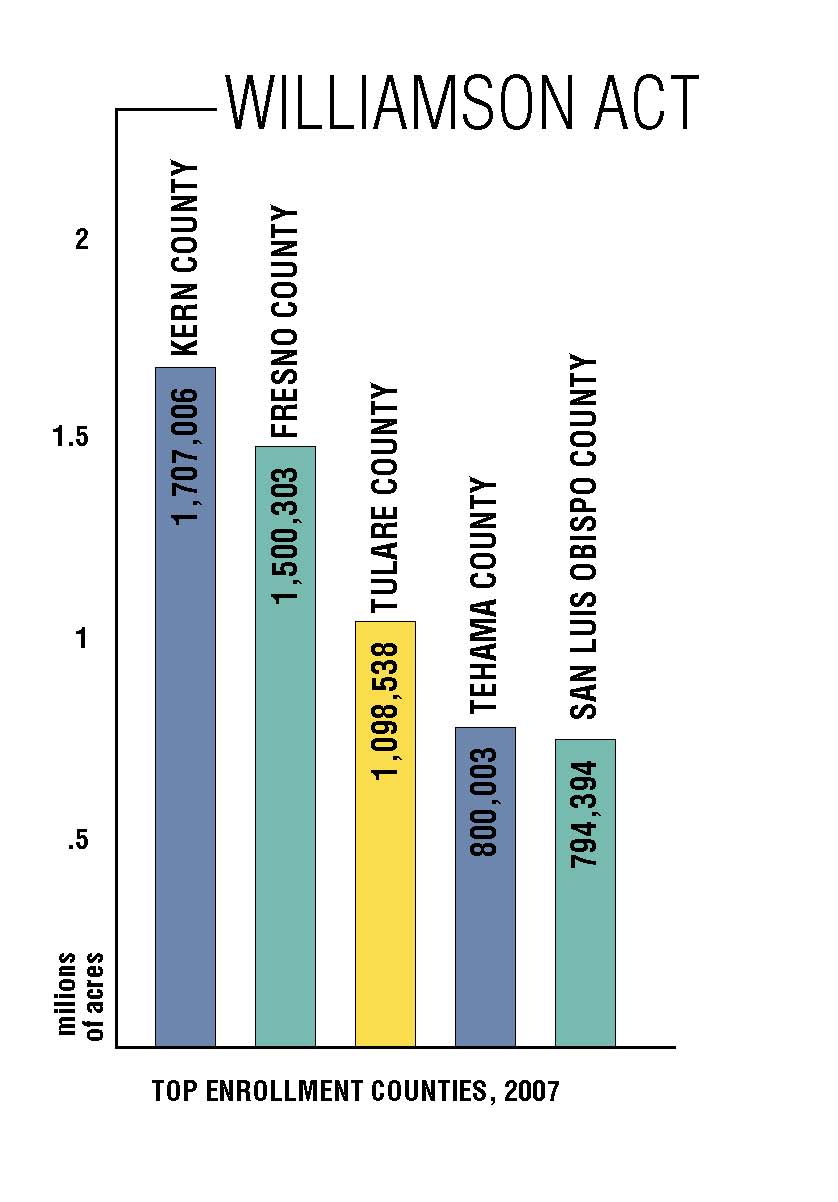 Most of land protected by the Williamson Act has been enrolled since the late 1960s or 1970s, and the total amount of land shielded has varied little during the past 30 years, according to William Geyer, a lobbyist for landowners and former aid to Sen. Williamson. After the law went into effect, counties almost immediately began demanding that the state compensate them for lost property tax revenue. In 1971, $13 million in subventions flowed to counties, an amount that slowly rose to about $17 million annually until 1993, when it jumped to $39 million as part of a broader realignment of government responsibilities and revenues.
Since 2000, both Govs. Davis and Schwarzenegger called for eliminating the subventions, but the funding remained in the budget. The amount was cut to $35 million in the past two fiscal years, and the budget approved by state lawmakers in July further slashed the amount to $27.8 million. Schwarzenegger's blue pencil left only $1,000 in the account.
In whacking the program, the governor said the state needed the money for a reserve fund. State Sen. President Pro-Tem Darrell Steinberg (D-Sacramento) has since sued to restore the money, contending that Schwarzenegger lacks the authority to make unilateral budget cuts. Schwarzenegger responded that he has the authority to line-item veto parts of the budget and does so every year. 
Because the Williamson Act subventions have become a political bargaining chip in recent years, no one was surprised the governor targeted the program. Still, a coalition of counties, landowners, farmers and conservationists is mobilizing to restore the money. 
The California Farm Bureau Federation said the cut "created confusion among the thousands of farmers and ranchers in California who have enrolled their land." Darla Guenzler, executive director of the California Council of Land Trusts, called the governor's move a "devastating blow." 
"This further adds to farmers' uncertainty about their ability to continue farming, and their children's ability to continue farming," Guenzler said. "I think we are going to see counties get out of the program. We fully expect to see the pace of [farmland] conversation increase."  
Policy Options
Greg Gatzka, interim community development director for Kings County, one of the biggest Williamson Act jurisdictions, said his county has suspended all new Williamson Act applications. The county would like to continue the program because "the preservation of agriculture is mainstream here," he said. But the loss of more than $2 million in discretionary revenue as a result of Schwarzenegger's cut is forcing county officials to consider all options, including non-renewal of all contracts. 
Neighboring Tulare County also is weighing its course of action, which includes wholesale non-renewal of contracts, ending contracts for select parcels, halting new contracts and creating a benefit assessment district in agricultural preserves to replace some of the lost revenue.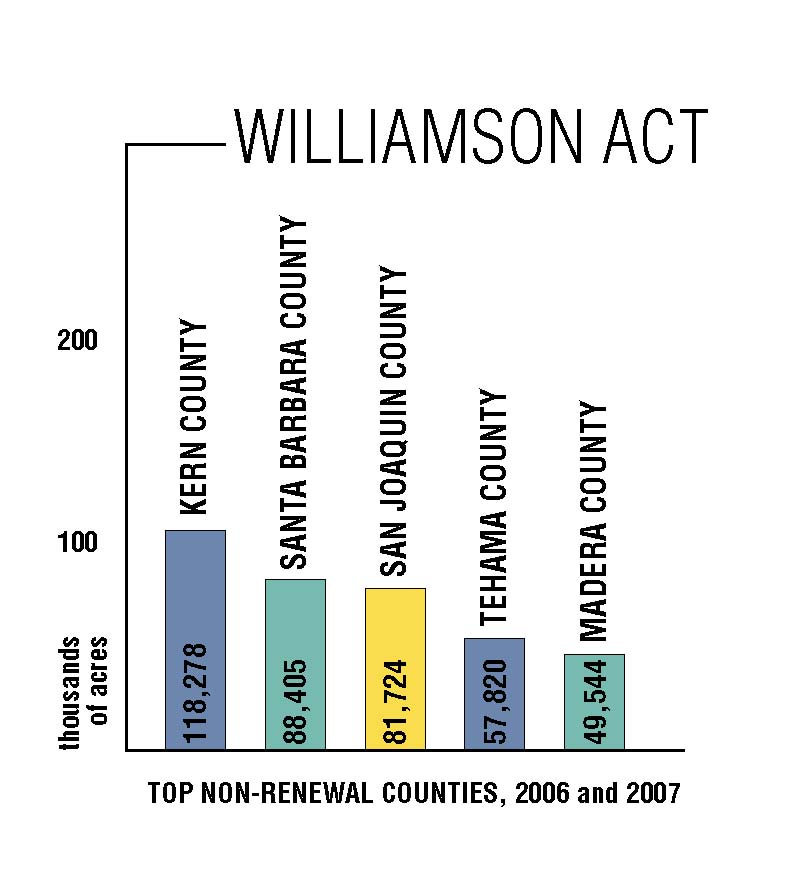 Public officials in large farm counties do not want to do anything that would jeopardize agriculture, a number of counties are dedicated to the Williamson Act program, CSAC's Keene said, pointing to Fresno, Monterey and Napa counties. Even in Siskiyou County, one of the state's poorest, Board of Supervisors Chairman Michael Kobseff declared in August, "As long as I'm a board member in Siskiyou County, I'm going to support the Williamson Act." 
There are two views regarding the effectiveness of the Williamson Act. One view is that the program merely offsets the holding cost of large landowners who intend to develop their property in coming decades. The other, more common view is that the program helps limit sprawl into valuable agricultural land, while providing certainty and economic assistance to farmers and ranchers. The Farm Bureau Federation has cited an internal poll in which one-third of the program's participants said they could not continue agricultural operations without the tax breaks. 
"From a planning standpoint, it's been really beneficial because it gives everyone a sense of what land is tied up and what is not tied up," Geyer said. "The support for the program locally and in the Legislature runs pretty broad and deep." 
Guenzler said the program is an important tool, as there is limited funding available to buy conservation easements in environmentally sensitive areas – something that land trusts have perfected in recent years. 
Keene and others noted that elimination of the subventions runs counter to the state's anti-sprawl and climate-change legislation. "It just goes so in the face of AB 32 implementation and approval of SB 375," she said. "It's contrary to those measures. We tried to impress that upon the administration."
Contacts:
Karen Keene, California State Association of Counties, (916) 327-7500.
William Geyer, Geyer Associates, (916) 444-9346.
Glenn County Supervisor Mike Murray, (530) 934-6400.
Greg Gatzka, Kings County Community Development Department, (559) 582-3211, ext. 2680.
Kathy Mannion, Regional Council of Rural Counties, (916) 447-4806.
Darla Guenzler, California Council of Land Trusts, (916) 497-0272.
Department of Conservation,
Williamson Act reports
.