By Morris Newman
Dammit, it's not fair! Residents of affordable housing get all the lucky breaks. Just look at all the money they're getting from all directions: local government, the local power company, the feds, the green-building lobby. Case in point: the Casa Dominguez development in East Dominguez Hills, an unincorporated area of south Los Angeles County, even has a child care center and a medical clinic, on site.
How can a conventional home builder compete? Don't try and be reasonable, by pointing out that the market-rate home builders could take advantage of many of the same programs, if they chose to. I'm not in a reasonable mood! I mean, Abode Communities of Los Angeles, the developer of Casa Dominguez, is not even trying to make a profit. Where's the level playing field here?
True, life as a not-for-profit home builder is not all a triple-scoop of cookie-dough ice cream with crumbled Oreos on top. I will admit that housing providers for low- and median-income people face their challenges on occasion. Unlike a market-rate home builder, who can put together construction financing with one or two loans, the not-for-profits often need up to eight or nine different lenders, each with its own social-service agenda. ("Good news, colleagues! We've gotten a loan from Hypothetical Foundation X! Bad news: We have to redesign the project again to suit the mission of Hypothetical Foundation X.") The time required to line up all these loans from multiple sources, meanwhile, means that affordable projects require years to complete, as opposed to a fraction of that time for the high-priced spreads.
To make my point, let's examine Casa Dominguez, a 70-unit rental complex that Abode Communities plans to finish within the month. As a satirist specializing in irony, I always assumed that the best way to build rental housing for working-class people is to build as cheaply and unattractively as possible. What are these tenants gonna do, complain? (Pause for knee-slapping laughter.) So why are these low- and median-income households receiving champagne-quality amenities for their small-beer rental payments?
They are not only getting a pleasant courtyard environment, designed as well as built by Abode Communities. They're also getting a child-care center with the capacity for 66 toddlers. And they are getting an on-site medical clinic, operated by St. Johns Hospital of Santa Monica. (Liz Taylor goes there, so you know it's a good one.) Not to mention the community rooms where nearby colleges plan to offer adult education courses in English as a second language, computer skills, and the like. To help make sense of all these goodies, Casa Dominguez will employ a full time "services coordinator." Hell, I could use a services coordinator myself; just ask my wife.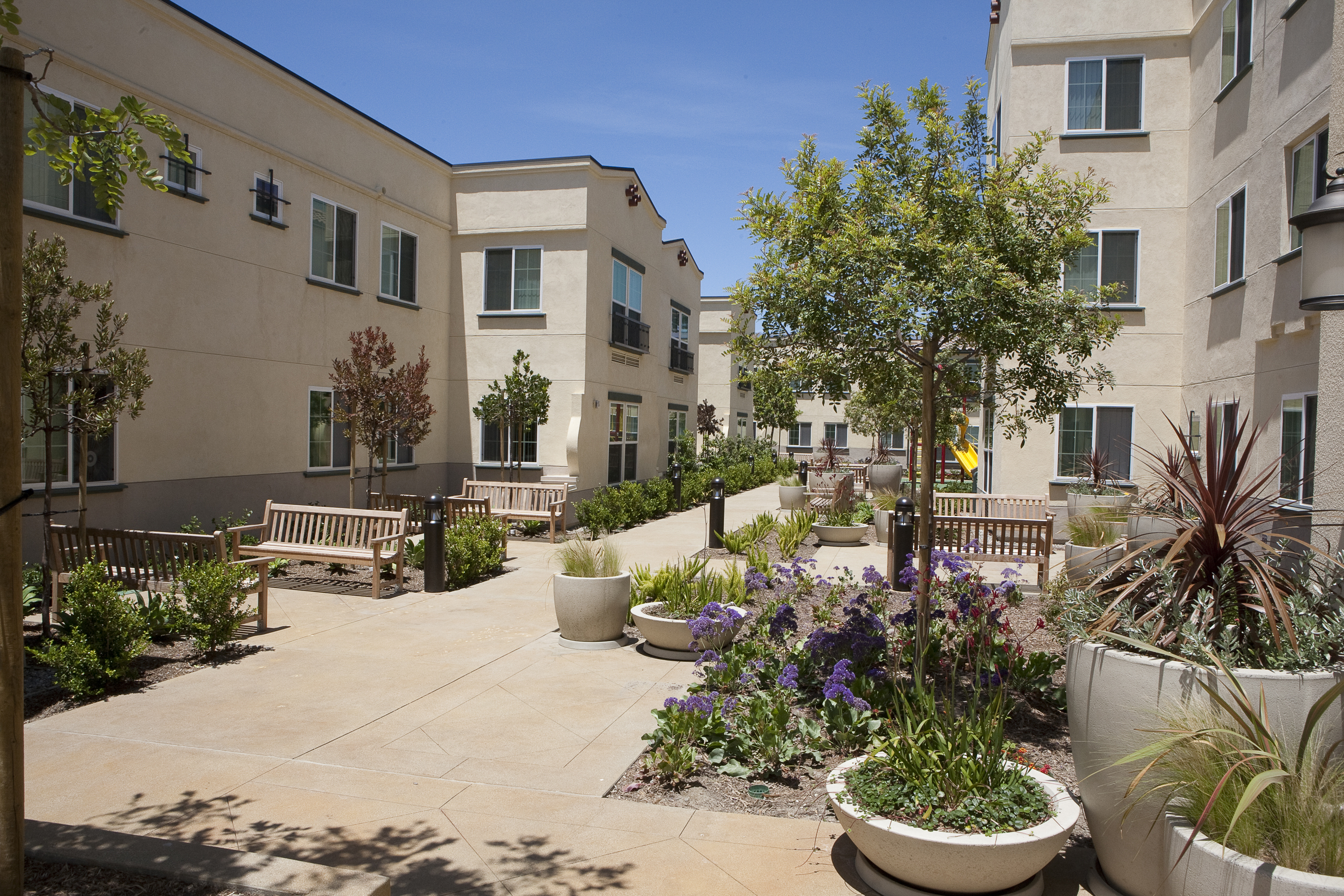 Joint use, or the combination of different public and private agencies under a single roof, is nothing new to Abode. Robin Hughes, the home builder's executive director, told us in an interview that the not-fot-profit home builder has eight housing developments either under construction and completed, and all of them incorporate extra services into housing. I assume the reader already knows that childcare is hard to find for working-class people who live on the border of Compton. It's also probably unnecessary to mention that the area is critically underserved by health care providers.
Well, here come the lenders and the foundations. Casa Dominguez is the first commercial project in Los Angeles County to use double piping, which recycles so-called "grey water," or partially treated non-sewage water, for landscape irrigation. (Suspension of irony: Can this truly be the first commercial project making use of this sensible, low-tech method of water conservation, in a drought-impacted region?) Inside the apartments, all the appliances are Energy Star accredited for energy savings, while none of the furnishings will make tenants sick from formaldehyde fumes.
With the help of a grant from Southern California Edison, in cooperation with US Bancorp Community Development Corporation, much of the roof of this stucco-and-tile complex is covered in photovoltaics. Solar-powered generators are expected to provide all the electricity for common areas, such as the clinic, child care center and classrooms. Hallways are designed for plentiful natural light, and to be ventilated by prevailing breezes.
Additional funding sources are Citi Community Capital, L.A. County's Community Development Commission, the county Housing Authority, Federal Home Loan Bank of San Francisco, and the Ralph M. Parsons Foundation. Another funding source for Casa Dominguez is Enterprise Green Communities, which pools the contributions of Seattle businessman Paul Allen, Fannie Mae, Freddie Mac and BP America, among many others.
Back to irony: Well, I say bah to special privileges for the creators of low- and moderate-income units. (With renters typically earning only 30 to 60 percent of the county median, that means that many households in Casa Dominguez will be earning about $29,000 to $31,000 a year.) What can't commercial, for-profit builders take advantage of the same loans and grants in their projects?
Actually, there is no reason why they cannot—except the irrational customs of commercial real estate investment. Market-rate home builders don't take advantage of those programs, because those programs requires builders to spend money on items that add nothing to the market value of apartment complexes. Investors, you see, are not interested in energy savings and photovoltaics. Those items do not fetch a higher price in the apartment market, so why spend money on them in the first place?
Here's where the real unfairness comes in: Abode Communities does not plan to sell its rental units to investors! Like many affordable home builders, Abode plans to operate Casa Dominguez forever. As a landlord, Abode benefits from energy efficiency. Until commercial apartment developers begin worrying about the costs of heating and cooling and cleaning, they are not going to invest in the stuff that makes life cleaner and more enjoyable. Until that time, innovative non-profits like Abode will have all the advantages.
Oh, the injustice of it all! (He beats his breast, producing a hollow sound.)