Julius Shulman's most famous image-in which disaffected young women in cocktail dresses float above Los Angeles-marks the end of the American experiment as well as does any other gesture in arts and letters. The steel-and-glass jewelbox embodies the equal measures of disappointment and satisfaction that come with a destination reached. After all those decades of toiling across the frontier conclude at the Pacific, the American landscape is complete, its architecture is refined to its sparest elements.
And so, while the sun has set over the Pacific, we wait for the martinis to arrive.
That image also depicts with equal potency the abstraction that spreads out below. All those lights and twinkles appear like treasure against the darkness. And yet, by daylight, there was an entire city, the greatest of its generation, itself figuring out what it could, and should, be.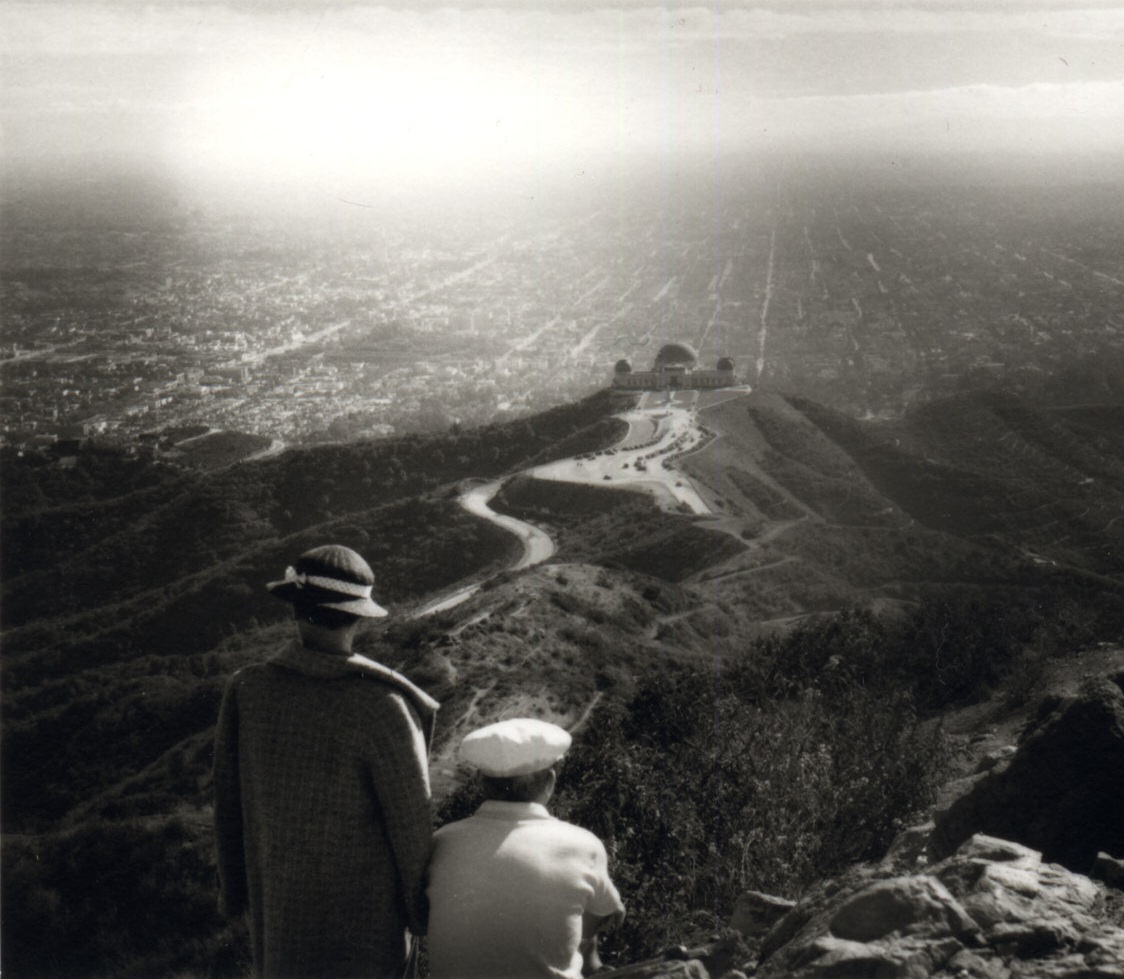 Julius Shulman Los Angeles: The Birth of a Modern Metropolis contains images of Case Study House #22-and of dozens of buildings above which it is perched. But the icon is conspicuously, perhaps intentionally, absent in the magnificent retrospective assembled by editors Sam Lubell and Douglas Woods. There was a lot to choose from. Shulman, whom the editors describe as a "workaholic." shot nearly incessantly from the mid-1930s nearly until his death in 2009, at the age of 98. On assignment and on whim, he chased off into the far reaches of Los Angeles to choose subjects both magnificent and mundane. He shot all of them with restrained, but palpable, artistry.
Yes, it's a coffee table book. But, even for urban planning wonks, it reveals more about how the built environment evolves than could a million pages of zoning code. Captured in the very moment when Southern California burst into greatness, Shulman's images tell the story not just of modern architecture but indeed of what happens when national ambition meets with a blank landscape.
He understood that something radical -- socially, economically, and architecturally -- was happening, and, notwithstanding the Neutras, Eames, and Becketts, he sought to capture both the glorious and the mundane. What sort of lives would take root in these new landscapes is the open question that leaches most from his photos.
He also knew that modernism extended not just to avant garde architecture but also to housing developments, factories, commercial buildings, and infrastructure. Indeed, the aesthetic revolution of the 1950s and 1960s was probably much like the Internet revolution of the current generation - except it was visible at every turn.
Perhaps the most important revelation in Julius Shulman Los Angeles is that Shulman did not reserve his reverence only for the brand-new. Pre-World War II downtown Los Angeles, with its stone-clad high-rises, dense streets, and Art Deco flourishes, seems to have more in common with the walled cities of Europe than with the sunlit, agoraphobia-inducing schoolyards of Long Beach.
On one page, the Rush Drug Co. in the heart of downtown, or main street in Arcadia. On the next, the Department of Water and Power Building, the Century Plaza Hotel, some John Lautner fantasy, or a Googie punch line. There's a Thrifty drug store as big as a Walmart, with a freestanding sign that looks like the Eiffel Tower absent the Seine. In almost every photo, Shulman captures subject and background with equal attention.
The breadth of Shulman's work reveals that he knew a fundamental truth about modern architecture: it is most interesting in context-or lack thereof. The most fascinating of Shulman's images are those that depict brand-new factories set against empty, virgin land. Shulman knows that the land will not be empty for long. Leave it to a photographer to understand that modernism's claims of timelessness were bunk from the get-go.
Through these images, Shulman does not tell stories, and he pays no mind to the vernacular-of which there is little in Southern California anyway. His images are disarmingly static. Cars do not seem to move. Faces are obscured or expressionless. He seems well aware that each building, from gas stations to office towers, arose out of a process every bit as deliberate as that of taking photographs. For those of us who are close to Los Angeles, the collection is mesmerizing but unsettling, like looking at your own baby photos. You wonder what happened to you, and what choices were made, before you gained a will of your own.
Amid the contemporary cries for smart growth and the vilification of post-World War II planning that prevails today, it's easy to disregard how exciting the 1950s and 1960s must have been. Everything that draws hatred today -- from freeway interchanges to aloof office towers -- was fresh, novel, and so easily legible. Shulman's work should remind planners that they have the power to create the context for what comes next.
Yes, Julius Shulman Los Angeles is, five decades later, an aesthetic romp. But it carries far deeper lessons. It provides a comprehensive look into how, and even why, Southern California embraced sprawl so heartily. He reveals that for every modern gem on a hilltop there are endless square miles of banality that might need help from planners rather than flattery from photoraphers.
Ultimately, Shulman was not an architectural photographer. He was a documentarian, trading in the facts of a great city. But, as is often the case with modern architecture, reality rarely does the photographs justice. Especially when the photographer is Julius Shulman.
Photo courtesy of Craig Krull Gallery, Santa Monica/Rizzolli New York
Julius Shulman Los Angeles: The Birth of a Modern Metropolis
Text by Sam Lubell and Douglas Woods, Foreword by Judy McKee, Photographed by Julius Shulman
2011
Hardcover
Rizzoli New York
$60.00