Over the past few years, publishers have put out enough books on urban sustainability to make Al Gore blush. Unfortunately, making a city sustainable takes a lot longer than does writing a book about making cities sustainable. So while green fatigue may have crept in, 2011 brought an eclectic array of books about urbanism and, in particular, about California. CP&DR has received some captivating titles this year, and somehow, California (or at least Los Angeles) continues to fascinate authors and photographers alike.
This year's crop of CP&DR's most intriguing books ranges from a micro-history of the Hollywood Sign, to a luscious glossary of urban terms in the Language of Towns and Cities, to what may prove to be this generation's most enduring, wide-ranging account of urbanism, Triumph of the City. Though many California cities no longer have bookstores at which to pick up any of the following titles, CP&DR presents its inaugural roundup of urban books from the past year, just in time for the holidays.
BOOKS OF THE WORLD
Triumph of the City
By Edward Glaeser
Penguin Press
In a previous era, Harvard professor Ed Glaeser, bedecked in his trademark three-piece suit, might have been the one of the technocrats out there with his slide rule and transit, "scientifically" deciding just how much of a neighborhood to knock down. But, today, urban planning's very own Don Draper has put quantitative analysis to a far more humane use. If Jane Jacobs wrote from the heart, Glaeser writes decidedly from the head. But he reaches much the same conclusions as Jacobs did: cities are wonderful and, most importantly for Glaeser, cities create value. Much of the data analysis--not to mention the poetic connections between Renaissance art, the Golden Age of Athens, and call centers in Bangalore--is intuitive to contemporary progressive urbanists. True to his conservative manner, Glaeser does not call for radical re-visioning of cities. His arguments imply that everything from historic preservation to urban agriculture to congestion pricing can be valuable only insofar as they support a city's ability to nurture ideas and increase prosperity. See original CP&DR Review, Vol. 26, No. 8, April 2011.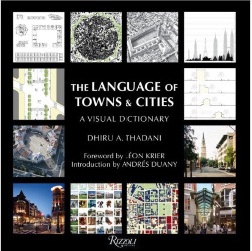 The Language of Towns and Cities: A Visual Dictionary
Dhiru A. Thadani, ed.
Rizzoli
This is the gift that keeps on giving. The Language of Cities and Towns, an extensive glossary of planning and architectural terms, couldn't be read in one sitting, or even in one year. Lushly illustrated with photos, maps, and diagrams, it can remind planners of why they do what they do, and it can teach non-planners a little bit of the vocabulary that often makes planning so inaccessible.
The metaphorical use of "language" to describe architectural form is often a cop-out, invoked when a designer or critic actually has nothing to say about a building. Indeed, "visual language" is an oxymoron. But this book takes language literally, with entries on everything from accessibility to fenestration to "parking: off-street automated system" to zeitgeist. Eminent architects and urbanists including Andres Duany, Doug Kelbaug, James Howard Kunstler, and Robert A.M. Stern contributed entries to this monumental coffee-table edifice.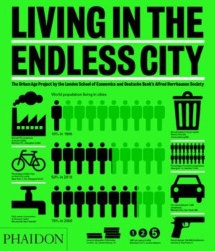 Living in the Endless City
The Urban Age Project
Phaidon
The growth of the world's urban population -- famously topping 50% in 2007, presumably never to reverse course -- has also occasioned the growth of books about that urban population. Exhibit 1 was The Endless City, published in 2007 to celebrate and theorize that global tipping point, and now comes its companion doorstop, Living in the Endless City.
Living in the Endless City offers 430 pages of arresting photos, bold graphics, and statistics exploring what it means for humans to live side-by-side by the tens of millions. While its predecessor focused on six cities on four continents, Living in the Endless City mutes its ambition by focusing on only three cities: Mumbai, Sao Paulo, and Istanbul. Why those three, and why so few, is unclear. Among the images of skylines, graffiti, and traffic are essays by urban scholars – Saskia Sassen, Bruce Katz, and Richard Sennett among them -- all trying to explain what this moment means and how humans are going to cope with cities that just won't stop growing.
BOOKS OF CALIFORNIA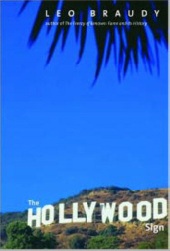 The Hollywood Sign
By Leo Braudy
Yale University Press
Consider this for a moment: The single most famous landmark in the nation's second-largest city is not a skyscraper, a museum, a seat of government, or even a home. It is a sign. The semiotic implications are, to say the least, probably too much for the typical starlet's mind to grasp. Or even the typical professor, for that matter. Was there ever a more potent symbol of Los Angeles' superficiality?
For all the theorizing we can do about the Hollywood Sign, Leo Braudy's little history of a big sign adds a nice footnote to the saga of glitz that is Hollywood. Braudy acknowledges that "Hollywood" is a place, an industry, and an idea all wrapped into one, and he does a nice job explaining how the sign fits into all three. His account ranges from the early 1900s, when it was a dusty outpost, to the arrival of movie moguls, to the "Hollywoodland" real estate boom, and onward. He chronicles the sign's deterioration in the 1970s and the campaigns to save the sign, when the movie industry has shown rare flashes of civic pride. As it turns out, something two-dimensional can reveal stories that are more than skin-deep. Even in Hollywood.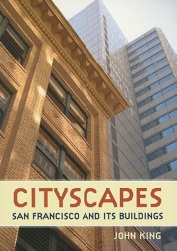 Cityscapes: San Francisco and its Buildings
By John King
Heyday Books
Cityscapes is the opposite of The Hollywood Sign. In his introduction, longtime San Francisco Chronicle architecture critic John King notes that San Francisco is often considered greater than the sum of its parts, often overshadowing individual architectural works that punctuate its liberal Victorian splendor. Hence, the book's title. King's mission in Cityscapes, though, is to see the trees for the forest, by highlighting 50 structures that he considers quirky, iconic, and uniquely San Francisco. King includes superstars like the Transamerica Pyramid and de Young Museum, but also reserves equal love for BART stations, beaux arts apartment buildings, houseboats, and an odd pile of logs called "The Spire." Pocket-sized, much like San Francisco itself, Cityscapes is a splendid handbook to California's most urbane city.
Julius Shulman Los Angeles: The Birth of a Modern Metropolis
Sam Lubell & Douglas Woods, eds.
Rizzoli
Previously reviewed in CP&DR (see Vol. 26, No. 14, July 2011), Julius Schulman Los Angeles assembles a stunning collection by Los Angeles' signature photographer. Though the debate will forever rage about the spiritual, psychic, and even economic benefits of mid-century modern architecture, no one can deny that the severity and straight lines of the rational age look gorgeous through Shulman's lens. The collection reveals, however, that Shulman was not just a fashion photographer. He was not concerned only with Neutras, Eameses, and Lautners sauntering down the runway. Some of the more humdrum selections from his vast archive reveal a deep fascination with the development of Los Angeles and of the relationship between all those space-age buildings and the natural landscape on which they were placed. Come to Los Angeles for the masterpieces, but stay for the tract homes, factories, and sun-bleached schoolyards of Los Angeles in its heyday.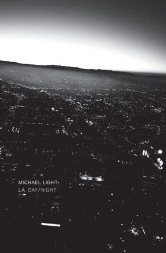 L.A. Day/L.A. Night
By Michael Light
Radius Books
If Julius Shulman captured Los Angeles as a work in progress, then fellow photographer Michael Light has attempted to capture it as a finished product. As his title suggests, Light's monograph of aerial photos comes in two parts: a series of photos of Los Angeles lit by the sun, and a series in which the city fades into points of light against the darkness. So much has been made of the "sunshine and noir" theme over the years that it's hard to read too much into Light's work. Judging by the eastward tilt of the shadows, his daytime photos all appear to have been taken in the late afternoon, when the light gets soft and the horizon turns into a white blur. His subjects are the industrial nervous system of the city: rail yards, warehouse districts, freeway interchanges, and oil refineries. From his helicopter, the Los Angeles River is the city's spine. As for the city at night, it's neat to think that even when streets are reduced to receding pinpoints and buildings become black silhouettes, Los Angeles can still be recognized as no place other than itself.
Light's ambitious photos are accompanied by a brilliant essay by L.A. Times book critic Michael Ulin. Of the day, Ulin writes, "this light..sucks the nuance out of everything, rendering the landscape as desiccated, dry" but then realizes that this lifeless image of L.A. is "nothing more than a trick of the light." At night, though, there are no tricks -- and this is where planners should pay attention: "you cannot walk alone at night in Los Angeles...if harm befalls you, you are irrevocably on your own. This doesnot mean that L.A. is an unsafe city, just an honest one."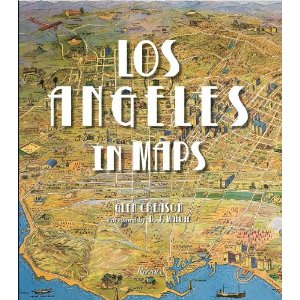 Los Angeles in Maps
By Glen Creason
Rizzoli
It's pretty safe to say that Los Angeles In Maps is a required part of any L.A. enthusiast's collection. Starting with an 1857 map of the San Gabriel Mission, ending with the L.A. Times' attempt to create a definitive map of every L.A. neighborhood, Los Angeles in Maps presents 70 historical maps with accompanying essays for each. The collection not only offers striking glimpses into Los Angeles' urban development, but also into the history and culture of map-making itself, with everything from spare maps of housing tracts and sewage networks to whimsically illustrated maps of literary landmarks, murals, and "sunshine fruits and flowers." Google Maps may tell you where you are going in Los Angeles, but Los Angeles in Maps tells you where Los Angeles has been.
OTHER 2011 TITLES OF INTEREST:
The Fate of Cities: Urban America and the Federal Government, 1945–2000
By Roger Biles
University of Kansas Press
The Agile City: Building Well-Being and Wealth in an Era of Climate Change
By James S. Russell
Island Press
Arrival City: How the Largest Migration in History Is Reshaping Our World
By Doug Saunders
Pantheon
All Over the Map: Writing on Buildings and Cities
By Michael Sorkin
Verso Press
Small, Gritty, and Green
The Promise of America's Smaller Industrial Cities in a Low-Carbon World
By Catherine Tumber
MIT Press