Smart growthers tout transit-oriented development more often than any other strategy. Yet with the exception of a few few showpiece developments, TOD has yet to catch fire in practice. This year, the American Planning Association recognized one such development in the hopes that, finally, the trend will catch on.
The Contra Costa Centre, located between Walnut Creek and Concord in the inland reaches of the Bay Area, will be receiving the 2012 National Planning Excellence Award for Implementation, one of 15 awards to be presented April 16 at the APA's National Conference in Los Angeles. (They will be joined by two other recipients from California: San Francisco's Hunters Point redevelopment and Pasadena's 1925 City Beautiful plan.)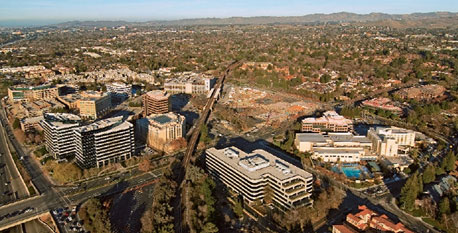 The award comes roughly three decades after the concept of developing a mixed commercial and residential around the Pleasant Hill station of the Bay Area Rapid Transit District's Pittsburg/Bay Point line. Though not yet fully built out, CCCTV sits on 125 acres in unincorporated Walnut Creek and features approximately 2.4 million square feet of Class A office/commercial space, two full-service hotels, 50,000 square feet of retail/restaurants and nearly 2,700 multi-family residential units.
Planners say that the project has created a 30% decrease in traffic congestion in the area as commuters have opted for BART and other means of transportation that do not require single-passenger vehicles.
Despite the popularity of the TOD model, planners say that the center's development was anything but smooth. It was, in fact, a complicated partnership between developers, Contra Costa County, the Contra Costa County Redevelopment Agency, and, as is inherent to transit-oriented development, a major transit operator. Notably, the redevelopment agency, now forced into dissolution, assisted the project with land assemblage, funding for affordable housing, and some of the placemaking efforts. (The agency was led at the time by Jim Kennedy, now interim executive director of the California Redevelopment Association.)
"It was remarkable that the project spanned political leadership. We felt it was an example of what should be done across the country," said Ann Bagley, who is a planner in the Dallas area and chair of the APA's awards jury.
Maureen Toms, program manager with the former Contra Costa County Redevelopment Agency, noted that the plan took as long as it did in part because market conditions never would have accommodated so much vacant space all at once. The tenancy, and the related commuting benefits, took time to reach critical mass.
"The Contra Costa Transit Village will accomplish positive changes as a result of planning, and the implementation award emphasizes long-term measurable results," said Bagley.
Initially, not everyone was so enthusiastic about the project. It received intense local opposition from neighbors who were accustomed to the area's bedroom-community feel. Gail Murray, BART's District 1 director, said that a series of charettes helped diffuse that initial opposition, in part as residents discovered that the transit village, though large, would likely be an improvement over existing conditions.
"The BART property was all parking; it wasn't attractive; it was just a sea of thousands of cars," said Murray. "Putting all the cars in a garage and building this TOD was an amenity to the surrounding neighborhoods."
Murray also said that the logic of TOD took hold when residents came to understand that the project would not encroach on their lifestyle.
"People are accepting the fact that around the BART station is the right place to have more density," said Murray. "It doesn't make sense to have single-family homes around a station."
CCCTV operates on the familiar premise that commuters will opt for rail rather than driving because of the project's proximity to the rail station. But planners say that the project required careful planning and programming in order to actually realize those goals. In particular, developers included several programs to encourage commuters to stay out of their cars during the workday and to make sure that non-driving workers could get around.
Toms cited such features as a car-sharing program, a circulator van, and a hiking/biking trail that runs alongside the freeway. The Contra Costa Association – the business association that includes all office tenants – also sponsors regular traffic monitoring, with the goal of maintaining or improving upon that 30% traffic reduction.
"That's something that we keep tabs on," said Toms. "We want to make sure that that isn't moving backwards."
A few variables, however, remain to be defined. The village's master plan includes several large parcels that remain vacant.
"It's taken a number of years to complete the vision that they had back in the '80s to do this kind of project," said Toms. "It can't be that you adopt the general plan and you have build-out right away. You have to really stick with the plan."
Even among the relatively high concentration of transit oriented greenfield developments in the Bay Area, CCCTV is considered a standout.
"One of the original ones, at Fruitvale Station (in Oakland), is also in stages," said Murray. "It wasn't as successful because it was the first one out the door."
Meanwhile, other communities are looking forward to forming their own plans, inspired by what the CCCTV has done. Toms said that delegations from other cities have come to observe the project, and Bagley said that California seems to be on the leading edge of transit oriented development.
"We're always fascinated with California planning because y'all do a good job," said Bagley, the APA jury chair. "It's very important that we draw attention now to these transit areas. All over the country people are needing to live in more urban situations, by choice or by necessity. A successful transit area is critical to that."
Contacts: