With a few exceptions, the quality of California's built environment is inversely proportional to the grandeur of its natural environment. Few landscapes illustrate this truism more vividly than that of northern Los Angeles County's Antelope Valley, where the majesty of the San Gabriel Mountains and the breathtaking expanse of the Mojave Desert meet the tract homes of Palmdale and Lancaster.
Palmdale and Lancaster exist for, essentially, one reason: people of modest means cannot afford to live comfortably anywhere near central Los Angeles, so greater L.A. becomes "greater" still by flinging a few of its suburbs over the mountains and into the high desert.
If the heat, distance, and aridity, weren't enough, these cities also suffer from a distinct absence of urbanism. They're mostly strip malls and boulevards, and the sidewalks look better suited for frying eggs than for cooling one's heels. In other words, they are typical suburbs. But, unlike in typical suburbs, residents can't just drive to the next town over to do some window shopping or have a night out on the town. Santa Clarita is 40 miles away. (And it's not exactly a paragon of urbanism.)
But, "The BLVD" proves that high-desert exurbs can have nice things too.
The BLVD, which is the brand name that refers to a nine-block stretch of Lancaster Boulevard, began life as a 1950s-style one-story retail strip in the heart of Lancaster, near the city's Southern Pacific (now Metrolink) station. It was and is the type where storefronts, rather than parking stalls, abut the sidewalk and where curb cuts don't cut through every single block. Even in its early heyday, it was surely nothing special, but vastly preferable to a bunch of strip malls.
And yet Lancaster Boulevard was too wide. Four lanes of traffic separated one side of the street from another, and pedestrian amenities -- such as awnings and street furniture -- were scarce. In 2008, the city commissioned a redesign of the boulevard and implemented it over the next few years. Among other smaller upgrades, the plan removed the middle two lanes of traffic and replaced them with two facing rows of diagonal parking and an alameda of palms and shade trees. The result is vastly more intimate than its predecessor was. It's a little over-branded, but it feels like a real place, with a good dose of civic pride. And the whole thing took six months to build and cost the city under $12 million (in 2010 dollars).
The BLVD, designed by Pasadena-based Moule & Polyzoides, received its share of awards and fanfare when it was completed, but awards are fleeting. I finally visited The BLVD under the worst possible circumstances: high noon on a 110-degree day a few weeks ago. My curiosity was intense enough to endure the heat, and I was not disappointed. For all the plans that sound promising but never break ground, and for all the arguments and strife over so many development issues in California, The BLVD seems like a success. It really doesn't take much to make a place dramatically more intimate, appealing, and humane.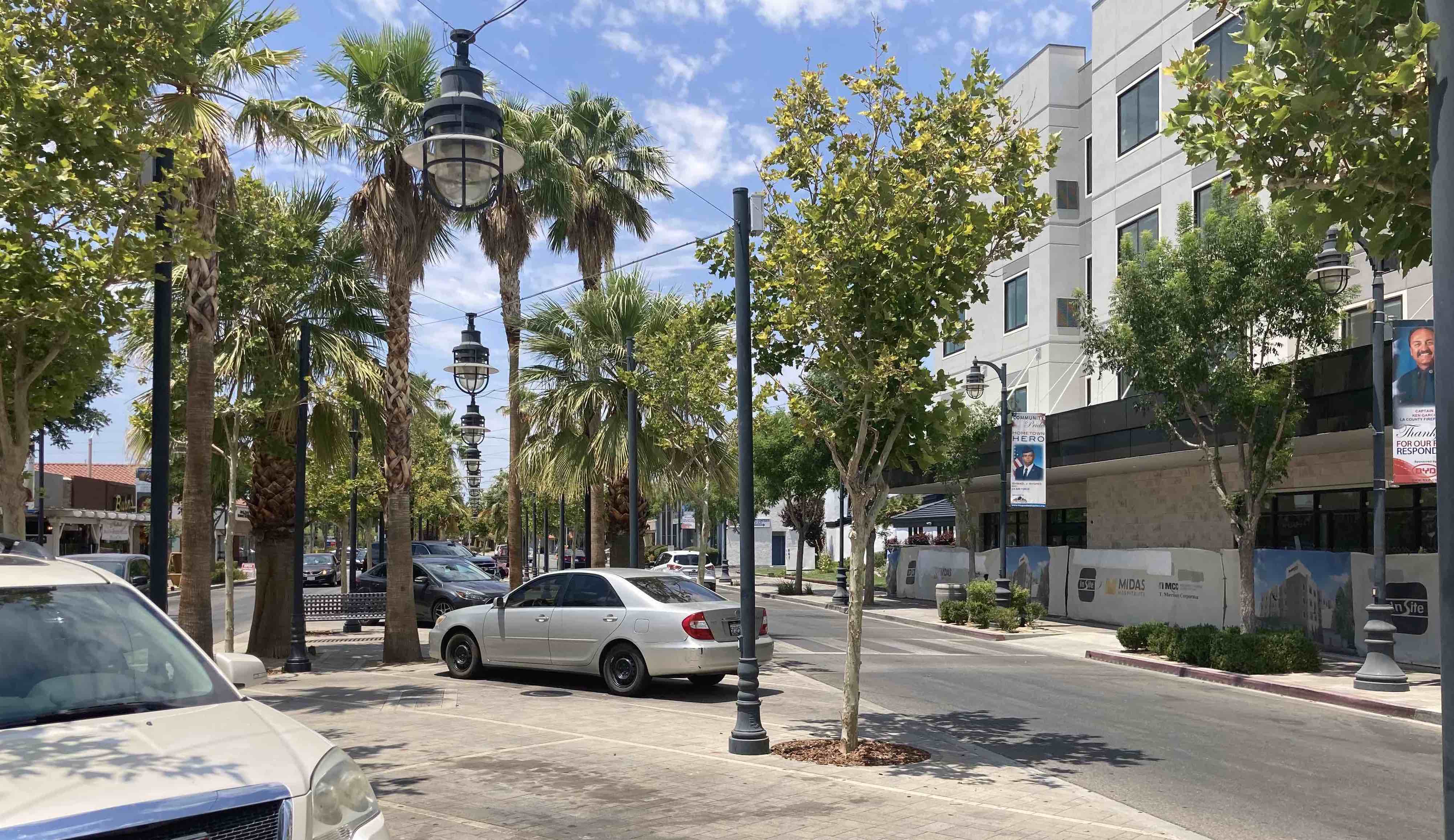 This used to be the fast lane.
According to the city, the project has attracted over 40 new businesses. The city's Museum of Art and History opened in 2012, and a mid-rise apartment building that looks straight out of San Diego or Los Angeles is under construction, adding just a touch of urban residential density. The parking spaces were full -- even on an unbearably hot day -- and folks were out and about. In a place defined by impossibly broad skies and faraway horizons, The BLVD feels downright intimate.
I don't want to presume that The BLVD has solved all of Lancaster's problems or made the desert bloom. I also don't want to presume that, as much as progressive planners (myself included) might tout density and walkabilty, that residents of Lancaster don't like their single-family homes and multilane boulevards. But I have to believe that they appreciate an alternative. The BLVD might occupy just a few short blocks -- and the average Lancaster resident might not go there more than a few times a year -- but having at least one place that's special and pleasant in a place that is spectacular but also bleak.
As delighted as I was for Lancaster, I couldn't help thinking that Lancaster per se is beside the point. A great many cities in California -- including the state's most expensive, most prominent cities -- suffer from the exact same problem that The BLVD solves.
Throughout California, streets are too often conflated with thoroughfares. At some point, planners decided that the streets with the most vehicular traffic must also have the most commercial development. The most egregious example is that of Los Angeles's Wilshire Boulevard, where a vast array of the city's most important stores, offices, and civic institutions contend with never fewer than five lanes of traffic, and as many as nine, along its 15 miles (including a few miles in Beverly Hills, which, though fancier, is just as bad as the L.A. segments). The same could be said for Market Street in San Francisco, Colorado Boulevard in Pasadena, and many other "main" streets throughout the state. And so, the streets that ought to generate the most foot traffic and provide the most dynamic pedestrian environments instead behave like miniature freeways.
Lancaster's planners recognized the ridiculousness of this convention. In a sensible world, so would other planners. Streets with heavy pedestrian traffic should be small, pleasant, and human-scaled. That's how classic small-town main streets look, and that's how most commercial streets in Europe look. It's how key commercial neighborhoods in nearly every city in California could look. Planners just have to have the courage to take out a few lanes and plant a few trees -- and trust that drivers will find other ways to get across town. Or, just maybe, drivers be inspired to take a stroll every so often. If you can do it in the high desert, you can do it pretty much anywhere.
Cities don't get to choose their landscapes, but they do get to choose their streetscapes. The BLVD proves that, even amid a distractingly beautiful landscape, choosing something pleasant doesn't have to be that hard.