If any part of Los Angeles begs for redevelopment, it would be a 2,600-acre terrain in the northeast San Fernando Valley known as Sun Valley.
From a satellite, the area could be easily mistaken for a moonscape, or perhaps a bombing range. The most conspicuous land forms are four enormous pits, which are gravel quarries. Two played-out pits are enjoying second careers as landfills. Nearly half of Sun Valley is devoted to heavy industry, yet the area still has a population of 45,000 people. Seventeen percent of the community lives in poverty, and the area is a local hot spot for cancer. Just to add some spice to the challenge, the area is also a regional watershed known as Tujunga Wash and needs additional flood control.
If Sun Valley is an environmental Slough of Despond, the economic story in the area is slightly more cheerful. The community, together with neighboring Tujunga, is home to 10 million square feet of industrial space, with a vacancy rate of only 2% (even if that robust industrial activity includes far more waste handlers than any other neighborhood in Los Angeles). This wealth of industrial land, sullied as it is, may help keep high-paying industrial jobs in Southern California at a time when other industrial areas are being squeezed out by the condo-building craze.
As a planning exercise, then, Sun Valley offers a stimulating mix of ingredients. The industrial area wants to be cleaned up and "repurposed" as light industry, such as sound stages and other entertainment-related uses. Lankershim Boulevard and San Fernando Road, the major corridors, want to be filled in with new mixed-use developments. A historic protection designation may be appropriate for Stonehurst, a neighborhood of 60 houses built of rocks salvaged from the wash. An unsightly steam plant owned by the Los Angeles Department of Water & Power needs to be hidden by landscape or otherwise screened from view. One disused gravel quarry could be reinvented as a park plus detention basin, while another could serve as an expansion of an existing spreading yard, with newly installed wetlands and layers of gravel to scrub the filthy water. And at the north edge of Sun Valley, at the foot of the San Gabriel Mountains, the plan envisions a nature trail that could be incorporated into a continuous linear park that would eventually circle the entire San Fernando Valley.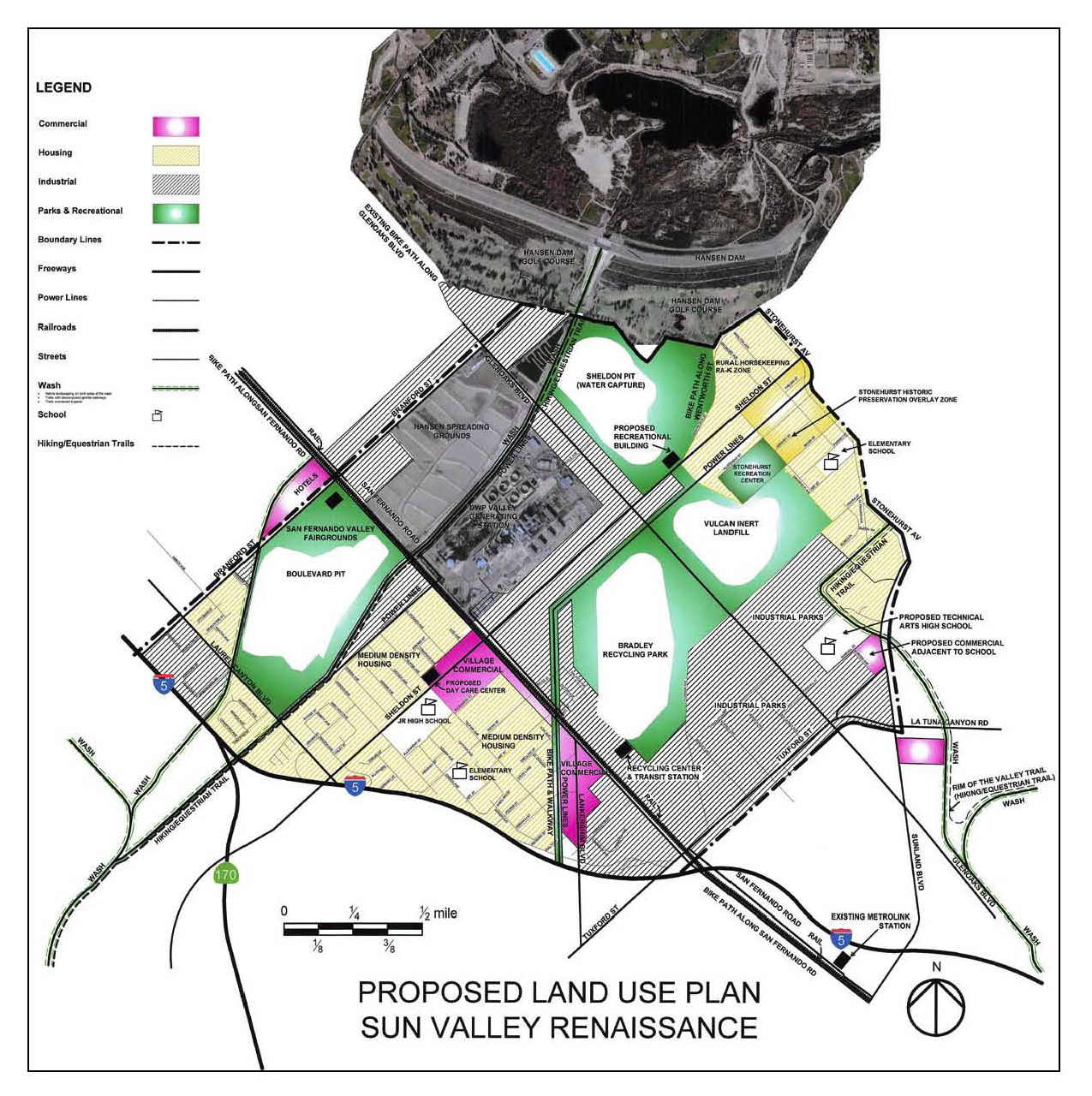 This optimistic yet achievable set of goals is a simplified summation of the Sun Valley Renaissance concept plan, prepared by the Urban Design Assistance Team of the American Institute of Architects, San Fernando Valley chapter. Sponsoring the study is the Economic Alliance of the San Fernando Valley and the CivicCenter Group. This is a fine undertaking, even more so for a set of community-minded volunteers. The best part of the plan is that it is down to earth and do-able.
The most challenging part, perhaps, is finding both the money and the political libido to realize a plan that seems socially, environmentally and economically desirable. Although Sun Valley officially falls within the city's Pacoima/Panorama redevelopment area, the plan was prepared independently of the Los Angeles Community Redevelopment Agency. In the implementation chapter, the study recommends that the agency coordinate with other public agencies and help create a business improvement district in the area.
While many things in the world seem to worsen over time, the Sun Valley document shows how much planning has improved – even if planning in California is most often destined to remain theoretical. The concept plan shows respect for different constituencies — property owners, industrial employers, homeowners, existing service businesses, even eco-tourists.
For neighborhood revitalization, the plan proposes a set of "urban villages." Please overlook that tired nomenclature and take note of the worthwhile goal: Making neighborhoods more walkable by locating retail and service businesses within short distances of residences. And rather than scraping entire streets and building the kind of humungous meta-project currently favored by the city's redevelopment agency, this concept plan proposes to repair some structures and build others where needed, including some fashionable-looking residential mixed-use projects.
In short, the plan respects the street and its existing businesses, rather than sweeping all the chess pieces off the board in the name of revitalization, which is perhaps the most perverse aspect of redevelopment driven purely by revenue requirements. The challenge, here, then, would be to find developers willing to take on small projects, rather than the capital-intensive shopping centers that are somewhat easier to finance.
Most difficult to achieve, if worth trying, is the idea of modernizing and prettifying the existing industrial inventory. Industrial space is the lowest-yielding type of real estate, and the prospect of slightly increased rents is rarely enough to induce owners to make major capital improvements to existing buildings. Most quixotic, alas, is the suggestion to bring in entertainment and high-tech uses. While the suggestion has a rational basis, insofar as both industries are growing and looking for affordable space in L.A., both are industries that tend to cluster in familiar locales, rather than look for cheaper space on the edge of town. Sun Valley, however, may be able to attract some import-related businesses, given that the area is immediately north of the Bob Hope Airport in Burbank.

The toughest thing about any plan is implementation, which means political support and money. Politics aside, I am having a hard time seeing where the money will come from to build all these worthwhile things. My unscientific guess (and I would be delighted to be proven wrong) is that tax increment is not going to rake in the kind of bucks necessary to rebuild the local infrastructure while providing new facades to ugly industrial buildings. I also question whether Los Angeles voters would be willing to authorize the millions of dollars in revenue bonds needed to benefit Sun Valley, which is 70% Latino and has little clout with the rest of the city.
Perhaps the committee that was wise and generous enough to prepare this plan can tackle the financing next. Sun Valley begs to be redeveloped, and this plan begs to be acted upon.