After two decades of false starts, public and private planning efforts, litigation and ballot measures, development in South Sutter County appears ready to commence – just as soon as the economy rebounds.

In mid-2009, the Sutter County Board of Supervisors approved a specific plan, a land use and development code, design guidelines and an environmental impact report for a new town project known as Sutter Pointe. The specific plan calls for 17,500 housing units and nearly 50 million square feet of industrial and commercial space on what is now mostly farmland. Remarkably, no lawsuit was filed nor ballot measure circulated following the board's approval of the project.

Essentially, the plan permits the Sutter Pointe development consortium to build houses in exchange for providing infrastructure that will enable the industrial job development desired by Sutter County.

"I think this plan helps ensure we have a viable project there, and, ultimately, a community where people can live and work," said County Supervisor James Gallagher, who represents the area. "We're talking about basically creating a new community in South Sutter County, which was more than a little controversial the first time."

Located in the southern Sacramento Valley, Sutter County has long been an agricultural county. During the 1990s and especially the early part of the last decade, the county seat, Yuba City, became a bedroom for commuters to Sacramento, located approximately 40 miles to the south. Sutter County's unemployment rate is always high. Its unemployment rate for November 2009 was 19.4% – far above the state's 12.2% rate, according to the California Employment Development Department. Thus, county leaders have long sought to boost employment opportunities.

In 1991, voters rejected competing growth initiatives for South Sutter County. That stalemate led to the Board of Supervisors approving a huge project called Sutter Bay, just north of the Sacramento County line, the following year. Lead developer Ahmanson Development Company envisioned 80,000 residential units in a 36-square-mile new town. But Sutter Bay became a campaign lightening rod, and a Board of Supervisors with three new members rescinded the Sutter Bay development agreements in early 1993. Months later, voters rejected the project in a referendum election. Ahmanson and its partners sued the county, but the county ultimately prevailed.

Meanwhile, the county updated its general plan and designated a 10,500-acre "industrial/commercial reserve" along Highway 99 near the Sacramento County line, and in 2002 the county approved a 3,500-acre specific plan for a portion of the reserve (see CP&DR Economic Development, November 2002). That plan died amid litigation filed by the Sierra Club and the Environmental Council of Sacramento, who successfully challenged the county's lack of an infrastructure financing strategy.

In 2004, county voters approved Measure M, an advisory measure that drew a broad outline for development of 7,500 acres in South Sutter County. The ballot measure called for no more than 2,900 acres of residential development and at least 3,600 acres of commercial and industrial uses, as well as at least 1,000 acres of parks, open space and community facilities. Measure M provided the starting point for the specific plan that was then prepared by the Sutter Pointe group, which includes Lennar Communities, Angelo Tsakopolous's AKT Development, Axel Karlshoej and Al Montna. In fact, county officials asked the developers to take the lead in preparing a new specific plan, explained George Carpenter, the project manager.

"Sutter Pointe is based on Measure M. The whole point of Measure M was to bring jobs to the county," said Carpenter, a former Sutter County planner. "The problem is that there has been no way to finance infrastructure."

The Sutter Pointe plan attempts to balance residential growth and industrial development. Developers have long been interested in building houses in South Sutter County because of its close proximity to jobs in both the capital city and in Roseville. But for just as long, Sutter County leaders and voters have insisted they did not want to see development of a new bedroom community. They want jobs.

Like Measure M, the specific plan speaks of residential maximums and industrial minimums. The plan permits residential development in phases as industrial and commercial development proceeds. The residential development will raise the revenue for the infrastructure, including an expensive sewer collection system that developers intend to tie in with a regional wastewater treatment plant in south Sacramento, as well as major improvements to highways and roads. Supervisor Gallagher said he is comfortable that the plan ensures industrial infrastructure will come online at the same time that housing is developed.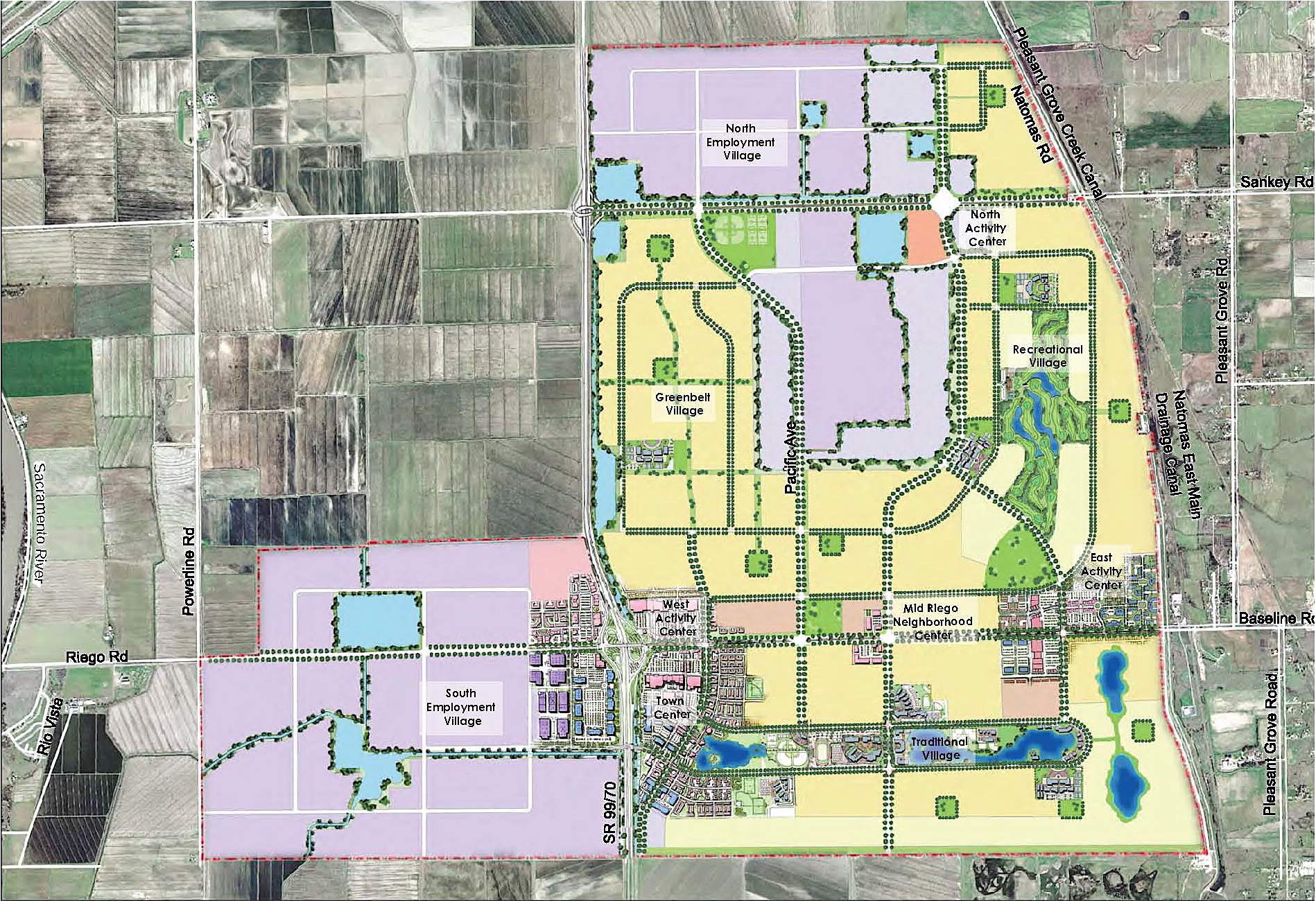 The conceptual plan for the job-rich Sutter Pointe development.
The specific plan itself is not overly specific. That was intentional, because county officials and developers want to be able to make adjustments as the area builds out over the next 20 to 30 years. Also, there was a fear that preparing a more detailed plan would drag out the process for too long. As it was, the more general document prepared by EDAW and developers, and approved last year by the county, took four years to complete. Future development will require tract map approvals and subsequent environmental reviews, Carpenter said.

The site is in an area in which the Sacramento Area Flood Control Agency (SAFCA) is undertaking extensive levee upgrades to provide at least a 100-year level of protection. The Sutter Pointe development will provide impact fees to help pay for some of those improvements, according to Gallagher, who sits on the SAFCA board.

The site also sits in an area that provides habitat for the Swainson's hawk, the giant garter snake and other endangered or threatened species. However, a habitat conservation plan is in place, and that plan largely provides the boundaries for Sutter Pointe development, according to Carpenter.

Sacramento and the Natomas Basin Conservancy, which manages the habitat conservation plan, have expressed concern that Sutter Pointe development could inch right up to protected lands. Sacramento planners would like to see significant buffers between Sutter Pointe development and habitat lands, as well as between Sutter Pointe and the City of Sacramento's potential sphere of influence north of the existing North Natomas growth area, according to Scot Mende, Sacramento's new growth manager. The exact location of development, however, will not be known until Sutter County processes tract maps.

In part because of the flood control needs, but mostly because of the slow economy, developers do not foresee much on-the-ground activity before 2013, said Carpenter. But they do anticipate market demand for housing as well as industrial uses once the economy rebounds, he said. The close proximity to Interstates 80 and 5, and to Sacramento International Airport, as well as the immediate access to Highway 99 should entice industry, he said.

"We've got large sites available for big users. We've been told by the broker community that there are not very large lots available like this. We'll be competing with Stockton and Reno," Carpenter said.

The residential plan is based on the village concept. A traditional village with a grid pattern centered around a great park and civic facilities will provide the most homes. "The whole idea behind Sutter Pointe is that it's going to be a new city. It ultimately will incorporate," Carpenter said.

Although environmentalists in the past have complained that South Sutter development would amount to leapfrog growth, the Sutter Pointe plan actually exceeds the housing density and jobs-housing ratio envisioned for the area by the Sacramento Area Council of Government's regional blueprint. Sutter Pointe would also be located very close to new growth areas of Placer County and Roseville that are endorsed by the regional blueprint.

Contacts:
George Carpenter, Sutter Pointe project manager, (916) 355-1450.
Sutter County Supervisor James Gallagher, (530) 822-7106.
Scot Mende, City of Sacramento new growth manager, (916) 808-4756.
Sutter Pointe specific plan: www.co.sutter.ca.us/doc/government/depts/cs/ps/cs_sutterpointe.
Natomas Basin Conservancy: www.natomasbasin.org.