The largest development project ever approved in Amador County might also become the first project in the county to be decided by voters in a referendum.

With 1,334 housing units, 300 time-share units, a golf course resort and a commercial area, Gold Rush Ranch would approximately double the size of the City of Sutter Creek. Project opponents say the project is simply too big, and they fear Gold Rush Ranch could mark the start of extensive suburban-style development in an area that has been relatively slow to grow.

"It's the beginning of another Elk Grove," said Bart Weatherly, a leader of Preserve Historic Sutter Creek and of the referendum effort. "Elk Grove is not Sutter Creek. Sutter Creek is a quaint little Gold Rush town surrounded by rolling hills and oak woodlands."

On the other hand, Mayor Gary Wooten does not see Gold Rush Ranch as the beginning of the end for Sutter Creek.

"This is a tremendous project," Wooten said. "It's not going to effect the historic preservation. The downtown is going to stay old. You won't even be able to see it [Gold Rush Ranch] from downtown. We're still going to be the small jewel of the Motherlode."
Even if Gold Rush Ranch is not the precursor to a development trend, the project is a substantial one in sparsely populated Amador County. During the last decade Amador County as a whole grew less than 1% annually to about 38,000 people, including about 5,000 who reside at Mule Creek prison in Ione. Sutter Creek grew at roughly 1.5% annually to 2,700 people. That's about 15 new housing units a year. Gold Rush Ranch would blow those numbers away.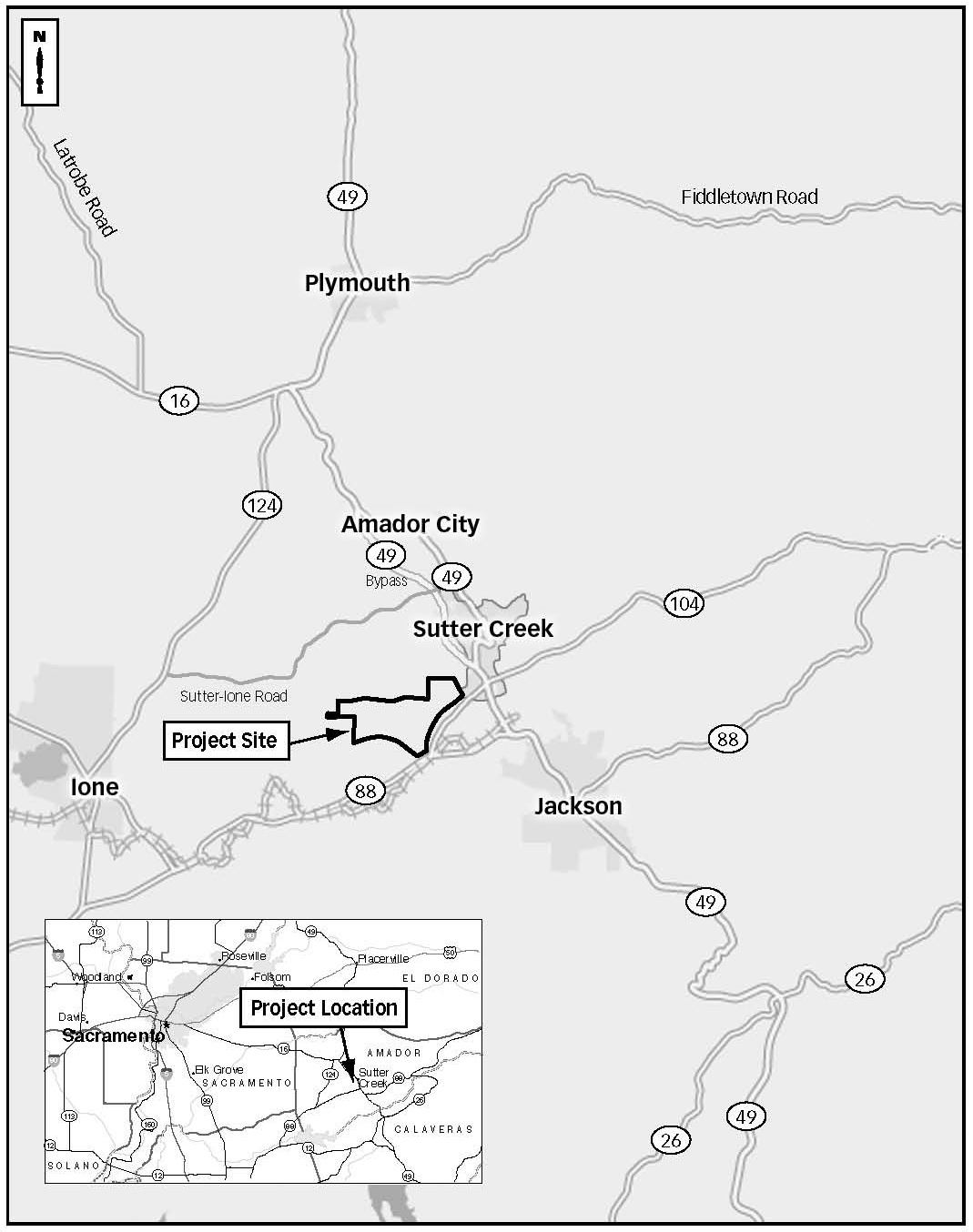 Several years ago, the nearby City of Jackson approved an approximately 900-unit project. Opponents qualified a referendum for the ballot, and the City Council, at the request of the developer, rescinded project approvals.

After more than two years of review, the Sutter Creek City Council approved a specific plan and certified an environmental impact report for Gold Rush Ranch in January. But the project has even more history. In 2004, the city approved a golf course, 56-room hotel and 300 time-share units (called "interval-ownership vacation units") on about 600 acres of newly annexed land to the west of the city. The project never went forward, however, and new developers – including Bill Bunch of El Dorado Hills and John Telishak of Corte Madera, and calling themselves Gold Rush Ranch, LLC – entered the picture. They bought the 600-acre project site as well as an adjacent 20,000-acre ranch. The land is generally foothills woodlands and pasture, with some surface mines.

In July 2007, the new developers filed an application for the Gold Rush Ranch project, which kicked off an extensive review process, explained Anders Hauge, of Hauge Brueck Associates in Sacramento, who serves as Sutter Creek's contract planner.

"This Planning Commission and City Council had never processed such a large project, and they were unsure how to proceed. We spent a lot of time comparing the project with every goal and objective in the general plan," Hauge said. "The point I tried to get across to the Planning Commission and the City Council is, if you don't want this, what do you want? Say what's acceptable."

The Planning Commission conducted no fewer than 27 meetings at which it examined general plan consistency, developed conditions of approval, and made recommendations regarding the specific plan and development agreement, according to Hauge. The City Council then began its own review in mid-2009 and, over the developers' objections, accepted all of the Planning Commissions' recommendations. In January, the council voted 4-1 to approve the project. Even dissenting Councilman Tim Murphy endorsed the project. He said he voted against the specific plan only because he does not believe it is feasible and developers will end up requesting amendments.

Although the city approved the number of units originally proposed by developers, Hauge and Mayor Wooten insist the project evolved considerably during the city's review. The city required a great deal of up-front infrastructure, including about $6 million worth of off-site road work, rejected the developer's mass-grading plan and instead required a more site-sensitive approach, and required the planting of two new oak trees for every one removed. While the developer originally proposed only residences in the first phase, the city is requiring the hotel, the golf course, half of the time-share units and about 50,000 square feet of commercial development in the first of four phases in order to generate economic activity. In addition, 10% of units must be affordable to moderate-income households, and market-rate builders must pay a fee into an affordable housing fund. The affordable housing conditions are firsts for Sutter Creek, according to Hauge.

Wooten said the project contains attractive features. About 300 acres of the 945-acre site will remain public open space with a multi-use trail system. Development is proposed in individual villages rather than spread across one massive subdivision. The city will get property for two parks and a police station/fire house. Land also will be set aside for a school and a library. The golf course, hotel, time-share homes and nearly 60,000 square feet of commercial space will generate revenue and about 230 permanent jobs, Wooten said. The new visitors and residents will also boost a struggling commercial area in adjacent, unincorporated are between Sutter Creek and Jackson, he added.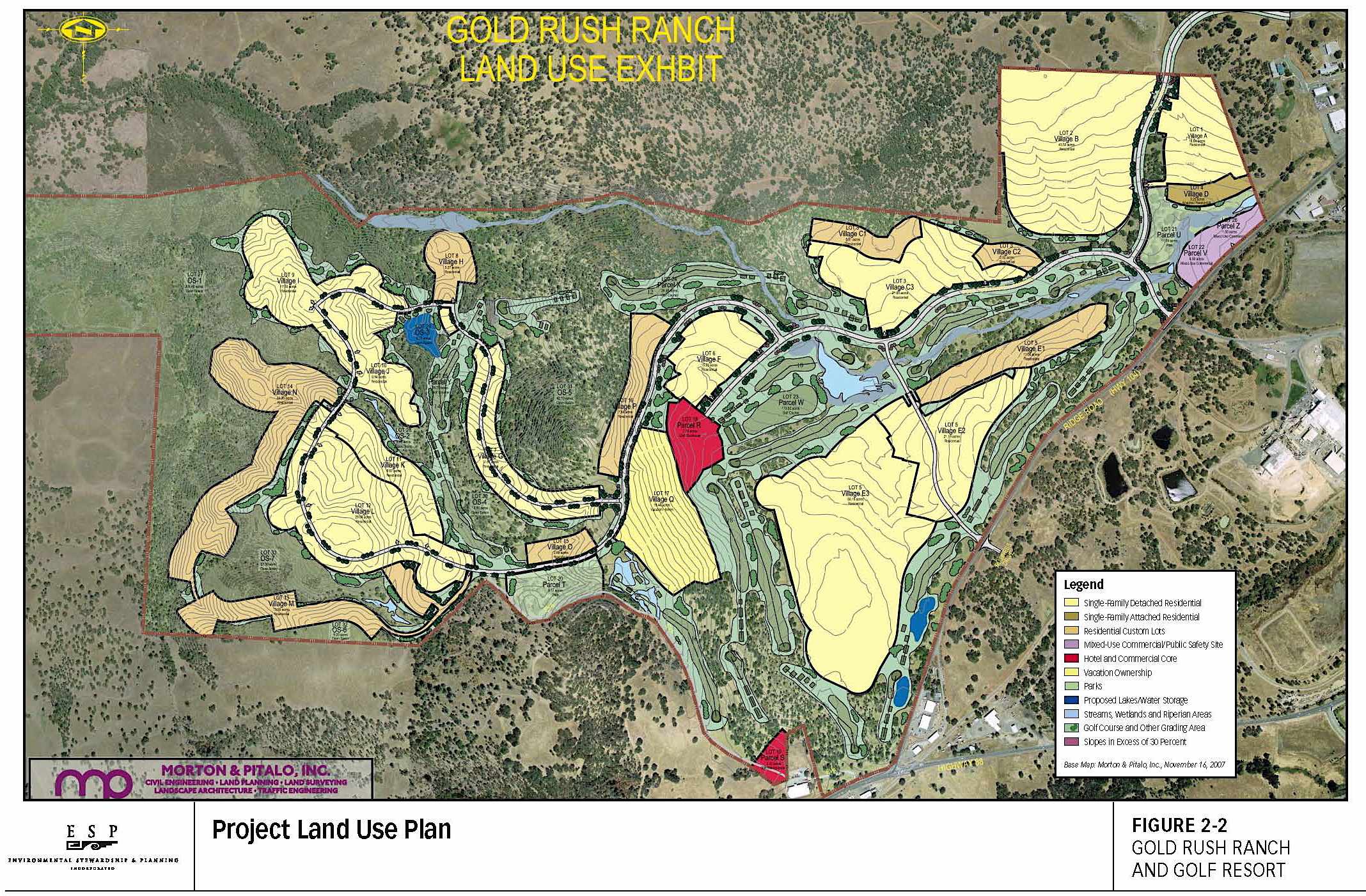 Housing would be developed in a collection of villages separated by the golf course and open space.
Still, opponents argue the project is out of scale. Chris Wright, executive director of the Pine Grove-based Foothill Conservancy, said the city should have insisted on a much smaller project.

"If you look at the basic principles of smart growth, it does make some sense to have growth there, adjacent to the existing city. But the scope here is too big," Wright said. "It's your basic golf course-style resort development."

Weatherly, the initiative proponent, said the city did a very good job of reviewing and conditioning the project. The city's only mistake was not insisting on a smaller development similar to the original 2004 project, which, he said, won approval without opposition. There is no need for the number of units in Gold Rush Ranch, added Weatherly, who noted Sutter Creek already has about 600 vacant, buildable lots.

Wooten questioned whether opponents would be willing to support even a smaller project. "There's a lot of people who don't want one more house built in Amador County," he said.

To force a referendum election, project opponents have until February 3 to submit about 160 signatures of registered voters. While Foothill Conservancy's Wright said voters would overwhelmingly reject the project, Wooten predicted voters would endorse the project if they get the chance.

The funding and market for the project remain uncertain in many people's minds. Wooten said he expects build-out to take a full 20 years, with retirees and commuters to Sacramento and Stockton – both of which are about an hour away via two-lane highways – buying new homes. Opponents say building houses 50 miles from job centers makes no sense economically or environmentally. Gold Rush Ranch representatives declined to speak with CP&DR.

Hauge noted that about 110 acres of the site had long been zoned for industrial uses, and high-density housing is permitted in that zone. As many as 1,600 apartments could have been developed with very little city discretion, he said. Instead, the city has exercised extraordinary discretion over Gold Rush Ranch and will continue to review the project as the developer proposes detailed subdivision maps.

Contacts:
City of Sutter Creek: (209) 267-5647.
Anders Hauge, Hauge Brueck Associates, (916) 283-5800.
Chris Wright, Foothill Conservancy, (209) 295-4900.
Gold Rush Ranch city documents: http://web.me.com/suttercreek/City_of_Sutter_Creek/Home.html.
Gold Rush Ranch LLC: www.goldrushranch.com.
Project opponents' website: www.nogoldrush.com.