Plans to build the first new, large-scale ski resort in California in four decades — and the largest project in Lassen County history — appear to be in serious jeopardy.
The developers of the proposed Dyer Mountain Resort, in the Sierra Nevada Mountains west of Susanville, filed for Chapter 11 bankruptcy protection in late March. News of the filing has caused environmentalists to celebrate, and Lassen County officials to wait even longer on what supporters have called an important economic development opportunity.
The developer's attorney characterized the bankruptcy filing as a "bump in the road" and vowed that the project would go forward. But there is clearly doubt about the project in Lassen County, whose population of 36,000 includes more than 10,000 inmates at two state prisons in the county seat of Susanville.
"We've just got to wait now for the judge to make a decision," said a frustrated county Supervisor Bob Pyle, a longtime supporter of the project.
But for the project opponents, the bankruptcy is only further proof that the project has been unrealistic from the outset.
"We always knew they never had the money because they kept missing payments to the county," said Steve Robinson, president and executive director of Mountain Meadows Conservancy. That organization and two other environmental groups filed a lawsuit over the project's environmental impact report in October.
The project is interesting for a number of reasons. First, it was approved somewhat conceptually by voters in 2000, making the county's planning and environmental review process somewhat awkward. Second, Dyer Mountain would be the first large ski resort built from scratch since the California Environmental Quality Act became law in 1970. Finally, the project would be by-far the biggest development in remote Lassen County, where two state prisons serve as the largest employer in a county hard-hit by the logging industry's demise.
Lassen County covers 4,690 square miles, primarily on the east side of the Sierra abutting Nevada. Population growth and economic expansion have been minimal for years. According to the state Employment Development Department, the county's unemployment rate for March was 11% (about double the state rate), and about 60% of people with jobs are employed by government entities. The leisure and hospitality industries account for only about 7% of employment, a figure that the proposed four-season Dyer Mountain Resort could change dramatically.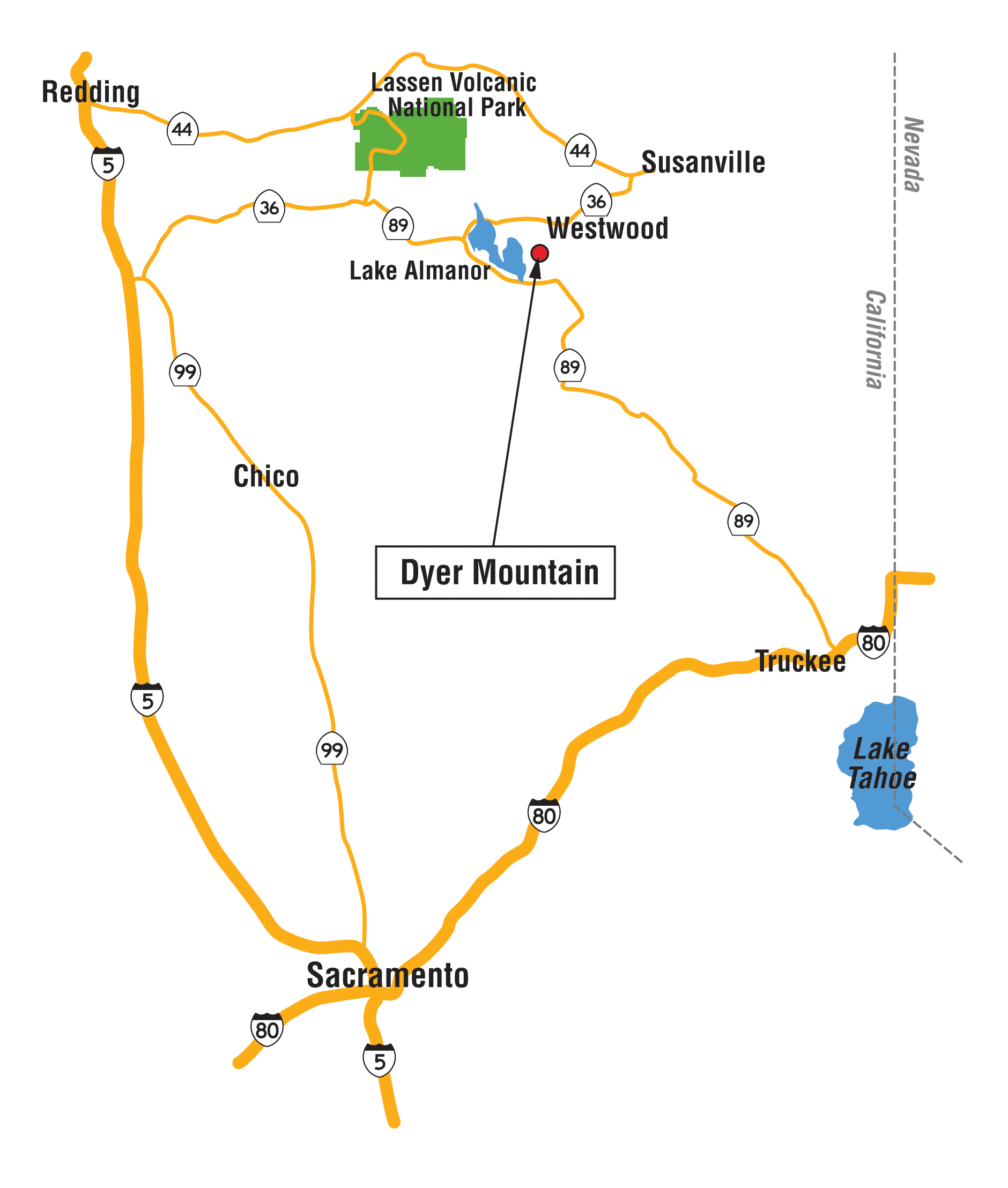 County supervisors first identified Dyer Mountain, located near Walker Lake and the historic timber town of Westwood, as a potential winter sports location during the 1960s. The site is within view of Lassen Peak and Lake Almanor. A study two decades later found that a four-season resort was feasible, but it wasn't until a San Francisco real estate investor named Briar Tazuk appeared on the scene during the late 1990s that anything happened.
With the assistance of Sacramento land use attorney William Abbott, Tazuk prepared an initiative for the county ballot, and in November 2000, 62% of voters backed a general plan amendment and rezoning that permit almost any development except residential by-right on approximately 6,800 acres. At the time, Lassen County officials and voters were thinking of a small ski resort akin to one on Mt. Shasta, a golf course or two, trails for mountain bikers and hikers in the summertime, a hotel and about 400 housing units. However, the project was not well-defined, and several years passed before county planners received details.
"We really needed a project description to analyze," recalled Joe Bertotti, the county's assistant community development director. Finally, Dyer Mountain Associates began providing a great deal of information, which the county peer reviewed. A first draft EIR was circulated in 2005. After substantial modifications, the draft EIR was re-circulated the following year. By that time, the project had grown to 4,100 housing units, 300,000 square feet of retail space, three golf courses, a ski hill and other amenities for visitors.
The challenge for the county, Bertotti said, was to impose mitigation measures on what was largely a by-right project approved by voters without environmental review. Because developers proposed a parcel map up front, the county found a reason to initiate the CEQA process, he said. The county ended up using a development agreement that imposes environmental mitigation measures as a condition for the issuance of building permits, he explained.
In September 2007, the Board of Supervisors approved the development agreement, a program EIR, and a parcel map that divides the site into 13 large parcels ranging from 40 acres to nearly 3,000 acres. Exactly what the next step will be is up to developers, said Bertotti, but he expects it will involve subdivision maps for residential areas, infrastructure improvement plans and some visitor amenities. The site is unimproved, and the development must essentially be self-contained with its own water and sewage systems. The development agreement requires Dyer Mountain Associates to build a golf course and three ski lifts along with the first 400 housing units.
However, there is this money problem. Dyer Mountain Associates' financial troubles have been well-known for years, as the developer repeatedly was late paying property taxes and county processing costs. In 2005, Tazuk sold a 45% interest in the project to investors. Last year, a San Francisco Superior Court judge appointed a receiver to replace Tazuk as the managing partner.
The recent bankruptcy filing was intended to stave off a foreclosure action by California Mortgage and Realty, Inc., which loaned Dyer Mountain Associates $31.5 million to buy the land from timber company Roseburg Resources in 2005. Also listed as major creditors are the county, which is owed about $200,000 in property taxes, and attorney William Abbott.
Dyer Mountain Associates attorney Merle Meyers contended there is strong interest in the project among real estate investors. There have been no discussions about altering the proposed development, which he said he fully expects to move forward.
"We are talking actively with a number of bidders or investors to re-capitalize the project," Meyers said in late April. "I suspect that we will have more to report in the next two to three weeks."
The bankruptcy filing has placed on hold the California Environmental Quality Act suit filed by Mountain Meadows Conservancy, the Sierra Club, and Sierra Watch, an organization that has successfully fought to limit housing and resort development in eastern Placer County (see
CP&DR Environment Watch, December 2007
;
In Brief, April 2005
;
Local Watch, March 2002
).
The lawsuit contends the environmental impact report is flawed because mitigations are inadequate, the discussion of project alternatives was poor, and the statement of overriding considerations simply assumed the resort would be successful. Opponents also argue that the development agreement violated the 2000 ballot measure because that initiative gave the county the ability to take back zoning authority if construction of the ski resort had not commenced within seven years.
Whether the ski resort would survive in an age of global climate change is uncertain, according to detractors. With a base elevation of 5,000 feet and ski runs starting at 7,500 feet, Dyer Mountain would be located at relatively low elevation and could accommodate skiing only with extensive snow-making and ideal winter weather, according to experts. Another factor in the project's success is the remote location. Westwood lies on a winding, two-lane mountain highway. The drive from Reno takes about two hours in ideal conditions. Sacramento is about three hours away. The nearest commercial airport is in Chico, which is more than an hour and a half away by car.
County officials and the developer have contended that opponents are asking for too much from the program EIR. The county will not approve necessary subdivision maps without additional environmental review, they say. "The project stands subject to CEQA at every phase," Bertotti pointed out.
Considering that voters approved the general plan and rezoning, the county conducted an extraordinarily public process, Bertotti said. There were a number of public hearings before the Planning Commission and Board of Supervisors on the environmental documents, he noted.
"It's a parcel map and a development agreement. It's not something where you would usually see a big public process," he said.
While the CEQA lawsuit awaits resolution of the bankruptcy proceedings, project opponents are beginning to discuss arranging the next step — namely, long-term protection of the land and its resources.
The conservancy's Robinson said the property is best suited to serve as timberlands with protection for extensive cultural resources. "There has been over 5,000 years of continuous habitation in this meadow area. It's an important place to the Honey Lake Maidu and to the Mountain Meadow Maidu," he said.
"We look forward," said Robinson, "to sitting down with county officials, creditors, conservation allies and others to secure permanent protection of the property itself."
Contacts:
Joe Bertotti, Lassen County Community Development Department, (530) 251-8269.
Lassen County Supervisor Bob Pyle, (530) 251-8333.
Merle Meyers, attorney for Dyer Mountain Associates, (415) 362-7500.
Steve Robinson, Mountain Meadows Conservancy, (530) 256-3982.
Dyer Mountain Resort website:
www.dyermtn.com
.