Should housing be exciting?� Before I answer, let me tell a little story�. ���
"I've heard that one before," interrupts my wife gently but firmly enough to imply, "Once was enough, dear." As my middle-aged ego shakes off this dousing in cold water, I wonder if, indeed, I have become a teensy bit, well, you know, dull. Despite all my good qualities � my avuncular personality, my eagerness to talk about the Golden Age of Television, my collection of old cardigans � I suspect people have begun to think me a trifle tedious.
In contrast, there is nothing dull, at least to me, about Uptown Oakland, a 2,600-unit housing development filling 14 acres in the East Bay city. The rentals include lofts, student units and affordable apartments in mostly low-rise units. Market-rate condos, meanwhile, await construction in mid- to high-rise towers. The master plan, designed by MVE & Partners in association with Calthorpe Associates, is highly sensitive to the site.
An under-used area of parking lots and light industrial buildings becomes a coherent and walkable residential district with this plan. The low-rise context of the apartment buildings makes the new neighborhood match the low-rise scale of surrounding buildings; the planners concentrated the high-rise part of the plan in the northeast corner, along Telegraph Avenue, where new tall buildings will harmonize with those of nearby high-rise office buildings. A $75 million subsidy from the City of Oakland helped make the project feasible for the developers, the California office of New York's Forest City Development and MacFarlane Partners of San Francisco.� (To date, three buildings, or less than half the full project, have reached completion.)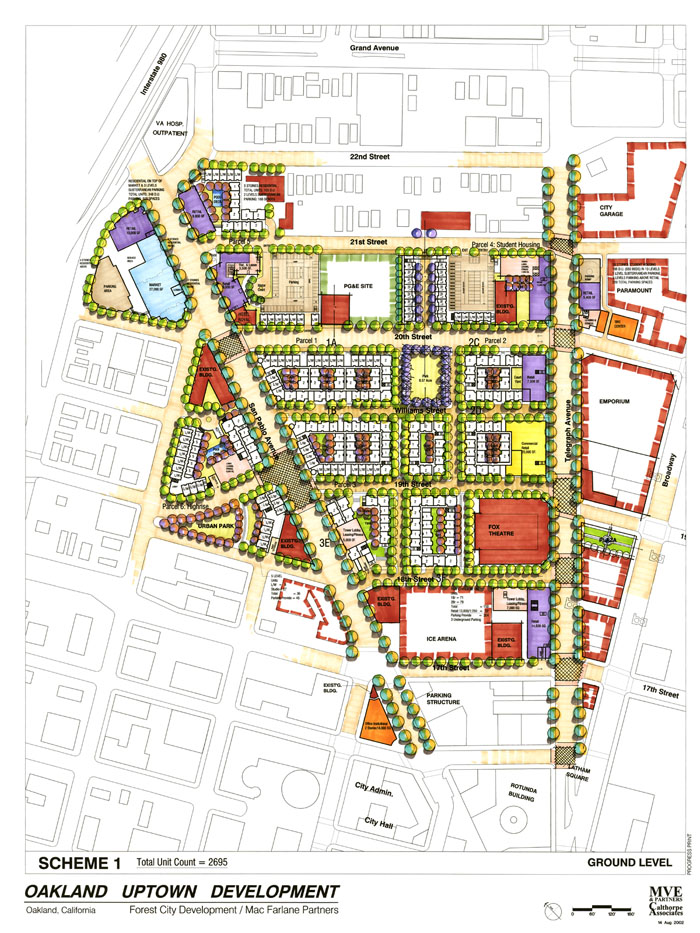 Still, for a non-housing-enthusiast, this plan may not seem that exciting. It is not as exhilarating as something cooked up by architects like Zaha Hadid or (heaven forbid) Daniel Libeskind. Maybe housing is not supposed to be exciting in such an extroverted way. I mean, do you really want to come home after a long day of work in the federal center in Oakland to a giant piece of origami? �
So what could be exciting here? For impatient readers, here's the big takeaway: Uptown Oakland is innovative, in large part, for using courtyard housing to fill most of an urban district. The use of courtyards has at least two big benefits. Although this type of unit is still rare in the multifamily industry, courtyard buildings provide arguably the most desirable form of rental housing. The individual units are essentially townhouses, each with its own front and back door. Those doors open the dwellings to far more natural light and breezes than are available in the dormitory-like slabs that we have come to accept as housing in our society. In those dreary units, natural light comes from a single wall, unless you are lucky enough to get a corner unit with two window walls. The units are hot, claustrophobia-inducing, poorly ventilated, dark and depressing. Architects call these kinds of units "stacked flats," a name that evokes the industrial soullessness of this manner of warehousing human beings. "Hey, this land is valuable! Stack up the folks like cordwood." (Indescribably boring.)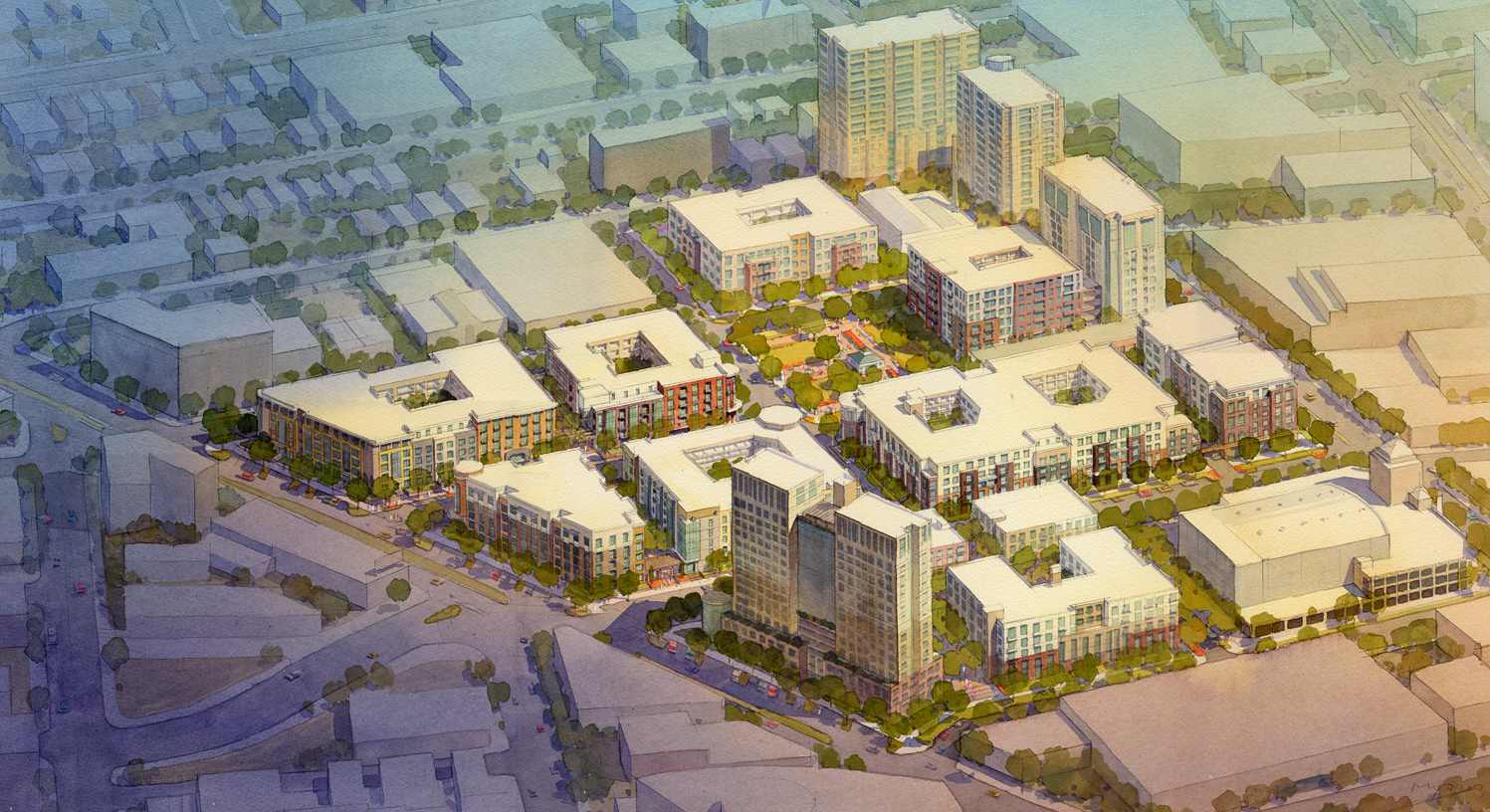 Courtyards add a further advantage to townhouses, which is the garden-like area in the center, typically fitted with a fountain. It is a protective space that adds both to sociability and defensibility. The planned, landscaped courtyard is the opposite, philosophically and socially, of the dead, concrete center of the square housing doughnuts that some developers have the nerve to call courtyards. This is where swimming pools are located in many apartment complexes, unless the housing is affordable, in which case there is nothing but two or three dying trees in planters and some plastic furniture. (Not so exciting.) �
Courtyards are also great tools in urban design, a topic that non-experts consider just slightly more interesting than cleaning fish. Stay with me on this one: In redeveloping a somewhat featureless section of downtown Oakland, courtyards organize and unify the site by creating coherent street fronts. When completed, courtyard buildings will help establish a coherent urban scene around the historic Fox Theater on Telegraph Avenue, which is finally slated for renovation. �
I like courtyards so much, in fact, that I wish that some other fragmentary clumps of rentals units on the plan could be rearranged in doughnut form. At 18th and San Pablo Avenue, on the lower left-hand side of the plan, some units that stand on a triangular block would be vastly improved by becoming a courtyard in the shape of a wedge-like "flatiron" building. Beyond its dramatic shape, this building would mark the meeting of two different downtown grids. (Flatiron buildings: Definitely not boring.)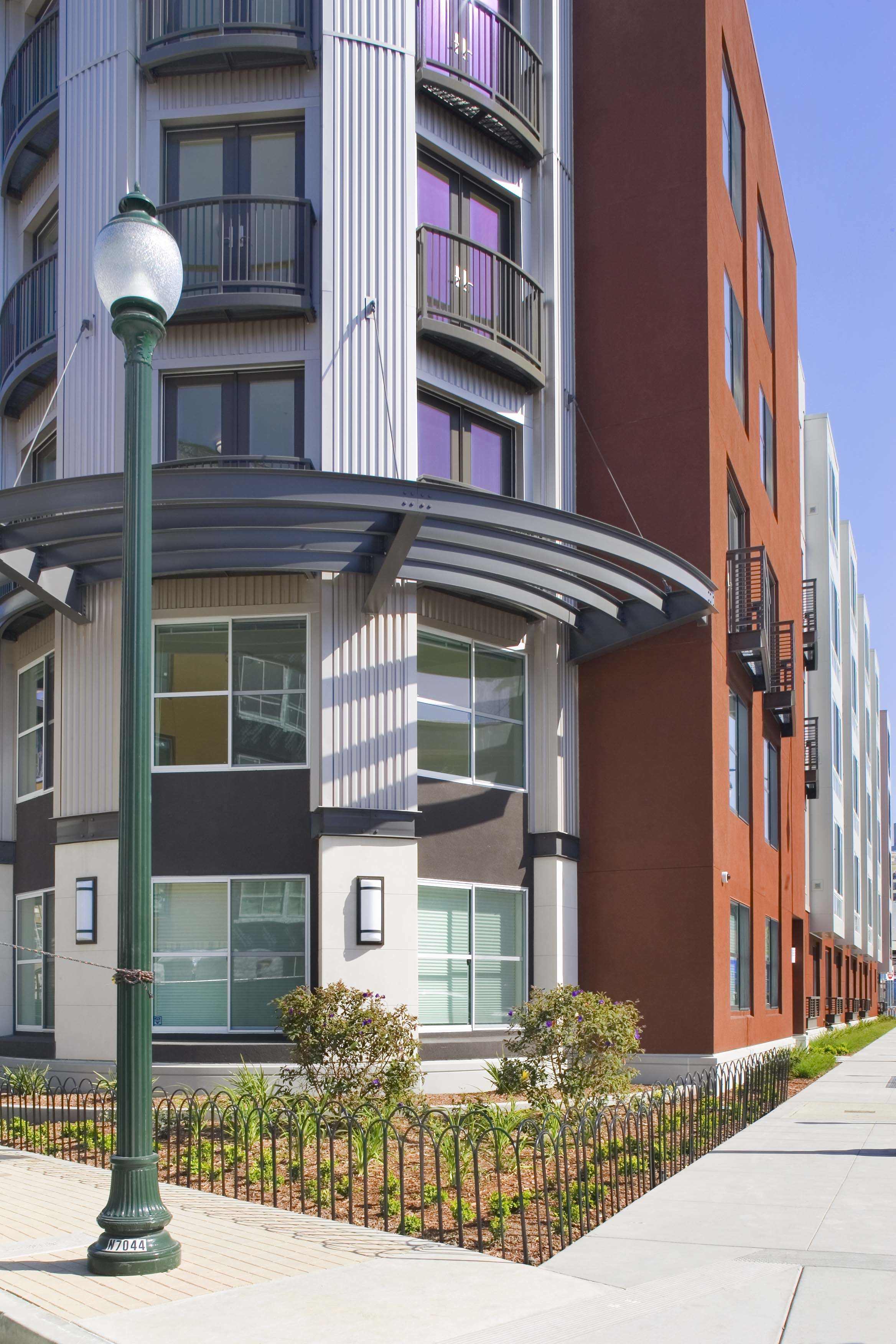 The Oakland Uptown plan also rates high for integrating the streets into the pedestrian life of the city, while providing east-west connections between the two main corridors in the area: Telegraph and San Pablo avenues.� �
One question mark, however, is the square public plaza, proposed in the upper center of the plan. While open space is clearly welcome amid the dense forest of housing (and required by the city, in this case), the plaza looks a little large for the site. Large, flat plazas are rarely attractive. Time will tell whether this mid-block location will attract the kind of foot traffic needed to fill up the plaza with enough people, the one indispensable type of park furniture, to make the open space seem safe and comfortable. So this park is neither boring nor exciting � yet.�
With two BART stations nearby, Uptown Oakland looks like an attractive place to live and commute in the Bay Area. It may not have enough sizzle to make it into Wallpaper or Dwell or some other trend-mongering magazine. A lack of external excitement does not always mean that you are boring, however. As I was telling my wife the other day, when putting on my newest cardigan � the nice maroon one, you know, from Sweden �