The mere existence of Planning Los Angeles speaks volumes about its subject. It's hard to imagine any other city � especially one as relatively young as Los Angeles is � that could inspire a book with over 40 distinct essays by an impressive array of academics and practitioners. Such is the enormity of Los Angeles, and even its eminent roster can cover only so much. Unfortunately, Planning Los Angeles rests on a tedious premise: it attempts to refute the notion that Los Angeles is "unplanned."
As catchy as this myth sounds, I can't imagine any sane person who believes that a 20th century city of 4 million residents in the developed world could ever have been unplanned. This notion implies that the city grew up in a state of nature, with bosses and bullies wantonly clearing land, designing homes and freeways, and building with no adjudicating power.
Of course, plenty of people�natives and visitors alike�can rightfully claim that Los Angeles was planned badly. But that's different from "unplanned." Ironically, it's arguable that cities that were actually unplanned are among the world's favorites. The winding streets of Europe bespeak their own lack of formal planning. Kings and bishops wielded their influence, but they mostly hew to the decisions of the masses that huddled within city walls.
Unfortunately, all too many contributions to Planning Los Angeles�including the introduction, by editor and USC professor David Sloane�invoke the "unplanned" idea to justify the book's existence. Though it's obvious that none of the contributors believes in the myth, its invocation implies that people's expectations for Los Angeles are so low that they should be overjoyed to find out that there was some method to the madness. Even if their expectations are low, I can't help thinking that the book's approach gives them credence.
For the record, Los Angeles was one of the first planned cities. Its 1907 comprehensive zoning ordinance nearly invented the concept of separation of land uses. From there, the city was guided by all sorts of plans, including the famous "Centers Concept" of 1970, the 1930 "Emerald Necklace" of open space, and, of course, the trolleys and freeways that created the region's skeleton. If anything, Los Angeles was over-planned, with uncoordinated and unrealized elements tripping all over each other.
As many of the contributors note, marginalized, poor, and minority populations often suffered the most from this lack of coordination, as certain areas became segregated and otherwise neglected, especially for lack of recreational space and access to job centers. So maybe Los Angeles was planned with only certain people in mind.
Notwithstanding the "unplanned" straw man, Sloane's collection of essays�written mostly by academics, as well a few activists and practitioners�offers a varied and encyclopedic view of the historical, cultural, and economic forces that made Los Angeles the city that everyone loves to hate. The book covers six sections, with broad categories raging from planning history to infrastructure to economic development. Some essays are highly theoretical--Los Angeles lends itself to unprovable assertions--while others unearth compelling history. In those chapters we encounter essays that zoom in on private beaches, busways, fast food, the CicLAvia bicycle event, adaptive re-use, and the geography of celebrity�among countless other topics that could, to the city's and Sloane's credit, pertain only to Los Angeles. (Sloane's introduction implies that the book is meant to cover only the city of Los Angeles, but several essays�including one by CP&DR publisher Bill Fulton�focus on other cities in L.A.'s orbit.)
But, to paraphrase a hackneyed criticism of its very subject, Planning Los Angeles ultimately reads like 41 essays in search of a topic. To these editorial decisions, Sloane writes, "a diversity of voices and visions is better than a coherent narrative dictated by a single or a small number of authors and artists�.the only way to present Los Angeles is as a multiplicity." That's a fair enough point, especially since the further development of Los Angeles likely depends on thousands of individual projects and initiatives rather than on a grand vision that any mayor or planning director could imagine. (Though a slew of upcoming transit projects may qualify the LA Metropolitan Transportation Authority as the city's de facto planning department.)
And it's certain that anyone with a passing interest in the city can find some worthwhile insight--and proof that Los Angeles is indeed unique. It's hard to imagine Planning Minneapolis, Planning Pittsburgh, or even Planning San Francisco.
But Planning Los Angeles is, really, a single vehicle on the vast freeway of literature that attempts to explain, deconstruct, and problemetize a city that man consider inscrutable. But to what end?
We can theorize and look back all the want, but the unshakable truth about any city is that the past need not have any bearing on the present. So, while it can be useful to understand the forces that created Los Angeles � the cars, the racism, the planning, zoning, demographics, and fiscalization of land use, among many others � it's hard not to think that past is prologue. Whether or not the city planned its past, I think we can all agree that it had better plan for its future.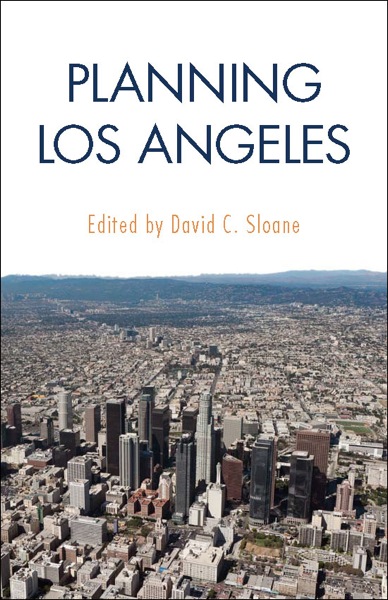 David C. Sloane, Editor
American Planning Association Planners Press
This article has been updated since its original publication; David Sloan had been misidentified.