If you asked the average person to name a city that has professional sports, big-name entertainment, acres of waterfront park and dozens of historic buildings, not many people would say Stockton. But, in spite of its reputation as a crime-ridden, working-class place, downtown Stockton has all of the above — and more is on the way.
A small hotel and conference center are under construction in a project that includes the first condominiums to take advantage of the "new" waterfront. Plus, local developer The Grupe Company is planning to build another 150 condominiums on city-owned land adjacent to a planned marina.
Yet even downtown Stockton's biggest supporters call it a work in progress. While the city and other public agencies have spent several hundred million dollars on downtown development, facility rehabilitation and infrastructure, major private investment is lacking. There is a new 16-screen movie theater, and a restaurant is planned in the historic Hotel Stockton. But, in general, no one is rushing to build things downtown.
"[S]ome members of the public still perceive downtown as a place that is unsafe," a recently revised downtown plan candidly admits. "Many local residents are disconnected from downtown, and many downtown workers leave the area at the end of the workday."
Downtown in the San Joaquin County seat has had a longer comeback road than just about any other downtown in California. The decline of its manufacturing industry, the Depression and World War II left the city with one of the biggest skid rows on the West Coast.
"It was the same story you had in a lot of places. It was just more extreme here," Redevelopment Director Steve Pinkerton said.
But during the mid-1990s, elected officials and city staff members started taking a more holistic approach by creating a new waterfront plan and a business improvement district to raise revenue for improvements and promotion. The first big success was the creation of Weber Point Event Center, a 10-acre park along the waterfront provided by the Stockton Channel. (Stockton lies at the eastern edge of the Delta.) Opened in 1999, Weber Point has an amphitheater, a popular play fountain, vast green space, a seasonal ice skating rink and places for boaters to tie up for the day. Although there was local opposition to the city spending $8 million on Weber Point — including $1 million for the fountain — few people today will dispute that the park is the jewel of downtown.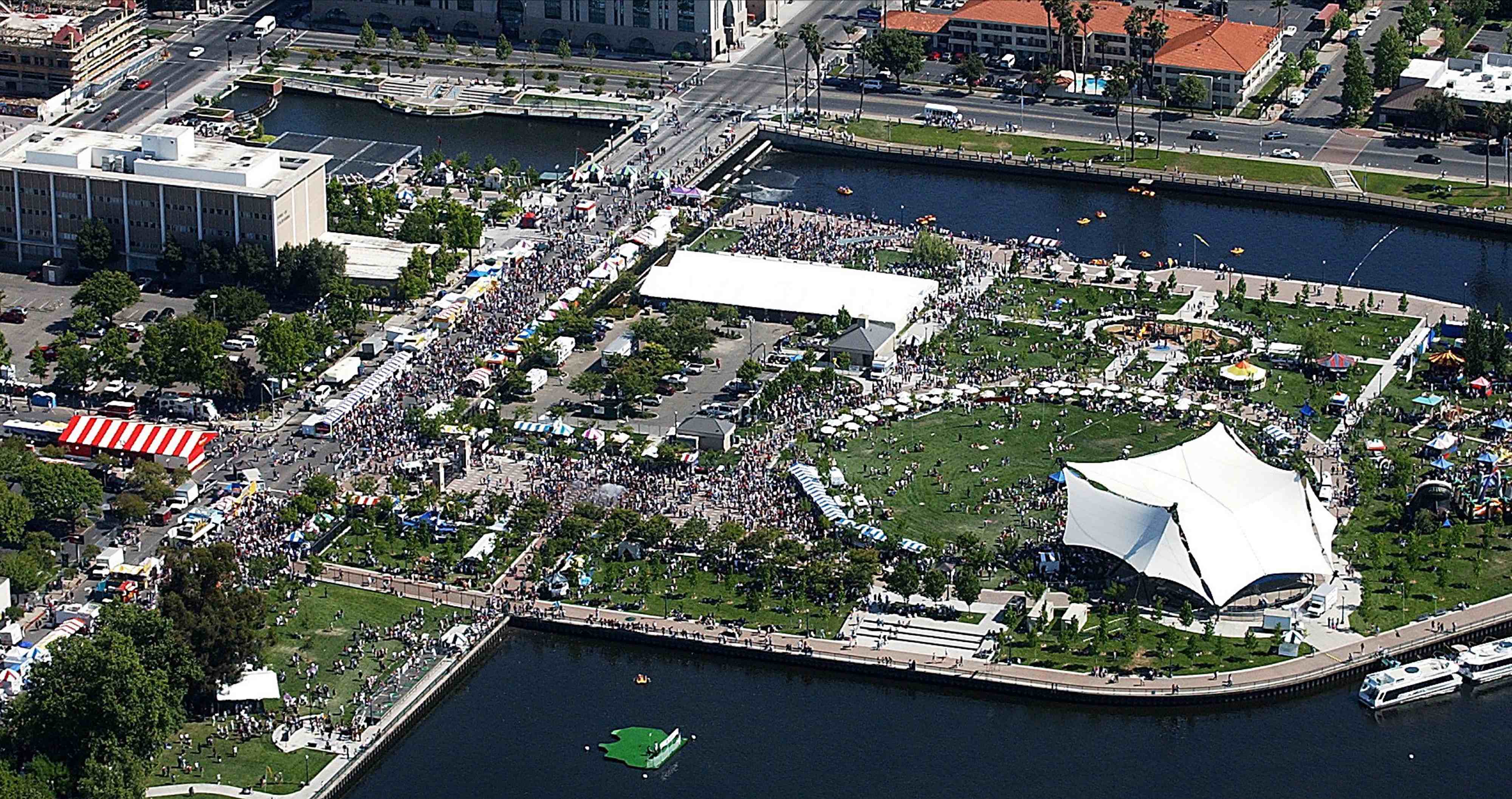 The Asparagus Festival brings a huge crowd to Stockton's waterfront.
Next up was creation of DiCarli Plaza, a brownfield project that brought the waterfront one block farther into downtown — right across the street from the Hotel Stockton (see CP&DR Economic Development, July 2001). Relying mostly on $3.5 million in federal funding, the city converted an abandoned gas station and fenced-off parking lot into an attractive full-block plaza dominated by the water.
In 2004, the city reopened the renovated Fox Theater, a 1930s Art Deco building now called the Bob Hope Theater. Jerry Seinfeld performed on opening night at the theater, which downtown advocates believe can anchor a new cultural district. Next up were more ambitious projects: a minor league ballpark for the Stockton Ports, an 11,000-seat sports arena, and a convention center hotel — all located on a former shipyard across a narrow inlet from Weber Point. The 5,000-seat ballpark opened for the Class A Oakland A's affiliate in spring of 2005, and the arena opened six months later. The Stockton Thunder minor league hockey team and the California Cougars soccer club play in the arena. The city invested $130 million in general fund money, utility revenues and redevelopment resources in the two facilities.
Adjacent to the arena, construction is under way on the Sheraton Stockton Hotel at Regent Place, a 180-room hotel with a 10,000-square-foot convention center. Topping the hotel will be 42 condominiums. The project is a bit of a disappointment because of its small size. But it does mark a private investment in downtown. The other significant private investment was construction of a 16-screen cinema, which opened three years ago.
At this point, downtown badly needs "a huge influx of private capital," said Tom Bowe, a principal in WMB Architects and a member of the Downtown Stockton Alliance executive board. That capital will probably have to come from out of the area because Stockton's old-timers have been unwilling to invest in downtown, said Bowe, a Stockton native. Still, the market may be shifting.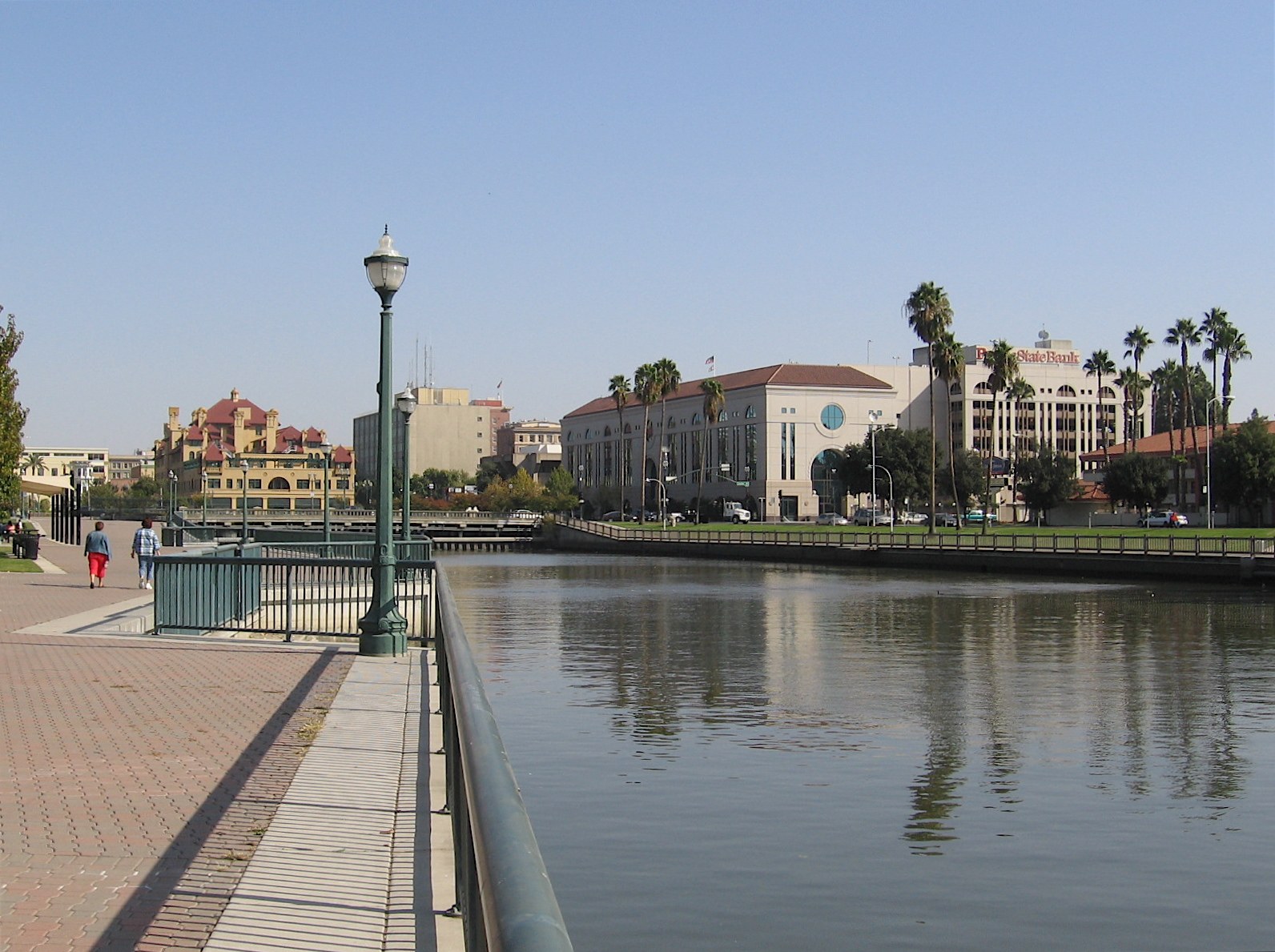 The Stockton Channel, with the Hotel Stockton in the background at left.
"It seems to be primarily the acquisition of existing buildings so far. But there is some interest in residential along the waterfront," Bowe said. "We're working on some office buildings."
Downtown's many older buildings are both assets and obstacles, as evidenced by controversy over the city's code enforcement crackdown on the SRO hotels.
The city began a new enforcement effort on about 30 hotels and other dilapidated residential buildings in 2001. The city shut down nine properties, including some with bat infestations and other health hazards. California Rural Legal Assistance sued, and in late 2004, the Ninth U.S. Circuit Court of Appeals halted the crackdown because the city was not providing required relocation assistance and replacement housing (see CP&DR Legal Digest, January 2005). Ultimately, the city provided the assistance and replacement units in a variety of locations. More than half of the hotels are still operating but have been cleaned up. About 500 units were shut down, said Pinkerton, who makes no apologies for the city's effort.
The city's deal with Regal for the 16-screen downtown theater is also an issue because it prevents cinemas with more than six screens from opening elsewhere in town. Legislation outlawing such "restraint of trade" deals has been discussed in Sacramento, partly because of Stockton's agreement with Regal. Again, Pinkerton offers no apologies for a deal that provided downtown's most popular attraction.
Refurbishment of the Hotel Stockton, a National Register of Historic Places asset, has gone slowly. The vaguely Middle-Eastern-appearing hotel, once the liveliest place in town, was empty for more than a decade starting in 1991. The city's deal with one developer soured, and litigation over what the developer claims was a breach of contract has reached the state Supreme Court (see CP&DR Legal Digest, December 2005). In the meantime, the city is putting $9 million into Hotel Stockton restoration. The city created 156 apartments for senior citizens on the upper floors of the Hotel Stockton, and those have been filled since 2005. Further plans call for retail and a restaurant operated by Sacramento's Gary Paragary on the ground floor.
What downtown may need most, though, is market-rate housing. A downtown plan calls for 3,000 to 3,500 new market-rate and affordable units, said Mike Niblock, the city's deputy community development director. The first project may be Grupe's plan for about 150 condominiums on 8 acres across the water from the ballpark.
"The project is really in its infancy stage," said Grupe's Jeremy White, who noted the developer has not filed an application with the city yet. "It's something new for us. We're very optimistic. We think Stockton's ready for it."
And it might be. But Stockton-based Grupe made its name as a builder of suburban housing tracts, and a proposed new general plan appears to encourage a great deal of such development on the periphery. In fact, the updated general plan envisions a doubling of the city's population of 280,000 largely by opening up new development areas. Such a plan would appear to give little incentive for private investment in downtown. Pinkerton, though, thinks downtown appeals to a certain demographic.
"We don't have a neo-traditional neighborhood. We have a real neighborhood. I think you're going to see a lot of market rate homes," he said.
There would appear to be demand for such housing, as upwards of 20,000 city, county, state and federal employees work in downtown offices and courthouses.
Additional downtown projects in the planning stages include a new marina, a downtown transit station, a transit-oriented development adjacent to a rail line with service to the Bay Area, and a full-fledged California State University campus where CSU Stanislaus now has a branch.
Contacts:
Steve Pinkerton, Stockton Department of Housing and Redevelopment, (209) 937-8538.
Tom Bowe, WMB Architects and Downtown Stockton Alliance, (209) 944-9110.
Jeremy White, The Grupe Company, (209) 473-6000.
Downtown Stockton Strategic Action Plan: www.ci.stockton.ca.us/ActionTeams/DAT/DAT.cfm